If you are in the market for a new electric vehicle, congratulations. The cars themselves are fantastic. Once you experience the thrill of the instant torque, the silent operation, and the smooth way in which EVs operate, you'll be converted on the spot. The cars are great, but what about the ownership experience? Also great. Maintenance is reduced, and over the coming years we expect that EVs will emerge as the most reliable vehicles on the road. However, powering your EV takes a bit of planning. Here are three reasons why this veteran electric vehicle tester feels that for most owners, an at-home charger is a must.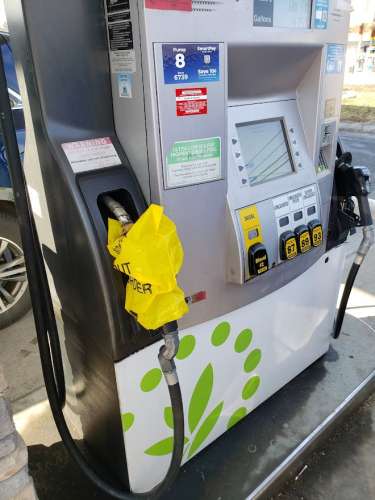 The Gas Pump Model Doesn't Work For EVs
Electric vehicle charging isn't analogous to public gasoline fillups. The model of pulling into an energy station and being on your way in a few moments doesn't work for any EV made today, nor does it work for any being proposed for sale in the coming few years. The charging time simply takes too long. Most DC fast chargers are 50 kW units, and they can take up to two hours to fully charge a battery-electric vehicle. Stops at a Level 2 station when shopping or dining are basically worthless. In an hour of Level 2 charging, you might gain 25 miles of charge.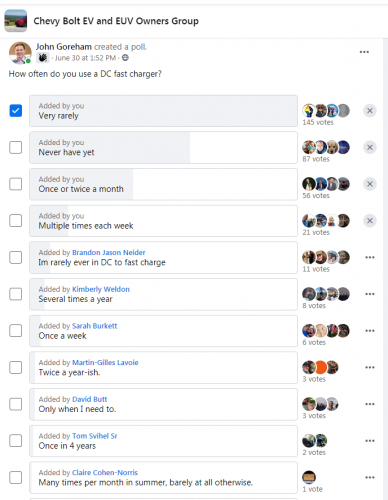 Instead of trying to fit a square peg into a round hole, most EV owners we have polled primarily charge at home. Respected EV writer and advocate John Voelcker, writing for Forbes, points out that studies have shown 80% of all EV charging takes place at home. We are surprised it's not more. Our assumption is that Supercharging Teslas accounts for a substantial portion of the remaining 20% of charging provided to EVs.
Public Charging Can Be Pricey and Unpredictable
Torque News recently did a spotlight story on ChargerHelp! This startup was conceived and created by co-founder Kameale C. Terry. Ms. Terry was working in the charger infrastructure space when she learned from utilities that operate EV chargers that up to 30% of them were broken or off-line at any given time. Imagine if 30% of gas pumps in America were offline day in and day out! She set out to help correct this issue and her company is thriving.
America isn't alone when it comes to public charger struggles. Europe is ahead of America when it comes to EV adoption and infrastructure. One European EV tester found that when he tried to charge 36 vehicles publicly, twelve chargers failed to operate and three would not let him disconnect his car!
If you rely on public charging for all of your charging needs, we wish you the best of luck. It can be done. We have highlighted one such brave soul who lives electric in the Boston area. However, having a charger at home means you always have power for your EV and won' be relying on the good work of folks like Ms. Terry to keep your car powered.
Shopping For an EV? Here Is Your Electric Vehicle Home Charger Checklist
Charging on the road at a DC fast charger can range from free to downright expensive. The most we have paid is $10.15 To Add 34 Miles of EV Range at an EVgo station. That's a lot more dollars per mile than a gas guzzler costs for energy. By contrast, most homeowners pay pennies per mile when they charge at home. Many EV owners reduce their costs even further by having their own solar power.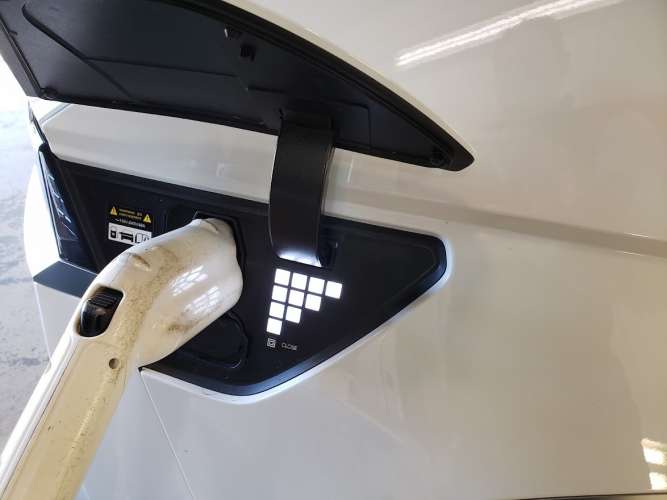 Charging At Home Is One Of The Best Things About Having an EV
Setting aside the reasons not to rely on public charging, let's look on the bright side. Charging at home is simple, I've been doing it for many years and I find that I like it. Recently, I had three wildly different types of EVs in a row. The Jeep Wrangler 4xe, the Ford Escape PHEV, and the Hyundai Ioniq 5. Despite their differences, they all worked fine on my charger. When it was time to fuel each one up for its journey to the next New England Motor Press journalist, I discovered I didn't need to fill up. The gas tanks of the Wrangler and Escape were already full. I hadn't used enough gas to move the needle. By habit, I charge my test EVs overnight on my inexpensive Level 2 charger. Unlike with a gasoline test car, I didn't need to top off the tank when my testing period had concluded. Nearly all of my driving in the plug-in hybrids was easily covered by their EV-only ranges, and anyone who owns a PHEV knows that driving them in EV mode is the most satisfying easy to operate them. The battery-electric Ioniq 5 had a range more than sufficient for my daily needs. It was usually back to 100% state of charge before day's end after a few hours on the charger.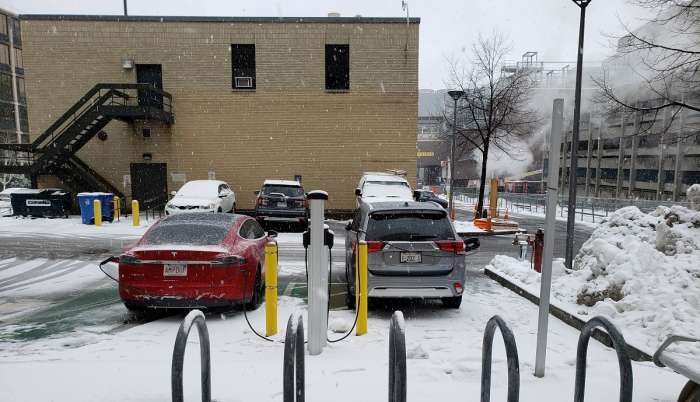 Not having to get gas isn't the biggest deal in the world, but plugging in and unplugging in the morning is a trade anyone would gladly make. Have you ever accidentally dripped gas onto your shoe? It smells all day, and water won't always take away that smell. And who wants to stop for gas when it's raining or freezing cold outside? Having tested almost all of the modern EVs in the market one thing I like most about them is charging at home.
What If You Live In An Apartment?
If you live in a place where you don't control the property, or perhaps in a place where there simply is no parking spot that can reasonably accommodate a charger just for your use, don't despair! Plug-in hybrid-electric vehicles (PHEVs) like the top-sellingToyota RAV4 Prime, Ford Escape PHEV, Prius Prime, Kia Sorento PHEV, Kia Niro PHEV, Jeep Wrangler 4xe are outstanding vehicles to own. If public charging happens to be available to you, grab a day's charge. If not, drive in hybrid mode and get 30% better fuel economy than a conventional car. When you do have an opportunity to charge, you can enjoy all the benefits of driving an EV. When you don't, no worries. You're still in one of the world's cleanest vehicles. And the used market is full of proven plug-in hybrids like the Chevy Volt, Honda Clarity, and, recently used versions of the PHEVs listed above.
If you are dying to have an EV but won't be able to charge at home, we strongly suggest opting for a PHEV. If you must have a battery-only vehicle and have an unlimited budget (but somehow are not a homeowner), Tesla is the best choice. The Supercharger network is a country mile ahead of the public charging network in America, and you can still use the generic public chargers should you so wish.
Tell Us What You Think
Feel free to add your comments below about at-home charging, public charging, or any topic you feel deserves your input. We are always listening to and learning from our readers.
Bonus Section! What's This Guy Know About EV Charging?
Since I'm taking a strong opinion on an important topic, I feel it's more than fair for the audience to ask, "Who is this guy, and what does he know?" This extra section helps to answer that.
I test EVs along with other vehicles for a living and have for a decade. I've tested three EVs over the past three weeks, and I will be testing a Ford Mustang Mach-e for the second time in the next week or so. In my garage, I have a Level 2 charger, and I also have outlets for Level 1 charging. I can charge on the Level 2 charger in three different positions, and I can even charge outside if I wish. I charge EVs roughly a quarter of the days per year by my estimation.
I was one of the first Americans to drive a Tesla Model S shortly after its launch, and one of the first to drive the Chevy Volt prior to its public launch. I'm one of the few media members to have tested the all-new Chevy Bolt EUV. Recently I was one of the first media members in America to drive and then test the Hyundai Ioniq. I've driven EVs in downtown Boston, on backcountry road trips in New Hampshire, and have even driven an EV to the highest peak in the Northeast. This past summer I tested BMW EVs on a closed course to safely push them to their limits. In a nutshell, I drive, test, and charge more EVs than almost all EV owners. Most of the EVs I test are mainstream. I've tested both generations of the Leaf and Bolt in all seasons. I have tested all three types of electrified Kia Niros. A quick list of some low-volume unusual EVs I have tested includes the Fisker Karma, BMW i8 (twice), Honda Fit EV, and Kia Soul EV.
In my home, I use a Lectron-brand Level 2 charger on a 230-volt circuit. I paid just over $200 on Amazon for my whole setup which includes a handy charger rack. My daily needs are well met by this charger which can recoup up to 125 miles of range overnight. In addition to my home EV charger, I also own a seasonal cabin in the woods and have spent about $6,000 upgrading its outdated electrical system so that I could add a pair of EV chargers.
I've been an EV enthusiast since the 1990s when I worked on an academic team creating a solar-electric vehicle from scratch. My senior project in my mechanical engineering undergrad program was to design and build a battery thermal management system for that EV. My writing and photography on EVs have appeared in dozens of places in addition to Torque News such as U.S. News & World Report, CarGurus, and iSeeCars, and I create much of the living electric content for Car Talk, where I have been a contributor for six years. Prior to this career, I worked in the semiconductor manufacturing, biopharma, power, and life-safety industries. You can view my full list of credentials at Linkedin.