Hyundai IONIQ 5 BEV First Drive Impressions - Ideal For Its Mission
Hyundai's third U.S.-market battery-electric vehicle reveals just how much Hyundai learned from its previous (also great) battery-electric vehicles the Kona and IONIQ. We had a chance to drive an in-stock IONIQ 5 courtesy of Gary Rome Hyundai in Holyoke, Massachusetts, about 30 miles from Hartford, Connecticut this week and came away impressed.
Related: Tesla Model Y Costs You 50% More Than Hyundai IONIQ 5
What struck us first was the dynamic "concept car" type stying that Hyundai has employed. The IONIQ 5 is striking in person. The images you see online don't do the car justice. All of the futuristic style elements seem to work well together, and if the future of cars is not represented in this IONIQ 5 battery-electric vehicle (BEV) we can't imagine what vehicle does a better job.
Related: Four Things Missing From the New Hyundai IONIQ 5 Battery-Electric Vehicle
Inside, the IONIQ 5 is again modern. The word "clean" jumps to mind. Spartan isn't right because there are warm elements to the IONIQ 5 inside. Our tester's interior was light in color and it helped to press home that the past default of "triple black" cars with dour black leather interiors now seem like yesterday's donuts. The bright two-pane screen display is ideal for a light interior as well, completing the theme.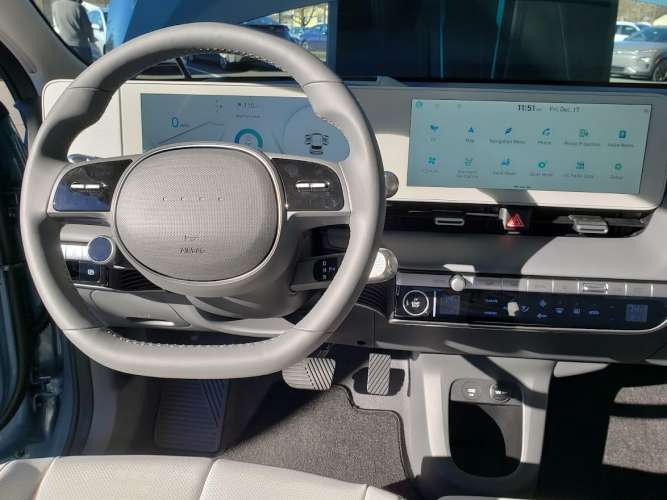 Let's talk about how a shopper might perceive the IONIQ 5 when entering. When unlocked, the door handles present themselves and work like any other. The PRND stalk seems easy enough. Conventional shifters are gone from almost all new vehicles. This one was intuitive. The turn signals work like in any other traditional car you've ever driven. It's easy to set off and be underway without having to re-learn how to make a car go.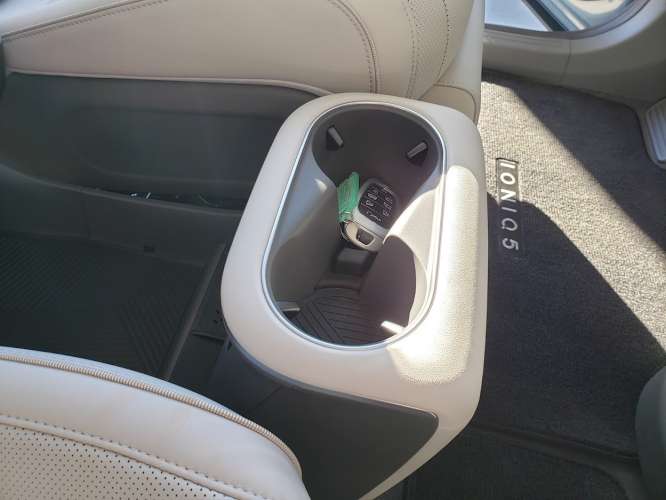 Drive with a soft right foot and the IONIQ 5 seems like any typical five-door car might. However, toe that power pedal and the IONIQ 5 is downright snappy. We drove the all-wheel drive Limited trim. That means 446 ft-lbs of torque. Muscle car enthusiasts will find this car has more pull than almost anything else they have experienced. Pin that power pedal while underway and the vehicle snaps forward so abruptly one's instinct is to let up. Resist it! The IONIQ 5 flies down the road if you want it to.
Unlike a Tesla Model Y LR AWD, the IONIQ 5 Limited AWD isn't harsh over broken-up surfaces, even with its up-sized 20" wheels. Hyundai has tuned the IONIQ 5 for the masses, not enthusiast magazine editors (are they still around?) It feels like a premium sports sedan done right. In normal driving, the heft of the IONIQ 5 isn't noticeable. It doesn't feel at all tippy or cumbersome in corners. Quite the opposite in fact. The brakes work normally if you leave it in its default drive mode.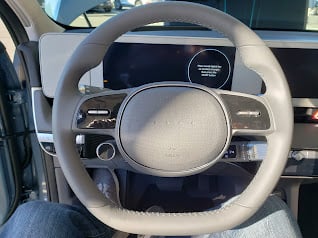 Here's the fun part. While underway, pull the left paddle shifter. It begins to motor-brake the car and you slow a bit. Pull again, more braking, pull a third time, quite a bit. Pull the right paddle you step back up through the regenerative braking stages. Or you can one-pedal drive the IONIQ 5 like all proper BEVs. Based on our short drive, about the same drive a shopper might take before buying the IONIQ 5, we feel the folks at Hyundai designed, tuned, and built it perfectly.
We didn't have time ourselves to charge the IONIQ 5, but our trusted colleague from the local media group did. He charged the car I drove from 97 miles of indicated range to 227 miles of indicated range and a 100% battery state of charge in 22 minutes using a public DC fast-charging station. That's super-fast, particularly to 100% SOC. Why 227 miles of indicated range and not the higher EPA range estimate? Cold weather and lots of test drivers pinning the power pedal off and on all day.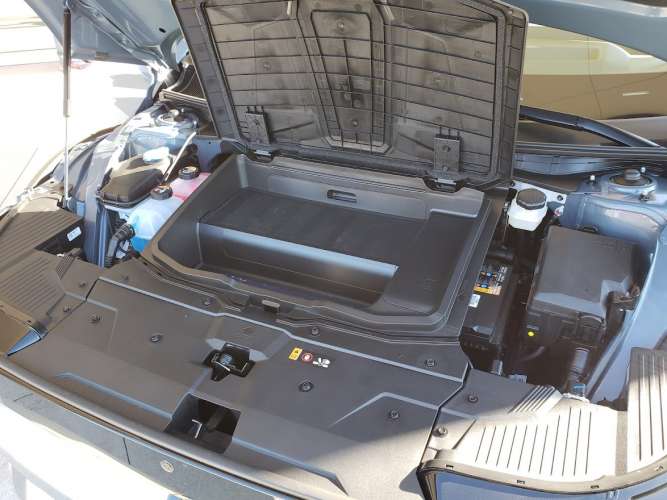 We will provide a full test report in the near future if all goes to plan. Based on our short time with the IONIQ 5, we can confidently say that the glowing reports from other testers all seem to be entirely accurate.
Top of page IONIQ 5 moving image courtesy of Hyundai. All other images by the author.
John Goreham is a long-time New England Motor Press Association member and recovering engineer. John's interest in EVs goes back to 1990 when he designed the thermal control system for an EV battery as part of an academic team. After earning his mechanical engineering degree, John completed a marketing program at Northeastern University and worked with automotive component manufacturers, in the semiconductor industry, and in biotech. In addition to Torque News, John's work has appeared in print in dozens of American news outlets and he provides reviews to many vehicle shopping sites. You can follow John on TikTok @ToknCars, on Twitter, and view his credentials at Linkedin
Re-Publication. If you wish to re-use this content, please contact Torque News for terms and conditions.