Hyundai is the leader in affordable battery-electric vehicle models in America. With now three different BEVs to offer buyers, plus an assortment of plug-in hybrids and hybrids, only Toyota offers more affordable green vehicle options in America. The most exciting of all of Hyundai's green vehicle options is the outstanding new Ioniq 5. The new Ioniq 5 is earning rave reviews from many of the most experienced EV testers in the world. Does it live up to the hype? Yes.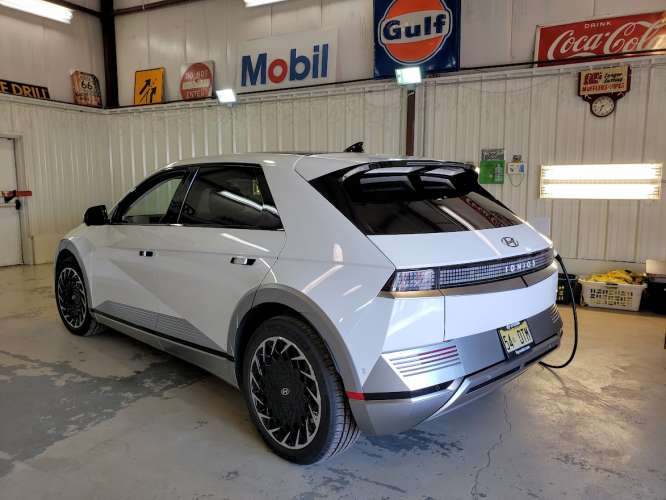 Hyundai Ioniq 5 - What Is It?
The best definition we can offer for the new Ioniq 5 is that it is a five-door hatchback car with rear-wheel drive standard and all-wheel drive optional. If you wish to call it a crossover, please feel free to do so. An SUV? That's a stretch. It's hard to see how a vehicle like a Ford Bronco Sport, Jeep Wrangler, or Ford Explorer would be named the same type of vehicle as Hyundai's Ioniq 5. This isn't in any way to diminish the Ioniq 5's greatness, but if this is an SUV, then the term has lost all meaning.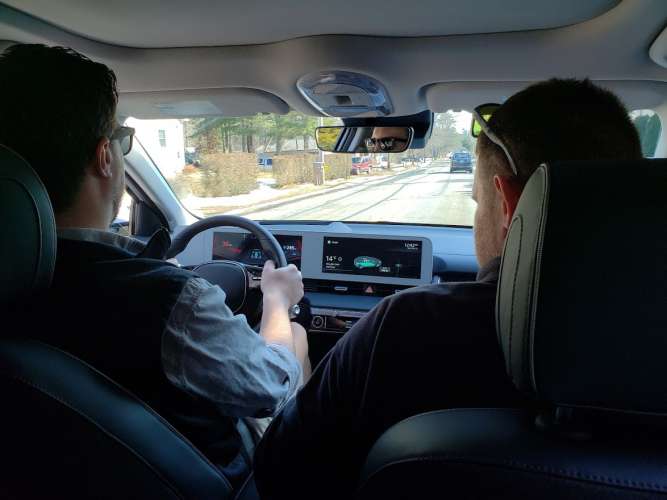 How Big Is the Ioniq 5?
Hyundai's Ioniq 5 has 106.5 cubic feet of passenger volume. That's a bit more than a vehicle like the Toyota RAV4 Prime, which is rated at 101.3 cubic feet of passenger volume. Because the Ioniq 5 uses a roller skate platform, as nearly all modern BEVs do, it has extra space in places you didn't know you would need or appreciate it, like low down between the front passengers. In all five seating positions, the Ioniq 5 offers ample space for a 6-foot tall adult. I sat behind two six-footers and am myself six feet tall. In the rear seat, I had more than enough legroom, but my head just brushed the ceiling.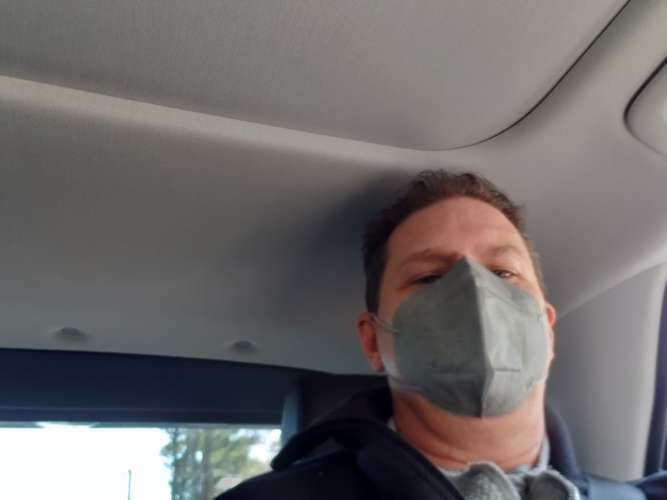 Cargo volume is another story. The Ioniq 5 has 27.2 cubic feet of cargo volume behind the rear seats and with the seats folded down, 59.3 cubic feet. By comparison, the RAV4 Prime offers 33.5 and 63.2 respectively. You may be thinking, "Why use the RAV4 Prime as the comparison vehicle?" The answer is that the RAV4 Prime plug-in hybrid-electric vehicle outsold every affordable BEV crossover in 2021.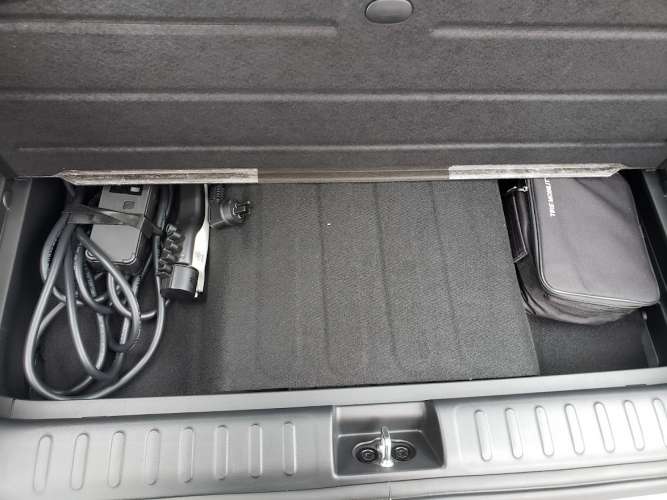 One plus of the Ioniq 5 is its front trunk, or frunk. It offers 0.85 cu ft of space. You may think that is small compared to other BEVs this size and price, but it's bigger than the VW ID.4's which has an exact capacity of 0.0 cu ft. In other words, no frunk.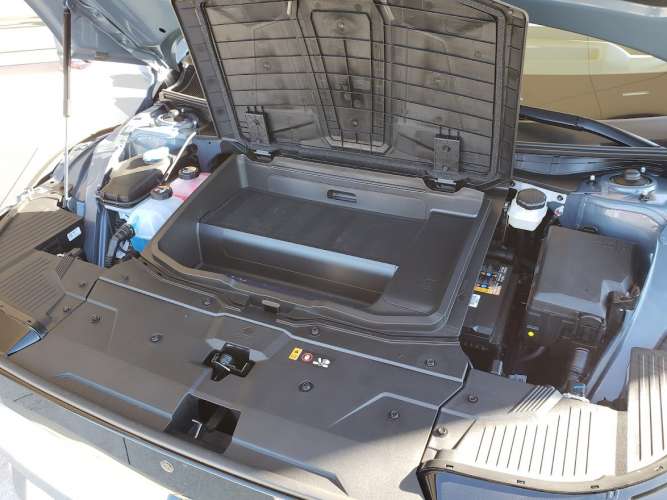 Hyundai Ioniq 5 - What Powers It?
The Ioniq 5 is a battery-electric vehicle (BEV), which means battery-only. It has electric motors that drive it and it uses batteries of varying capacity. Torque in the base trim is 258 lb-ft. However, the AWD trims above S have 446 lb-ft of torque. We tested the larger-capacity model with the most torque offered. What about horsepower? Meaning peak horsepower? Forget peak horsepower. It is almost meaningless in any BEV discussion and was a construct of ancient enthusiast magazines. Start thinking torque now if you are an EV fan.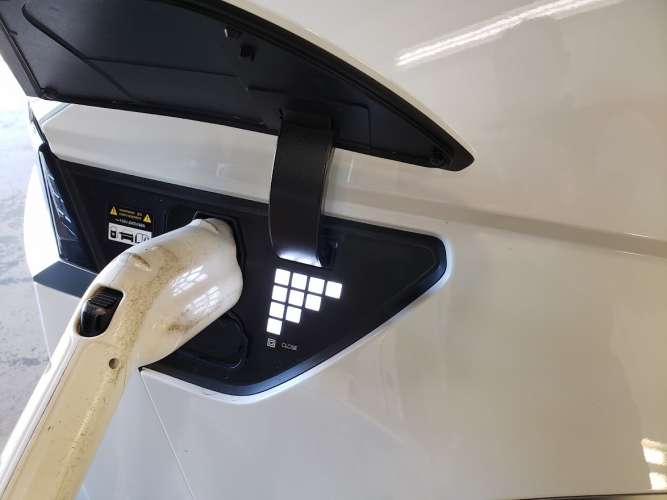 Hyundai Ioniq 5 - What's Its Range?
The maximum EPA estimated range of the Hyundai Ioniq Limited AWD 5 is 256 miles. There are two important words in that prior sentence. Maximum and Estimated. If you've read other publications that claim the Hyundai Ioniq 5 does not match its "Range" it is because the writer is ignorant. Maybe not a bad person, just not qualified to review a modern BEV. For a quick backgrounder on EV range start HERE.
Hyundai Ioniq 5 - How Fast Does It Charge?
One of the Hyundai Ioniq 5's features is that it can charge up a bit quicker than other BEVs of its type under certain circumstances. The faster charge rate is when using a DC fast charger with enough oomph to push the electrons into the hungry battery. Hyundai says that in certain circumstances the batter can be charged from a 10% state of charge to an 80% state of charge in just 18 minutes. That is impressive. Looked at a different way, one can add in about 180 miles of range in 18 minutes under ideal circumstances.
When I charged at home on my Level 2 charger, one that uses 240 V and 20 A, while the battery was in its mid-state-of charge, I was able to put in roughly 9 miles of range per hour on the charger. This was in normal New England winter temps of about 32 F or 0C. So, overnight, I can add about 81 miles or range. Folks with more robust L2 chargers on higher-amperage circuits will be able to add range at double that rate or more. Here is a reality check. That level 2 charger you see in front of a coffee shop will likely add in about 20 miles of range in the time it takes you to use the bathroom and wait in line for a latte. So, quick stops to add meaningful range are really for DCFC situations only.
We asked owners of Ioniq 5s in fan clubs on social media for examples to help highlight how quickly one might add back range under the best of circumstances using a DC fast charger. The best answer we found was this: "The worst I got was 90 miles in 20 minutes, best was 200 miles in 25 minutes. Ambient/battery temperature seems to really affect both range and charging speed. There is also big taper (drop off) in charging speed after 90% soc (state of charge)."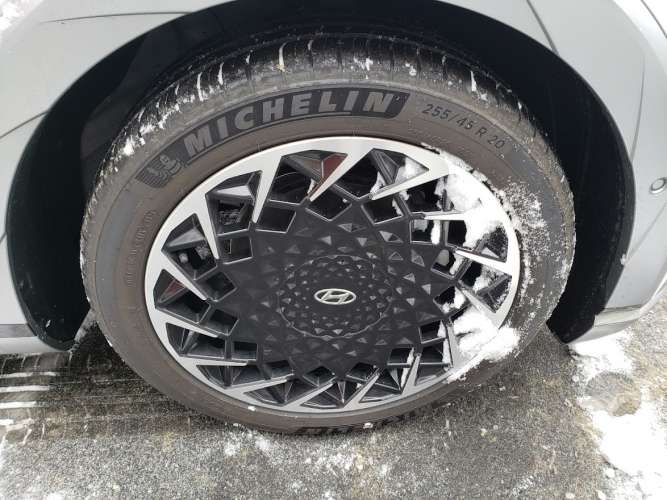 Hyundai Ioniq 5 - How Does It Drive?
We have driven two different Ioniq 5s on two different occasions. Once as a typical shopper test drive, and also as our test car for four days. Let's jump to the end. The Ioniq 5 is a blast to drive. Anyone who loves refinement, powerful torquey launches, and a smooth as silk ride will fall in love immediately.
The most impressive feat the Ioniq 5 can accomplish is a full-whammy launch. Floor the power pedal from a stop, or while driving in normal traffic around town (safely) and it simply leaps forward in a way no conventionally-powered car can. There is no delay. No downshift, no waiting for a turbo to spool, no waiting for revs to build. Just a huge push forward. Think cannonball leaving the cannon. This is a trick most BEVs can perform, and the Ioniq 5 does it as well as most and much better than many. We would compare the thrust you feel to the Jaguar I-PACE's launch ability. It's that fun. We are not joking when we say you should warn passengers before you do it.
Despite having 20" low-profile tires normal bumps are swallowed up with little drama. The Ioniq 5 turns quite nicely and the steering is sharp. In sharp turns or long sweepers, you can really appreciate how having a massive heavy battery way down below the floor is actually not a bad thing. Braking is outstanding. Best party truck? The paddles behind the wheel let you add regenerative braking in steps. It's fun, and also helps you feel involved in the energy savings of the regen system. We love it.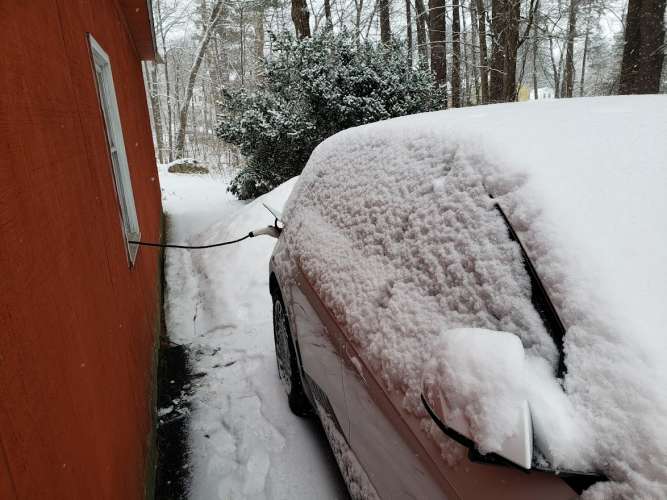 Hyundai Ioniq 5 - How Does It Handle Snow?
Our AWD Hyundai Ioniq 5 Limited tester seemed well-suited to normal on-road snow days driving. We drove in a two-day long storm that kept roads icy and slush and snow-covered to a depth of up to two inches. If you drive in snow a lot, you know this is actually more slippery than, say six inches of fresh cold powder. We'd rate the Ioniq 5 a B- in snow of this type, and the reason is entirely rubber.
Hyundai equipped the Ioniq 5 Limited we tested with all-season touring tires with a design tilt toward low rolling resistance and quiet ride. Fine for three seasons, but if you are planning to commute regardless of the weather or head to ski country when the snow starts to fall, you are going to need a tire like the Michelin CrossClimate2 or dedicated winter tires like Blizzaks to be as safe as practical.
The Ioniq 5 press information never fails to mention its long wheelbase. The idea is that this is a good thing. We won't argue that it can be in certain situations. However, it is not a good thing when you are trying to climb up and over snow plowed up against the entrance of your driveway. A short wheelbase vehicle with a high front fascia is best in many snowy conditions, and always a plus if you need to turn around in a confined space. Think Forester.
We did a deep dive on the Ioniq 5's features for winter driving. Check it out if you are planning to use your Ioniq 5 in winter.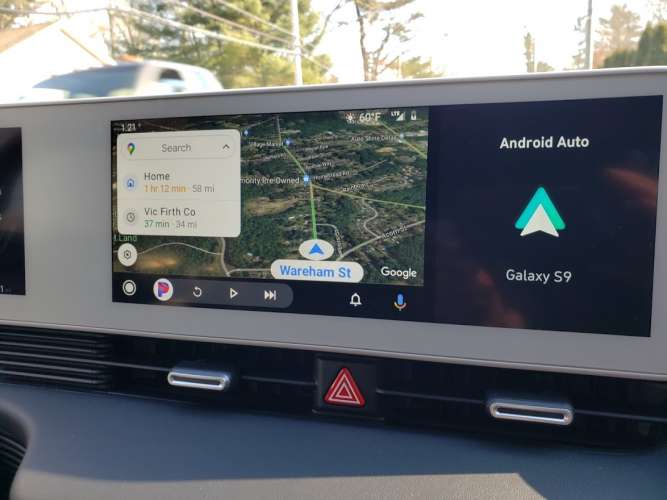 Hyundai Ioniq 5 - Infotainment and Interior
The Ioniq 5 has earned praise for its modern interior design. One big aspect of the interior's look is the large two-panel infotainment system. Before we nit-pick, let's say it earns an A-. The driver information screen is good, maybe great, but at $55K we expect that. The main infotainment screen to the right of that panel is very wide. However, when we used Android Auto about 40% of the screen went unused. And speaking of phone mirroring, you need a cord to make it work. Which is killing us considering the Elantra has wireless Android Auto and has now for two model years. Why the cord in such a modern vehicle?
One area where the Ioniq 5 leads the segment is its head-up display. It is the best quality, most impressive one we have seen in any vehicle at any price point.
The large glass roof panel comes with a proper power-operated shade in the Ioniq 5. We found the heated and cooled seats to be easy to find a comfortable position in and the heated steering wheel is just right. It doesn't burn your hands after a while like some vehicles we test.
The door handles, both inside and out, are unnecessarily novel. We would have preferred conventional pulls. That may be a matter of taste, but you should take note if you shop for the Ioniq 5.
Hyundai Ioniq 5 - What's Missing?
There is very little missing from the Ioniq 5. There is no spare tire. There is no wireless phone mirroring. For some odd reason, Hyundai stole the rear hatch windshield wiper. We wouldn't care so much if the Ioniq 5 came with a digital rearview mirror, but it does not. There is also no wiper blade or windshield heater. In a car, crossover, or "SUV" priced at $56K, we would expect all of these features.
Hyundai Ioniq 5 - How Much Does It Cost?
The best Ioniq 5 trim is the one we tested, the Limited AWD. It has an MSRP and Destination fee (freight) totaling $56,145. To this price expect an added dealer documentation fee, some dealer add-ons such as paint protection, and perhaps an additional dealer markup or "market adjustment." We have seen owner/shopper reports on social media with prices varying from about MSRP to as much as $10K over MSRP. You may also qualify for federal or state EV incentives to offset some of the cost.
Hyundai Ioniq 5 - Value
One way all Hyundai vehicles top rivals is value. With a 10-year/100K mile powertrain warranty, 5-year bumper-to-bumper warranty, and three years of included maintenance, there is no better warranty/included maintenance package offered by any other brand in America. Hyundai says the EV battery is included in the 10-year/100K warranty. After all, it's part of the powertrain. That battery warranty is typical for this segment.
Hyundai Ioniq 5 - Other Segment Options
The Ioniq 5 AWD Limited is in good company. The Kia EV6, Volkswagen ID.4, and Ford Mustang Mach-E are its most direct competitors. Other electrified vehicles that a shopper may wish to consider would be the top-selling Toyota RAV4 Prime PHEV priced below the Ioniq 5, and if one's budget could grow by about 30%, the Tesla Model Y, which starts at over $60K and has no federal EV incentives. The founder of this segment is the Jaguar I-PACE. It is our favorite of all BEVs, but its price is higher even than the Model Y. Later this year, the Toyota bZ4X and the clone of that model, the Subaru Soltera may begin deliveries. The Nissan Ariya is delayed until future notice according to our research.
Hyundai Ioniq 5 - Our Verdict
Based on our days testing the Ioniq 5 AWD Limited, we can safely say the hype is all justified. The Ioniq 5 makes very few mistakes in a segment where they are easily spotted and always highlighted. Stepping back from the details, the Ioniq 5 is very satisfying to drive. It offers a roomy interior in the vehicle size class that has the highest volume of sales in America (yes, more than trucks). Hyundai clearly has a winner on its hands with the Ioniq 5. We can't wait to find out how many Hyundai will deliver in America. The only limit on this vehicle's sales in 2022 will be the production volume Hyundai allocates and imports to the U.S. market.
Images by John Goreham
John Goreham is a long-time New England Motor Press Association member and recovering engineer. John's interest in EVs goes back to 1990 when he designed the thermal control system for an EV battery as part of an academic team. After earning his mechanical engineering degree, John completed a marketing program at Northeastern University and worked with automotive component manufacturers, in the semiconductor industry, and in biotech. In addition to Torque News, John's work has appeared in print in dozens of American news outlets and he provides reviews to many vehicle shopping sites. You can follow John on TikTok @ToknCars, on Twitter, and view his credentials at Linkedin
Re-Publication. If you wish to re-use this content, please contact Torque News for terms and conditions.