Wireless Android Auto and Apple CarPlay Go Mainstream In New Hyundai Elantra
The 2021 Hyundai Elantra features wireless Android Auto and Apple CarPlay. This is the first mainstream, affordable family sedan we know of that has this new technology and we are thrilled by the news. We love Android Auto and Apple CarPlay and do not like having to use a cord to make them work. José Muñoz, president and CEO, Hyundai Motor America said of this new technology, "We've sold more than 3.4 million Elantras here in the U.S. and more than 13.8 million worldwide, and the new, captivating look is going to bring excitement to a whole new generation of buyers. Then once inside, they're going to love all of the progressive features."
Related Story: Value Leader - Hyundai Adds 3 Years Of Included Maintenance On All New Models
Android Auto and Apple CarPlay have been shown in a AAA study to reduce driver distraction when compared to the standard infotainment options found in multiple brands. We love the integration with the main screen, gauge display, and head-up displays that the technology enables.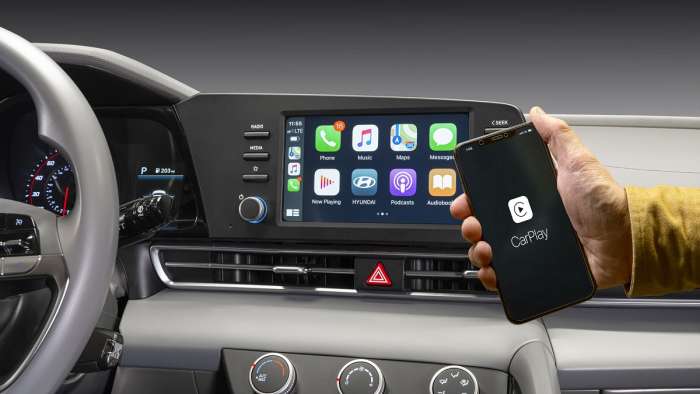 Android Auto and Apple CarPlay also enable fully-integrated Google Maps and Waze. These are the two best navigation apps in the market, and they surpass the features and capabilities that the in-vehicle navigations systems offered by automakers can provide. Best of all they are super easy to use. Here's a quick tutorial on how to use them if you have not tried them yet.
Other brands now offering wireless Android Auto and Apple CarPlay include General Motors in its SUVs and BMW in its full 2021 model lineup.
If you use this technology, please offer some comments in the space below.
John Goreham is a life-long car nut and recovering engineer. John's focus areas are technology, safety, and green vehicles. In the 1990s, he was part of a team that built a solar-electric vehicle from scratch. His was the role of battery thermal control designer. For 20 years he applied his engineering and sales talents in the high tech world and published numerous articles in technical journals such as Chemical Processing Magazine. In 2008 he retired from that career and dedicated himself to chasing his dream of being an auto writer. In addition to Torque News, John's work has appeared in print in dozens of American newspapers and he provides reviews to many vehicle shopping sites. You can follow John on Twitter, and view his credentials at Linkedin.