Toyota's RAV4 Prime plug-in hybrid-electric vehicle (PHEV) is the market leader in two-row electrified crossovers in America with a consumer cost under $50K. Toyota was able to build and deliver to consumers more RAV4 Primes in 2021 than any close or distant competitor could. Here is a chart showing the U.S. deliveries of similar electrified crossovers in the U.D. market in 2021. We will touch on a few models not listed in the coming sections of the story.
Related Story: 5 Plug-in Hybrid EV Myths Battery-Electric Purists Wish Were True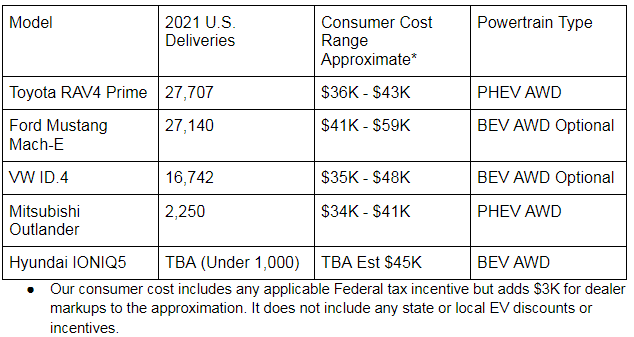 Let us say a second time that our consumer cost includes destination, delivery, known order fees, plus $3K for dealer markups in the approximation. We then discounted the cost by the Federal tax incentive if the model qualified. The approximate cost shown does not include any state or local EV discounts or incentives.
Related Story: Truth Unplugged - Data Helps Disprove Critics' Main Complaint About Plug-In Hybrids
Details On Deliveries - Timing
As can be seen from the comparison chart, the Toyota RAV4 Prime and the Ford Mustang Mach-E were neck and neck. Both had a full 12-months of deliveries, both started delivering vehicles the prior year in 2020 (we didn't count those deliveries of course). VW's ID.4 did not have a full year of deliveries and may have also been in the running for the top sport if it had. The Outlander PHEV had a full year of deliveries but is in the midst of a generational change. The IONIQ5 began to be delivered in mid-December. We witnessed a delivery, so we know that is true. However, it's not fair to even compare its numbers to the RAV4 Prime since it barely made it in under the calendar year-end. We included it in case readers were wondering.
The Other PHEVs and BEVs
There exist some other PHEVs in the price range of the RAV4 Prime, and one notable one that is about 50% higher in cost to the consumer. Hyundai has some PHEV crossover models it sells, Ford has the Escape PHEV, and Kia also has its Niro, which is not really the same as these, but we would have included it. We are friendly with all of the PR folks at all these three major green vehicle brands. We reached out to each regarding the exact numbers of Sorento PHEVs, Escape PHEVs, and Niros that were sold in 2021. All three politely declined to go on the record. We will assume that since the numbers are not to be disclosed they were relatively small.
Related Story: Why One Toyota RAV4 Prime Owner Passed On The Tesla Model Y and Honda CR-V Hybrid
Hey Dummy, What About Tesla!?
Tesla makes a great BEV called the Model Y, but its consumer cost starts at over $60K. Tesla does not break down its deliveries by market or by individual model. Tesla has no responsive PR department. Thus, we don't know how many new Model Y crossovers it sold in the U.S. We suspect it is the market leader in the $60K to $80K BEV segment. But we have no way to really know that.
Related Story: Tesla Owners Are Buying Toyota RAV4 Prime Plug-in Hybrids – Here's Why
Jaguar, Volvo, BMW, and MB
Jaguar offers it outstanding I-PACE crossover in the U.S. but the company had not posted its U.S. deliveries by January 8th. In any case, we are pretty certain that the RAV4 Prime outsells all of Jaguar in the U.S. Also, its price point is north of the Model Y. Volvo has some electrified crossovers, but didn't provide a breakdown by model and powertrain. In any case, they add up to less than the RAV4 Prime's delivery total and cost more than the grouping we are using. If you are interested in the delivery volume of more expensive models from BMW and Mercedes-Benz a web search may satisfy your curiosity.
Related Story: Prius Line Outsells Every Affordable BEV For 2021 - Bolt and Leaf Combined
Conclusion- Toyota RAV4 Prime Leads Its Segment
This listing includes all of the two-row (or three in the case of the Sorento, Outlander, and Model Y) crossover of the approximate size of the RAV4. This is the single largest vehicle segment by volume in America, surpassing trucks. One interesting tidbit is that the RAV4 Hybrid (which does not have a plug) seems to have outsold the entire sub-$50K plug-in segment of BEVs and PHEV combined. Toyota delivered a whopping 120,983 in 2021, up from 2020, and we think the most the company has ever sold.
Which models will be the volume leaders in sales in this important segment in 2022? Tell us in the comments below.
Image of Toyota RAV4 Prime with flag courtesy of Kate Silbaugh
Here is the full breakdown of Toyota's 2021 green vehicle deliveries:

John Goreham is a long-time New England Motor Press Association member and recovering engineer. John's interest in EVs goes back to 1990 when he designed the thermal control system for an EV battery as part of an academic team. After earning his mechanical engineering degree, John completed a marketing program at Northeastern University and worked with automotive component manufacturers, in the semiconductor industry, and in biotech. In addition to Torque News, John's work has appeared in print in dozens of American news outlets and he provides reviews to many vehicle shopping sites. You can follow John on TikTok @ToknCars, on Twitter, and view his credentials at Linkedin
Re-Publication. If you wish to re-use this content, please contact Torque News for terms and conditions.