Michelin CrossClimate2 Tire Owner Reports - Outstanding Winter Traction
Torque News is presently conducting a long-term test of the Michelin CrossClimate2 all-season, winter-rated tires. Unlike most all-season tires, the CrossClimate2 has earned the three-peak mountain snowflake seal of winter traction capability. Although this tire is winter-rated, it is perfectly at home in all seasons and seems to have zero downsides. We asked Toyota RAV4 Prime, RAV4 Hybrid, and Mazda CX-5 owners to tell Torque News how the tires perform for them in harsh winter conditions. Here's what they told us.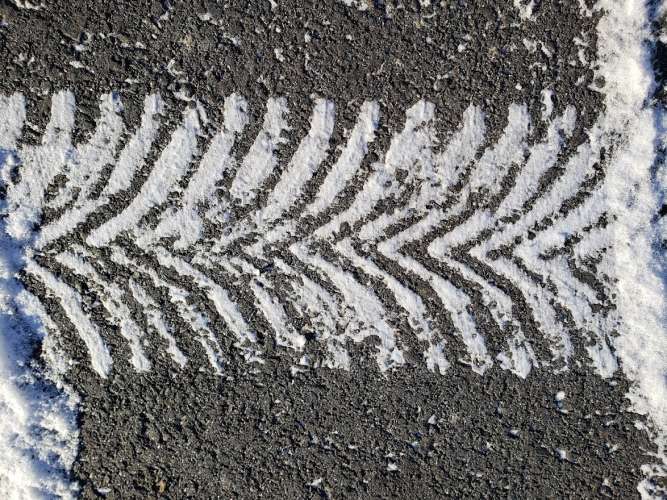 Before we head into that, let us draw your attention to the prior Test Report Results below. If you want to know about noise, treadwear, comfort, handling, wet-weather traction, and fuel economy, the prior reviews have it all.
Long-term Test of Michelin CrossClimate2 All-Weather Tires - Initial Impressions
Second Update Here
Third Update Here
Fourth Update Here
Watch the Michelin CrossClimate2 Tire Tackle Ice-Slick Roads
Mazda CX-5 Owners - "Perfect"
The first owner of these tires we spoke to is part-time Torque News Contributor, Hande Tuncer. She had a chance to try the CX-5 equipped with CrossClimate2 tires in an icy mix of about six inches of snow and sleet this past week. It was her first time using the tires in winter. "No slipping at all. Perfect." She's a woman of few words, but what she says is a pretty solid summary. I was out that same day in another vehicle. It was a real challenge and those with "normal" tires were crashing and skidding all over our area.
We asked some fellow CX-5 owners in the FB club for that model if any could concur with Hande. Member JJ reports, "They are excellent." Member CHY reports, "I have CC2s. No problems in 2-3" of snow."
RAV4 Prime Owners - Universal Positive Reports
We did a deeper dive on the CrossClimate2's performance with a RAV4 Prime PHEV owner named Ed. W. He supplied the top of page image for our story. Here is a Q&A that helps detail his experiences with the Michelin CrossClimate2 tires in severe winter weather.
Q: Please tell us about the vehicle on which you have recently had Michelin CrossClimate2 tires.
Ed: 2021 Toyota Rav4 Prime XSE with all packages
Q: Where did you get the tires, who installed them, what did you pay, and what did you do with the tires the vehicle came with?
Ed: Purchased from Discount Tire Direct online. Discount Tire (local office) installed them for $20/tire. I paid $732 for a set of 4 tires. Then add $80 for local installation. I kept the stock tires that came with the car for use later.
Q: What tires came off of the RAV4 Prime? How many miles had they traveled and what were your overall impressions of them?
Ed: Yokohama Avid GT 19", They had about 12K on them when I took them off. Just an "OK" tire. Very noisy when turning slightly aggressively. TERRIBLE in snow and rain.
Q: Why did you opt to switch to the Michelin CrossClimate2 tires? What were you trying to improve that the original tires were not ideal at?
Ed: Triple Peak rated all-season snow tires are mandated for some roads where I travel. I really wanted improved snow handling and the ability to NOT deal with chains when visiting California which requires 4WD and snow tires when the passes have snow on them.
Q: Tell us how the initial impressions were. Drive comfort, handling, ambient noise, any other characteristics.
Ed: Completely blown away! I still don't truly understand how an all-season tire can be triple-peak snow rated and also be as efficient as the stock tires which are energy rated. I lost no noticeable range with the Michelin's. Traction in both wet and snow is outstanding.
Q: You've since driven in some snow conditions please give us as much detail as you can about your impressions and comparisons.
Ed: I recently moved to a snow area (Reno, NV) and only have one season to compare it to the stock tires on the RAV4 and a set of Bridgestone Blizzaks, a dedicated snow tire that I had mounted on my 2018 Chrysler Pacifica PHEV van. The Blizzaks were amazing. Really made the van a tank. But the limited life and the need to mount/unmount the tires every snow season was less than ideal. Also, the fact that if you arrived at your sunny destination with your snow tires on meant that they wore out even sooner which isn't good.
The Michelin CC2 tires aren't as good as the Blizzaks in the snow, but I would say that they are about 80% as good as a dedicated snow tire. Combine that with the all-season ability and a 50K treadwear warranty, that is pretty amazing in my book. I still feel like these tires are made from unobtainium.
The biggest difference I noticed for the CC2 vs. stock and Blizzaks were stopping traction. The Blizzaks did better on ice than the CC2. The CC2 were superior to the stock Yokohama in every way on ice. So really the CC2 in my opinion is the ultimate no-compromise tire. I liked them so much that I just put a set on my 2019 Chevy Volt PHEV.
Other RAV4 Prime Owners' Feedback
Two other owners offered detailed feedback mirroring what Ed said, but owner MT reported losing about 5 miles of EV range (perhaps related to winter range reduction in general?) Member VPB said that she drives in extreme weather frequently and felt that the CrossClmate2 tires didn't quite match dedicated winter tires, but showed meaningful improvement over the set of standard all-season tires the vehicle came with.
Toyota RAV4 Hybrid
Facebook member of the RAV4 Hybrid Club GY offered this information about the Michelin CrossClimate2 tires: "I had the CC2s installed on my 2021 RAV4 Hybrid XSE at the end of December. Immediately I noticed that they felt much more planted and connected to the road. I finally got a chance to drive them in the snow last Friday (I am also in the Boston area) and they performed flawlessly. No slipping or sliding. No issues driving on unplowed roads. I was impressed with their performance. These tires replaced my OEM Michelin Primacys with just 3700 miles on them. Those tires seemed to float over the road and were very squirrelly in rain & snow. I am 100% happy with my CrossClimate2s. They're quiet, smooth and I am much more confident with these tires on my car."
Consumer Reports rates the Michelin CrossClimate2 tires Excellent on snow and Good for ice braking (stopping). Tire Rack rates the CrossClimate2 tire 9.3 for Light Snow Traction, 9.0 for Deep Snow Traction, and 8.8 for Ice Traction.
Torque News would like to thank the many owners who offered up help for our story and Ed W in particular. If you own the Michelin CrossClimate2 tires and have some winter driving experiences to share please post in our comments section below. If you could note your car's make and model we would appreciate that.
Top of page image used with the permission of Ed W. CrossClimate2 tread pattern image by John Goreham
Note: This is not a paid promotion. The original four test tires were supplied by Michelin and were mounted and balanced at the author's expense. The fifth replacement tire following the puncture was paid for by the author.
John Goreham is a long-time New England Motor Press Association member and recovering engineer. John's interest in EVs goes back to 1990 when he designed the thermal control system for an EV battery as part of an academic team. After earning his mechanical engineering degree, John completed a marketing program at Northeastern University and worked with automotive component manufacturers, in the semiconductor industry, and in biotech. In addition to Torque News, John's work has appeared in print in dozens of American news outlets and he provides reviews to many vehicle shopping sites. You can follow John on TikTok @ToknCars, on Twitter, and view his credentials at Linkedin
Re-Publication. If you wish to re-use this content, please contact Torque News for terms and conditions.