If you saw our headline and figured we would be doing an overly-technical evaluation of EV charging times or range reduction due to winter weather, you are mistaken. All EVs have the same challenges in winter in this regard. Did you assume we would be doing some waist-high snow driving to highlight the Ioniq 5's HTRAC all-wheel drive system? Nope. This vehicle is not designed for that duty. We're sure its AWD system is as good for on-road winter driving as any other battery-electric vehicle is. In this story, we are going to break down the $56K Ioniq 5's winter convenience features.
Click HERE for the accompanying TikTok video!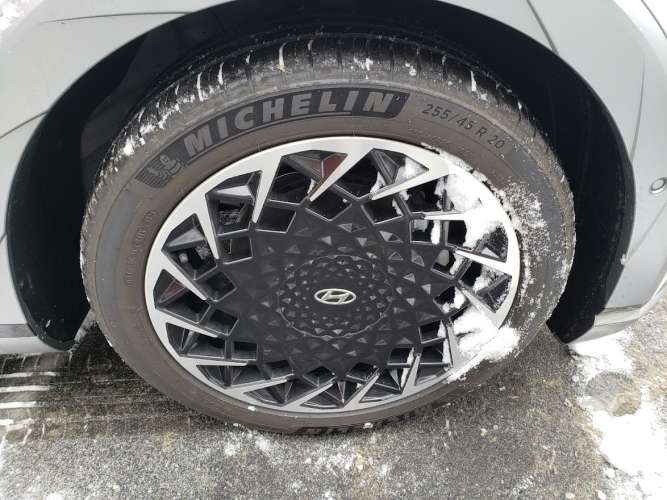 Winter-Weather Driving and Tires
We drove the Ioniq 5 during snow and on roads treated and plowed. It was great. Normal. Just like most all-wheel drive cars or crossovers with AWD are. Tires make the biggest difference in winter on snow and on ice. The tire Hyundai chose is an all-season touring tire. Not a bad choice, but not the best choice either. Although Hyundai selected high-quality Michelin brand tires, it opted for a tire that isn't snow-rated. Tire Rack rates these tires 8.4 for light snow, 7.7 for deep snow traction, and 7.3 for ice traction.
Michelin's CrossClimate2 tire with its three-peak mountain snowflake rating for severe snow duty would have been a better choice in our opinion. This vehicle and its tires will be fine for most winter commutes, but if you are going to own this car and take it skiing or to your winter cabin getaway, or let's say you are an essential worker in a field that goes to work in all weather conditions, you are going to need to swap rubber twice a year. The CrossClimate2 earns a rating from Tire Rack of 9.4 for light snow, 9.0 for deep snow, and 8.7 for ice traction. And based on our testing, has no downsides.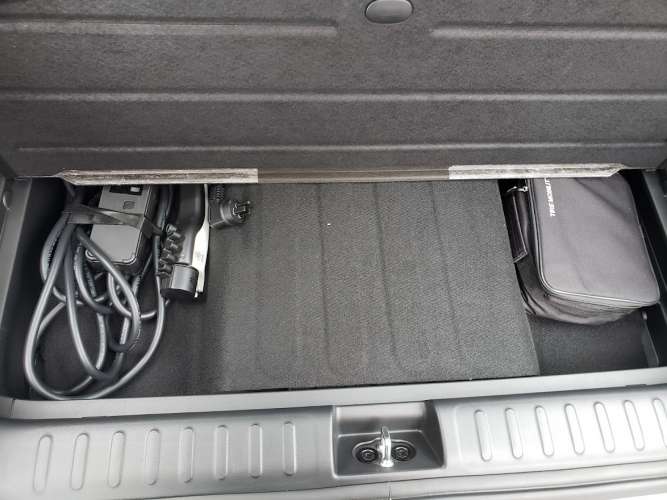 If the low-profile tires should suffer damage, there is no spare in the Ioniq 5. Yes, we know that many other models from many other brands also commit this sin of deletion. But you can get a spare in the Audi e-tron, and all Toyota RAV4 Primes have one. Heck, there are Wrangler 4xe models with standard matching full-size spares. Good luck with your AAA tow and then finding a tire in stock during these unusual times. Remember, that tire mobility slime in your trunk will be as hard as diamond when temps hit the single digits.
Wiper Blades
Here in New England, vehicle owners who arrive at work in the morning during a snow, sleet, or ice storm will usually "pull up the wipers." The idea is to pull the wipers up so they stand proud of the windshield and then don't get frozen to the window under three inches of solid ice. The Ioniq 5's wiper blade design won't allow you to do that.
Heated Windshield
One feature all three of the vehicles I personally own (Forester, Highlander, CX-5) have is heating wires in the front windshield glass. They do two things; First, they keep your wipers from getting frozen when you drive in a sleet storm. Second, they help you get going after ice and snow have built up after a storm. The Ioniq 5 Limited doesn't appear to have this common feature. Sure, you can bust out the scraper and then look through scratched glass forevermore, but New Englanders generally don't scrape. We pull up the wipers and turn on the windshield de-icer.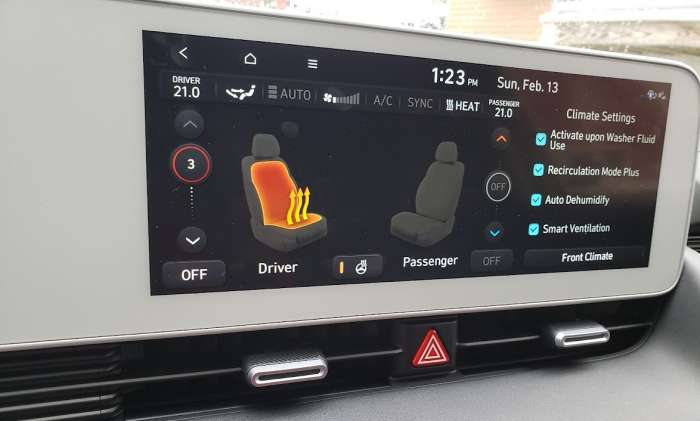 Heated Seats and Steering Wheel
The Ioniq 5 we tested had a price before dealer markups and EV incentives of $56,145. We would expect any vehicle in this price range to come with heated seats and a heated steering wheel, and the Ioniq 5 does. They are very effective, and there are some smart modes you can employ so they work when you want them to. However, there is no mechanical knob or switch to turn them on and off.
Instead, you use the touch-screen. By our count, it takes five touches tapping through three menus to turn them on or off. Watch our TikTok video posted above to see all of the steps. We understand that buttons may seem old-school to many EV shoppers. But to those who actually use heated seats, you know that they tend to be a feature you control manually since your body and the seats heat up and cool down at rates that may not jive.
No Rear Wiper
"Where is the rear wiper?" That is a question common to all Ioniq 5 fan clubs on social media. We have no good answer for this. Based on our testing, snow and ice and raindrops do form on the Ioniq 5's rear glass. The backup camera can also be obscured by snow and ice after driving.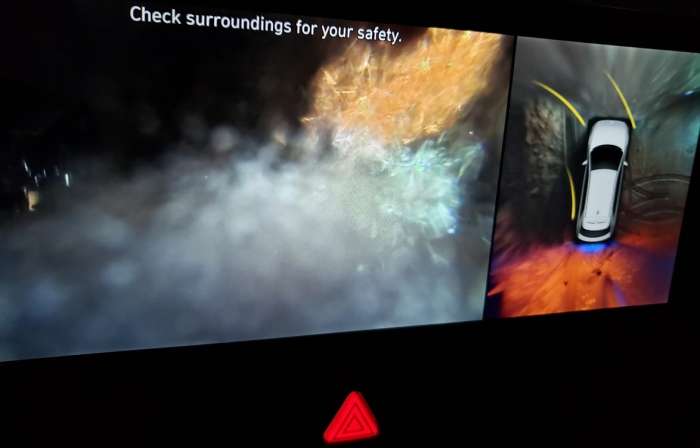 Please be aware that we think the Ioniq 5 is a fantastic new vehicle from the brand we feel has done the most to provide affordable BEVs. This third BEV model from Hyundai is a leap ahead of anything else in its price class on sale now except the Kia EV6, which is a similar vehicle. We like the Mustang Mach-E, and the ID.4 has its merits, but the Ioniq 5 is the hot model for Q1 2022. We in New England have learned to take winter very seriously. Tell us in the comments below what you think of our real-world analysis of the Ioniq 5's usability in winter weather.
For more of our observations on the outstanding new Hyundai Ioniq 5, please check our full review.
John Goreham is a long-time New England Motor Press Association member and recovering engineer. John's interest in EVs goes back to 1990 when he designed the thermal control system for an EV battery as part of an academic team. After earning his mechanical engineering degree, John completed a marketing program at Northeastern University and worked with automotive component manufacturers, in the semiconductor industry, and in biotech. In addition to Torque News, John's work has appeared in print in dozens of American news outlets and he provides reviews to many vehicle shopping sites. You can follow John on TikTok @ToknCars, on Twitter, and view his credentials at Linkedin
Re-Publication. If you wish to re-use this content, please contact Torque News for terms and conditions.
All images by John Goreham