This tester drove, evaluated, and reported on over 50 new vehicles in 2021. There is good in all vehicles, and it's our job as testers to find that, and report on test vehicles in a balanced way that doesn't over-hype a vehicle or pretend its flaws don't exist. Most tests are routine. The vehicles from all manufacturers continue to get better and better and our expectations are rarely unmet. However, some vehicles we test go beyond our expectations. They are better in important ways than we thought they would be, or they offer that special something that deserves extra recognition. Here is our list of the vehicles tested in 2021 that we feel are worthy of special attention. For the record, a "test" is a week-long period of time with a vehicle in which it is driven in its targeted environment. When we vary from that definition we make note of it.
Chevrolet Bolt EUV
Our test of the Chevrolet Bolt EUV was during a GM-sponsored event. We began and ended our driving in downtown Boston. During our four days with the Bolt EUV, we drove it in every conceivable scenario except snow. We covered suburban and rural driving and the very definition of mountain roads. In every scenario, the Bolt EUV shines.
The Super Cruise driving assistant technology is perhaps the Bolt EUV's most impressive technology. We didn't expect to like it so much, or for it to be so capable. It's the only hands-free adaptive cruise control system we have thus far tested and it really sets a high bar.
Like many of the vehicles on our list, the Bolt EUV was better than expected across the board. Its infotainment system was among the best we have ever experienced, and the Bolt's sporty nature isn't diminished by the addition of the rear legroom that sets the EUV apart from the standard Bolt hatchback.
The Bolt EUV is presently off the market due to a battery defect and is expected to return in late winter 2022.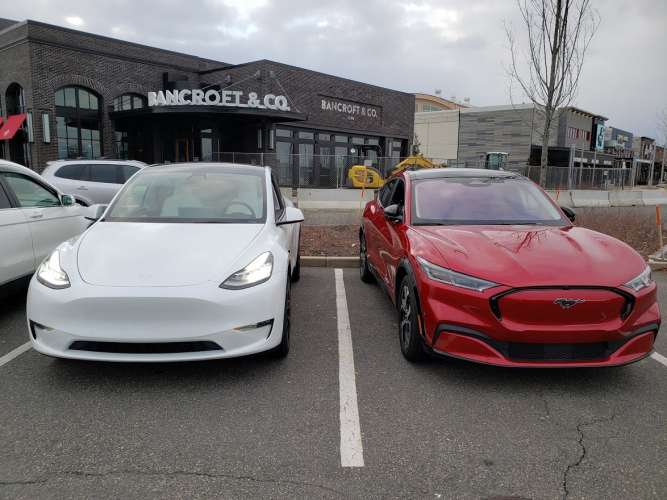 Ford Mustang Mach-E
Our test of the Ford Mustang Mach-E answered one lingering question we had been wondering about; "Would a legacy manufacturer eventually leap ahead of Tesla?" Ford wisely adopted many of Tesla's best practices and ignored other Tesla quirks and failures. We drove the Mustang Mach-E back to back with a Tesla Model Y and would suggest to any Tesla shopper to do so.
The Mustang Mach-E feels refined and fun when driven. Ford's intuitive and modern infotainment system coupled with a high-feature interior simply leaves Tesla behind. Our biggest surprise was how ready for market the Mustang Mach-E was out of the gate. Ford has maintained solid sales throughout 2021, and heading into 2022 Ford is in a great position to have BEV offerings serving the largest two vehicle segments.
Jeep Wrangler Rubicon 4Xe & 392
In 2021 we tested three amazing Jeep Wrangler Unlimited trims. All were Rubicons. Two were Wrangler 392s, and one was a 4Xe. All of them are amazing in their own way. If you want a Wrangler with a muscle-car V8 opt for the 392. However, the Wrangler 4Xe was the bigger surprise.
It turns out that the 4Xe has the same torque as the 392. We also liked that the 4Xe had about double the real-world fuel economy of the 392 and could travel around town using only electricity.
Ford Bronco Sport
The Bronco Sport is one of our overall favorite vehicles. We tested the Bronco Sport in snow and winter weather. It did so well we began to compare it mentally to the Subaru Forester, our benchmark compact crossover vehicle against which all winter vehicles are measured.
The Bronco Sport is much more than just a great winter vehicle. Top trims have an engine that is uncommon in the class, a 2.0-liter turbocharged four-cylinder. Unlike so many compact crossovers, the top trims of the Bronco Sport don't feel underpowered. The Bronco Sport is also larger than one expects it to be. Larger inside than many Bronco trims.
Ford Explorer
We'll keep this brief. There is no better value three-row SUV the size of an Explorer for $45K. The Explorer is amazingly refined and quiet. Its four-cylinder engine gets the job done and delivers fuel economy very close to that of a compact crossover. If you are looking for three-row value, and many shoppers are, here it is.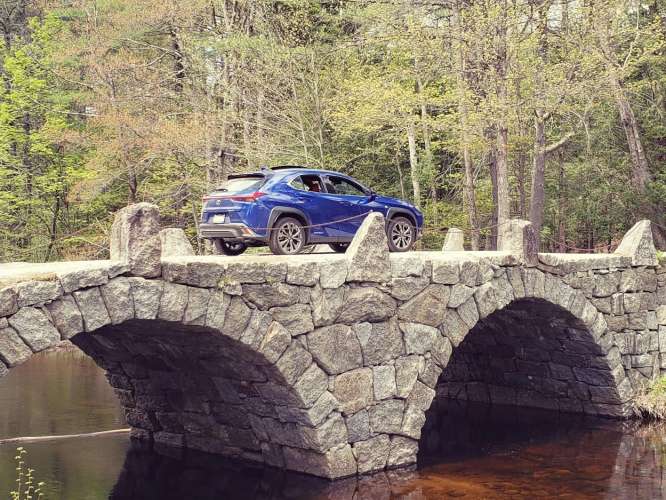 Lexus UX 250 h F SPORT
We had limited expectations for the Lexus UX, but by the end of our week with it we hated to see it go. The Lexus UX is not all things to all drivers. Rather, it is a super-efficient, amazingly-refined smaller than compact crossover that is sublime in its ability to make a back-road rural road trip feel special.
MINI Cooper SE Battery-Electric Vehicle
We didn't have much time with the MINI Cooper S, just a very short test drive at a public BMW event. It was some of the most productive testing time we spent all year. The MINI Cooper SE is what all MINI cars are; fun, quick, and quirky. It was so good we started to do mental math. At just about $25K well-equipped after incentives why wouldn't you get the MINI SE as a second car? Oh, by the way, it's electric.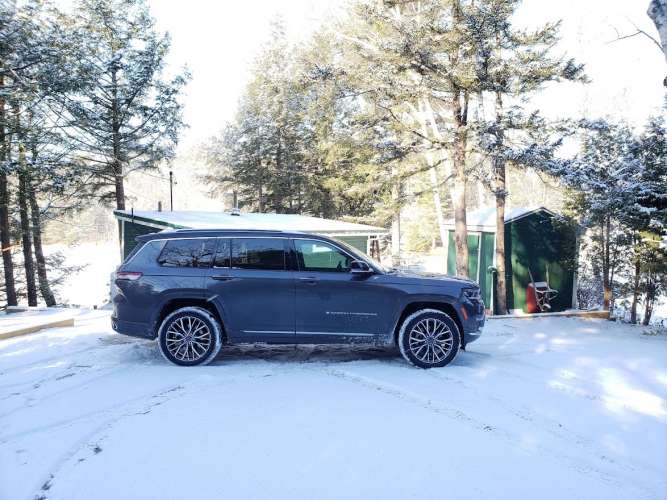 Grand Cherokee L
We love the Jeep Grand Cherokee, but… It needs three rows. Now it has them! We tested a base trim and mid-trim Grand Cherokee L and both reminded us that Jeep is a luxury leader in the SUV segment.
Bolt EUV image by John Goreham. Mustang Mach-E image by John Goreham. Wrangler 4Xe image by John Goreham. Ford Bronco Sport image by John Goreham. Lexus UX 250h F SPORT image by John Goreham. Jeep Grand Cherokee L image by John Goreham.
John Goreham is a long-time New England Motor Press Association member and recovering engineer. John's interest in EVs goes back to 1990 when he designed the thermal control system for an EV battery as part of an academic team. After earning his mechanical engineering degree, John completed a marketing program at Northeastern University and worked with automotive component manufacturers, in the semiconductor industry, and in biotech. In addition to Torque News, John's work has appeared in print in dozens of American news outlets and he provides reviews to many vehicle shopping sites. You can follow John on TikTok @ToknCars, on Twitter, and view his credentials at Linkedin
Re-Publication. If you wish to re-use this content, please contact Torque News for terms and conditions.