Jeep Grand Cherokee L Summit Reserve 4X4 Exemplifies Jeep's Snow Credibility
OK, we're sort of joking about the "harshest" storm this season. While true, it was a whopping two inches. Still, even though we didn't have to test this Jeep's eleven inches of minimum ground clearance, we were able to inspect the Jeep's winter-related equipment and capabilities.
Related Story - Here's How Pro Testers Know If A Vehicle Is Good In Winter Ice and Snow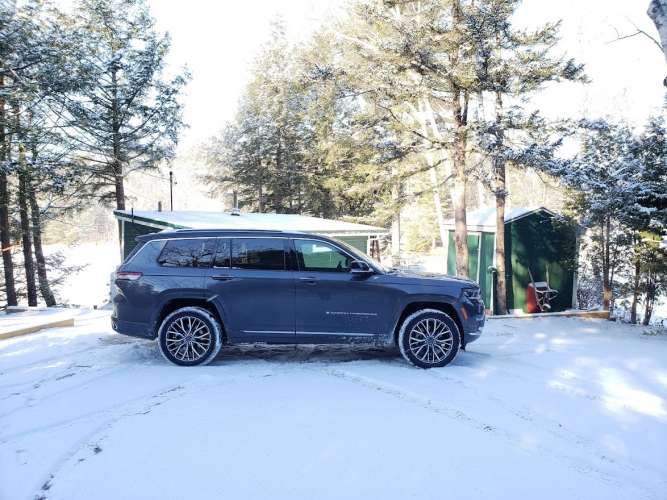 Jeep Grand Cherokee L Summit Reserve 4X4 - What Is It?
The vehicle we tested this week isn't the classic Wrangler, but one of the three-row luxury SUVs from Jeep. With a price of just $69,730 we expected this luxury vehicle to lack a few of the amenities we use to draw a dividing line between mainstream and premium. But we were wrong. Unlike a German "luxury" vehicle we tested this month with a significantly higher price tag, this one had a heated steering wheel. And so much more.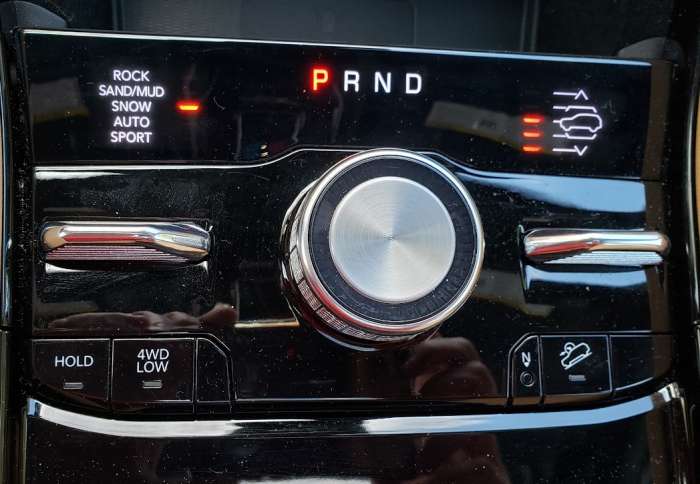 Winter Vehicle Capabilities
The Jeep Grand Cherokee L Summit Reserve 4X4 has a muscle-car V8 under the hood. The vehicle is always all-wheel drive, but also offers Quadra-Trac II low-range 4X4 capability. And the Jeep Selec Terrain system offers the driver smart drive mode choices. We selected "Snow."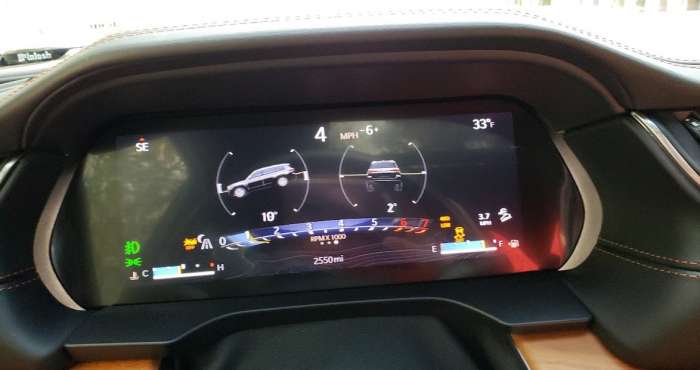 We used the Jeep to ascend a 14-degree slope covered in compressed snow with no difficulty. How do we know it was 14 degrees? The vehicle has a pitch and yaw monitor shown in the driver information display.
Although going up is an interesting test, we have found that even the best SUVs have trouble on this same hill coming down. The steep hill leads to a cliff and then a lake at the bottom. So, we used the Hill Descent Control in conjunction with the low range 4X4 system to manage our descent speed to one that ensured safety for us, and an undamaged Jeep for the next journalist. Jeep assigns the steering wheel paddles the role of speed management. Hill descent control is easy to use and intuitive to operate. Without the hill descent system, the Jeep wanted to overspeed its traction limits. With it engaged, it magically holds on and can safely and securely descend a slippery snow-covered hill at a slower than walking pace.
The Jeep Grand Cherokee L Summit Reserve 4X4 can also use its air suspension to lift you over obstacles like a plowed-in driveway or lower itself to make getting in and out in slick driveways a bit less eventful.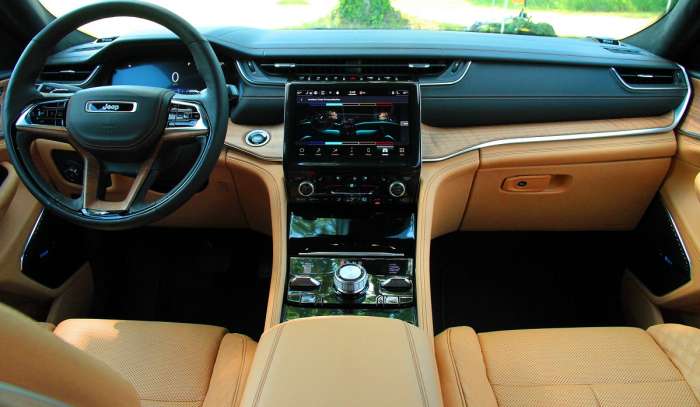 Winter Comfort and Safety
The Jeep Grand Cherokee L Summit Reserve 4X4 offers heated seats in the front two rows as well as four-zone automatic climate control. You don't have to worry about getting into a cold-soaked vehicle if you park outside overnight in a blizzard because the vehicle has a remote start.
To help manage your safety in dark difficult weather, Jeep includes Night Vision with pedestrian and animal detection. There is also a head-up display to keep you focused on the road ahead, rather than on the center screen. Directly in your view below the head-up display is a very large and very wide driver information display that can show a high-quality map, individual tire pressure values, or a graphic of the Jeep's drivetrain functions. A front-facing camera view can be shown on the main screen.
Winter Luxury
As much as we like listing out the winter capabilities of the Jeep Grand Cherokee L Summit Reserve 4X4, we feel we should also mention some notable luxury content. We'll use bullet points:
-Wireless Android Auto and Apple CarPlay with a wireless phone charger
-.95 kW McIntosh premium audio system
-Palermo leather seating surfaces and door trim with microfiber suede headliner
-Ventilated seating surfaces
-Massage seats for front two occupants
-Active Noise Control
-Spare tire (another feature the German "luxury" vehicle didn't have)
Related Story: Is the V6 Engine Enough For the Jeep Grand Cherokee L?
Jeep Grand Cherokee L Summit Reserve 4X4 - Conclusion
Those looking for a luxury SUV with unsurpassed winter driving ability, comfort, and safety should start their search with the Jeep Grand Cherokee L Summit Reserve 4X4.
John Goreham is a long-time New England Motor Press Association member and recovering engineer. John's interest in EVs goes back to 1990 when he designed the thermal control system for an EV battery as part of an academic team. After earning his mechanical engineering degree, John completed a marketing program at Northeastern University and worked with automotive component manufacturers, in the semiconductor industry, and in biotech. In addition to Torque News, John's work has appeared in print in dozens of American news outlets and he provides reviews to many vehicle shopping sites. You can follow John on TikTok @ToknCars, on Twitter, and view his credentials at Linkedin
Re-Publication. If you wish to re-use this content, please contact Torque News for terms and conditions.
Image of dash courtesy of Jeep Media Support. Other image by John Goreham