Civic doesn't require a turbocharger to set it apart from the competition. It's that sweet, high revving, 4-cylinder i-VTEC engine exhaust tone that tugs at the Civic-Fanboy heartstrings, just a tad, as one settles into the "sweet spot," that lays somewhere between 3rd and 4rth gear in the 2.0 liter, manually shifted 2017 Civic LX, and EX.. Sure, a hardworking CVT (continuous variable transmission) is available,) and that's the transmission that most daily commuters will option for. While running the roads of the Pacific Northwest, we see a lot of entry, and just off entry level trimmed 10th generation Civics -- there's some real value to be found here.
Even in its most basic form, the reinvented Civic is the most powerful in Honda history

I write this post after driving two weeks behind the wheel of 2017 Civic Si. In the reinvented lineup of the best selling (retail) car in north America, Civic Si sits just below the first turbocharged Civic Type-R to be offered stateside. As an automotive review journalist that aims his virtual pen at the Asian, domestic built, and import segment, I've driven most brands, yet hold a decades long fondness for Honda Civic. Read my entry level Civic drive review here.
The original micro-car sized Civic was the car that not only redefined Japanese import car quality, but mainstreamed the Asian import car in the U.S.. Honda took the affordable, Asian import to the forefront of the import car segment by producing an affordable, long-lived and dependable, fun to drive car. 43 years later the 10th generation 2017 Civic bucking the crossover trend by presenting what is considered by many the best looking, European sedan inspired compact coupe and sedan in the sub-premium compact car segment.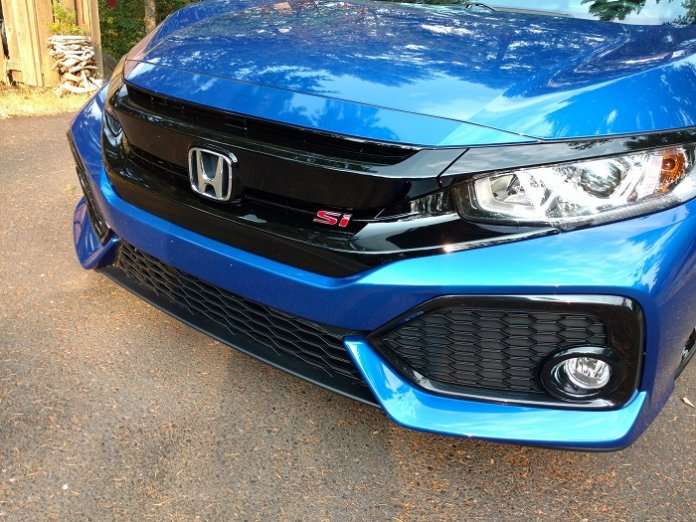 Civic EX could be the greatest value found in Honda's compact car lineup
Honda carries the segment busting good looks of the reinvented Civic lineup through all trim levels. And, once one gets beyond wheel design choices, there is little discernible visual difference in the Civic sedan and coupe lineup; that's a nice bonus for the budget conscious Civic buyer. There's also that 40 mpg highway added bonus. Want a bit more Civic?
There's something appealing about basic: With a beginning MSRP of $21,140, I spent a minute with Honda's comprehensive build tool, and landed on a nicely equipped 2017 Civic EX, optioned with Honda Sensing, ™ (Honda's active safety, accident avoidance suite,) door guards, illuminated center console lighting, CVT transmission, and landed on a pre licence fee and tax MSRP of $23,349.. Not the cheapest available compact 4-door sedan in the segment, but arguably the roomiest, road taming, quietest, and best equipped for the money.
What I'm encountering behind the wheel of many, if not most 10th generation Honda Civics in Eugene, Oregon is the "30 something" professional women. 48% of my readers here at Honda -Torque News are female Honda fans, or young professionals interested in Honda. The new generation Honda Civic takes the budget conscious daily commuter to a higher level of "cool," without stressing the budget. For those that do not obsess over zero to 60 mph sprint speed, the not-so entry level Civic LX or EX may be the perfect car for you.