This article is a taste of a condensed summary of some of the highlights gleaned from The Limiting Factor's Jordan Giesige video series, who put months of research and multiple video presentations into analyzing what Tesla revealed on Tesla Battery Day.
This video YouTube culmination he created into a single video linked below---although relatively long for most viewers as it lasts approximately one hour and fourteen minutes---will provide some very interesting facts behind what goes into making a Tesla battery as well as provides his take on what all of this may mean for Tesla and Tesla owners.
Now is a good time to sit back with an iced mocha and watch the video; or, take a peek at some of the summarized highlights listed below to get your Tesla fix for the day.
YouTube Video: 9 Months of Research on Tesla Battery Day // + Projections!
Some Upstream Battery Highlights
• Lithium Clay Extraction---What some previously believed may not be feasible…or even possible, Tesla may invest into getting its lithium for its batteries out of lithium clay extraction from future lithium hydroxide and cathode plants in the U.S, using mined raw material coming out of Asia or Europe; or…even possibly from within U.S. soil. The technology for doing this is there; however, the only thing preventing it from happening is if lithium miners cannot supply Tesla with enough raw material. Jordan Giesige's guess is that the cathode plant will be in business by mid-2022 and the hydroxide plant open by the end of 2022.
• Cathode and Anode Production---The focus on upstream materials for cathode and anode related production is due to the cost savings that Tesla can achieve from in-house manufacturing with an advanced cathode production process that uses pure nickel powder, with nearly 100% yield and zero toxic wastewater. The materials that go into the cathode and anode account for 65% of the cost of battery cells and 50% of the cost of battery packs---most of which is on the cathode-manufacturing side.
• The Power is in the Silicon---Although expected to happen gradually over the next few years, Tesla Silicon will lead to not just an increase in range and power for their vehicles, but will also enable significantly quicker charging. In fact, Jordan Giesige believes that superchargers---not batteries---will become the limiting factor when it comes to fast charging.
• Why Focus on the Upstream?---The reasons for Tesla focusing on putting lithium mining (possibly U.S.), lithium production, cathode production, and silicon production all in-house is that is localizes and secures its supply chain by not being dependent on China's battery materials monopoly; keeps things greener by keeping logistics within the U.S.; and, removes potential blind spot issues with 3rd party suppliers of materials and components.
This is especially important as in the very near future "Tesla will be playing whack-a-mole with material supply issues as the battery material supply chain gets hit by a square wave of battery material demand that the mining and refining industries haven't prepared for," predicts Jordan Giesige.
And of course, all of this will lead to even lower battery costs at record numbers.
Skipping Ahead…
There's a lot more to this video summary, but will have to leave the remainder for your own enjoyment as you check out the video yourself with its fascinating numbers and explanations showing why Tesla will succeed and how other companies will have to follow Tesla's lead in order to stay competitive.
That said, so, who is Tesla's primary competitor? According to Jordan Giesige---its VW. However, unlike Tesla, VW does not appear to be taking the upstream battery approach Tesla has taken. It will be interesting to see how this will play out as we keep an eye on VW and other EV manufacturers.
Coming Up Next: Tesla Model 3 gets a little air time at a Pikes Peak International Hill Climb Race.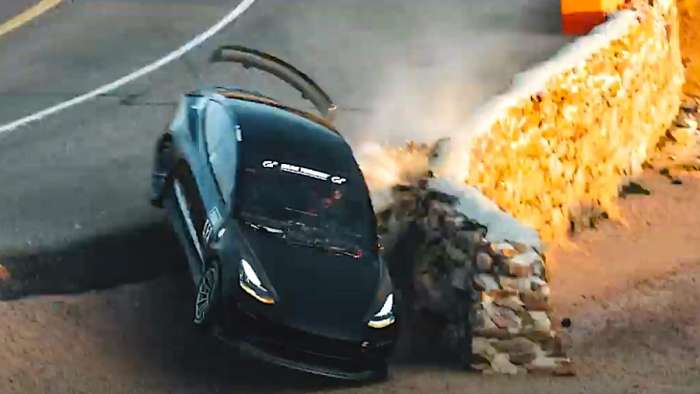 Timothy Boyer is Torque News Tesla and EV reporter based in Cincinnati. Experienced with early car restorations, he regularly restores older vehicles with engine modifications for improved performance. Follow Tim on Twitter at @TimBoyerWrites for daily Tesla and electric vehicle news.