In a post that appeared on r/teslainvestorclub subreddit, we see a picture that seems to have originated from an internal Volkswagen presentation. In the picture comparing the upcoming ID. 4 with the Tesla Model Y, we see what might just be our first look at the price and charging speed of the ID.4.
VW compares the ID.4 directly with the Tesla Model Y from r/teslainvestorsclub
The cheaper rear-wheel-drive option is listed starting at 44,500 euros and the higher end, all-wheel-drive version, is listed starting at 49,000. Volkswagen compares this to the Model Y, at 52,000 and 59,000 euros. These prices presumably include the 19% VAT levied on all cars in Germany.
This would mean, according to the leaked presentation, the Volkswagen I.D 4 is going to come in 10,000 euros cheaper than the Model Y.
When it comes to specs, Volkswagen has highlighted ones they consider to be relevant for mass-volume cars. Seemingly downplaying acceleration and charging speed.
According to Volkswagen the ID.4, compared to Model Y, has 6 cm more interior length, even though it is 17 cm shorter. Other advantages they pointed out are; 1.9 meters smaller turning circle, established dealer and service base, high-quality interior, and VW operating system.
Not sure I agree with the last two. A picture of the ID.4's interior has been released by Volkswagen and it looks more or less like the ID.3. In my opinion, the Tesla Model Y has a better interior.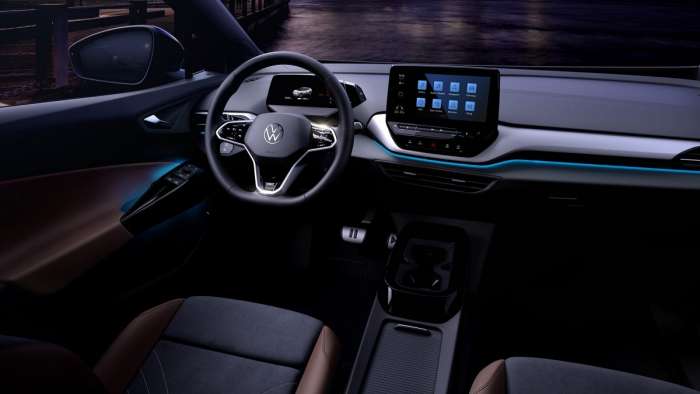 And as for the VW operating system, it has been widely reported as lacking important features and having a number of glitches. Software problems even delayed the launch of the ID. 3 back in March. Watch Volkswagen CEO Herbert Diess admitting they are behind Tesla in software.
In the presentation, Volkswagen also points out areas where they fall behind Tesla. Number one is charging. Volkswagen puts down 125kw as the peak charging speed for the ID.4, this will be the first time this number has been seen by anyone outside VW and is significantly slower than Tesla Model Y's 250kw charge rate.
And the story doesn't get much better when it comes to acceleration. The I.D 4 does 0 to 60 in 8.3 seconds, significantly slower than even the non-performance Model Y, which does the same feat in 5.1 seconds.
Other than that, both cars seem to have a comparable range and battery size, which come in over 300mile WLTP range and over 75kwh respectively.
Overall even though not as exciting as the Model Y, The ID.4 still seems to be a compelling car on its own right. It will be a great fit for families looking for a specious EV at a relatively affordable price. Further specifications of the ID.4 will be released when it launches on September 24.
For more information check out: How Tesla ended up offering free supercharges to all EVs in Europe. Or checkout why it makes sense for Tesla to move production of right-hand drive Model 3s to China.
Tinsae Aregay has been following Tesla and The evolution of the EV space on a daily basis for several years. He covers everything about Tesla from the cars to Elon Musk, the energy business, and autonomy. Follow Tinsae on Twitter at @TinsaeAregay for daily Tesla news.