The image above of a Ford Mustang Mach-E appearing to have crashed down a hill is courtesy of the Insurance Institute For Highway Safety or IIHS. You may recognize the initials as representing the foremost group conducting automotive safety testing in the United States. The image looks like a tragedy has occurred, but in fact, it is just preparation for a crash response and training. Here's why that hard-to-get Ford Mustang Mach-E wasn't wasted in this training exercise.
Related Story: Popular Tesla Model Y Crossover Not Scheduled For Safety Testing By IIHS - Here's Why
Each year, IIHS tests hundreds of new vehicles. The full round of testing usually consumes five of the same model. Our media contact at IIHS, Joseph Young, explained to us, "Four for each of the high-speed tests (moderate overlap front, driver-side small overlap front, passenger-side small overlap front, side), and one for the roof strength test. We can typically pull the seat out of the roof strength vehicle to use in the head restraints test, so those two tests would basically share a car." On occasion, IIHS will observe/validate a test performed by a manufacturer, thus resulting in fewer cars being crashed by IIHS.
Following the IIHS testing, crashed vehicles are not repaired but instead are carefully recycled. Coincidental to the Mustang Mach-E's testing cycle, Interstate Rescue and Training was looking for vehicles that its crews could use in the exercise. The Ford Mustang Mach-E shown here was used in the "Perform Under Pressure" challenge during the 2021 Mid-Atlantic Extrication Challenge in May.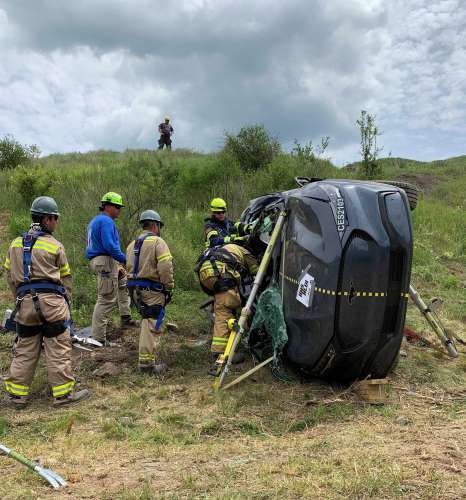 Mr. Young explained the backstory saying, "Our contact at the National Auto Body Council approached us earlier this year about donating some vehicles to this larger event that was held in May in West Virginia. We've hosted extrication training events at our facility in the past so we have a good relationship with the National Auto Body Council and Interstate Rescue. For those events we host onsite we usually loan several crashed vehicles and they bring in additional crashed vehicles (usually donated from insurance companies, like State Farm) so that local firefighters can practice using extrication tools."
In all, IIHS sent five vehicles to this training event including two Mustang Mach-Es, a Ford Bronco Sport, a 2018 Volkswagen Atlas, and a 2018 Jeep Grand Cherokee.
The 2021 Ford Mustang Mach-E earned a Top Safety Pick designation this year when it was tested by IIHS. You can view more about that testing here.
Note: The vehicle shown in the images here was staged for rescue operations. It is not fair to assume any of the images depict the results of a true crash. The vehicle may have had important safety systems altered for training.
John Goreham is a long-time New England Motor Press Association member and recovering engineer. John's interest in EVs goes back to 1990 when he designed the thermal control system for an EV battery as part of an academic team. After earning his mechanical engineering degree, John completed a marketing program at Northeastern University and worked with automotive component manufacturers, in the semiconductor industry, and in biotech. In addition to Torque News, John's work has appeared in print in dozens of American newspapers and he provides reviews to many vehicle shopping sites. You can follow John on TikTok @ToknCars, on Twitter, and view his credentials at Linkedin