Electric vehicle chargers are getting better and less expensive. A recent press release by Lectron caught our attention. A new home EV charger capable of 48 amps was coming to market at a price under $450. We contacted Lectron and arranged a long-term test of the V-Box 48A.
Read Our Three-Month Update Here
We have had prior experience with Lectron. Your author's first Level 2 home EV charger was an inexpensive portable Lectron unit purchased (at my own cost) from Amazon for $199. You can see a video of a review of that Lectron unit here. It served me very well over a period of more than a year, charging numerous EVs including the Chevy Bolt EUV, Bolt hatchback, Hyundai Ioniq 5, Kia EV6, Ford Mustang Mach-E, Toyota RAV4 Prime, and many other popular EV models.
That Lectron model was a low-power unit rated at just 20 amps (240 V). Related Story:3 Reasons Charging At Home Is a Must For Electric Vehicle Owners Quick Background Infor For EV Charger Shoppers For those who are shopping for a new home electric vehicle charger, here are a couple of quick things to know. :
-Level 2 means the charger operates using a 240-volt power supply.
-Portable chargers can curl up and fit in a trunk. Most EVs come with one rated for just 115 volts. Home chargers mount to the wall.
-Using higher voltage and higher amps, more power can be put into a vehicle faster.
-Volts x amps = watts. Watts over time is measured in kWh (kilowatt hours).
Where Can You Get a Lectron V-Box? The new V-Box 48A is available for purchase from Amazon and other retailers, or you can buy it directly from Lectron. At the time of this story's publication, the Lectron V-Box 48A had an Amazon review rating of 4.2-stars, and 57 Amazon shoppers had posted reviews.
Lectron V-Box 48A Electric Vehicle Charger - What Is It Exactly? The Lectron V-Box 48A is an at-home charger. Since it operates on 240V power, it is a Level 2 charger. The maximum output is 48 amps. Therefore its maximum potential power output is 11,520 watts, which most folks would refer to as 11.5 kW. If you use it for one hour, you could add in 11.5 kWh to your EV's battery - if your EV can accept charging that rapidly. This is roughly double the speed and power of a typical public Level 2 charger. The Lectron V-Box 48A EV charger is rated for a maximum of 48 amps, meaning it is among the most powerful and fast chargers you can purchase for your home charging needs. The unit can be hardwired by your electrician, or you can plug it into a NEMA 14/50 receptacle. The V-Box 48A works with a 50 amp breaker in your electrical panel and correct wiring.
Lectron V-Box 48A Electric Vehicle Charger - Will It Work With My Electric Vehicle? The V-Box 48A works with all EVs in America as it is configured with one exception. If you own a Tesla, you need an adapter because Tesla uses a proprietary connector different from every other brand. (Think Apple). However, Lectron has a bundled V-Box 48A with that Tesla adapter included. It adds $150 to the total price. Most Tesla owners will already have that adapter, so don't add it if you have one.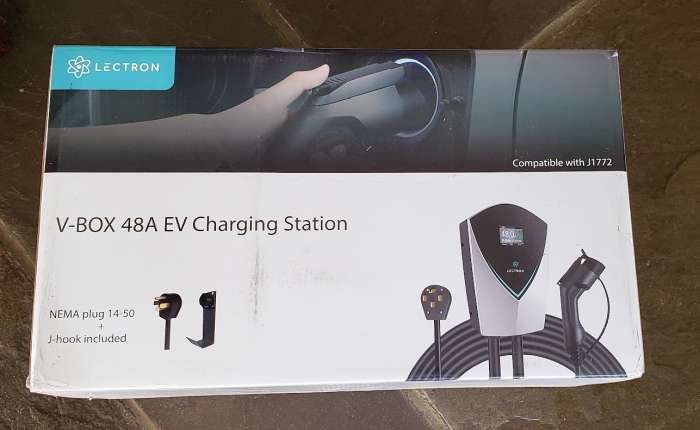 Lectron V-Box 48A Electric Vehicle Charger - Unboxing Lectron V-Box 48A was delivered by UPS in its original Lectron packaging. We like that. No unnecessary overpacking, no peanuts to discard, and there was minimal plastic packaging. We created a Tik Tok video of the unpackaging if you wish to see more on that topic.
Lectron V-Box 48A Electric Vehicle Charger - What Is In The Box The $449.99 V-Box we are testing comes with these things. The V-Box main panel The already attached "pigtail" you run to the power source A 20-foot charging cable (pre-wired, of course) Your J1772 "J-plug" charging handle (pre-wired to the charging cable) Lectron's powder-coated steel cable holder Lectron's J-plug holder (high-quality plastic) In our top-of-page image, you can see the main panel and the hook and handle holder.
Lectron V-Box 48A Electric Vehicle Charger - Assembly and Installation After unpacking, you read over the very simple 9-page user's manual. It is clearly written, and the images are really all you need.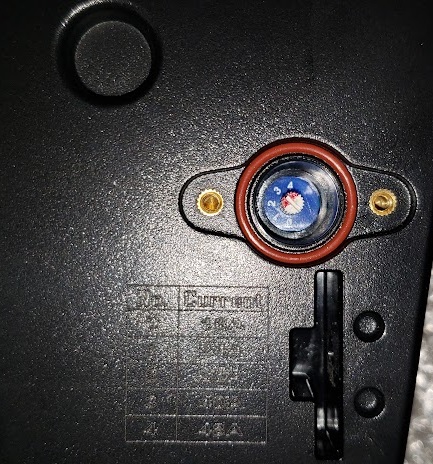 Before mounting, you can set the amperage level. It comes set to 48 amps from the factory. You can turn the amp output down if you wish to 40, 32, 24, or 16 amps. We liked that this was super simple. There is a knob you turn. That's it. No frustrating dip switches to fuss with. We de-tuned ours to 40 amps since we are starting with an entirely new electrical panel (abundance of caution yada yada yada). My electrician rated every part of my system for continuous duty at 125% of 50 amps. But I'm a recovering engineer, so I always build in my own safety factors.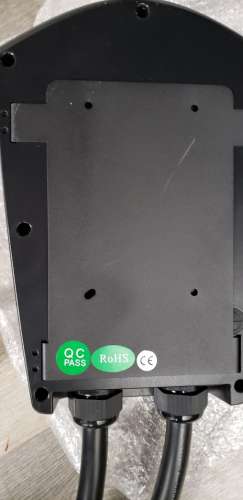 Mounting the V-Box to the wall could not be any easier. There are just four screws. There is a removable back panel that you first mount. Then you place the V-Box over that, and you use four screws in the side to secure the V-Box controller to the back plate. I like this because it makes the installation much easier than having to use a fastener that sits proud of the wall. In all, it took me under 10 minutes to unpack, read the instructions, and get the unit mounted up. Next, you mount the cable holder and the handle holder to the side of the V-Box controller. I simply held up the items and eyeballed their location. They are affixed by zipping in four wood screws. I am a geek, so I drilled pilot holes in the plywood. My total time from start to finish unpacking, reading the manual, and installing the V-Box 48A was approximately 20 minutes. I did it solo using only a small Philips screwdriver and a cordless drill/screwdriver.
EV Charger Installation Tips 1) Always mount a plywood backboard to your wall. Secure it to the studs. That way, you need not use any delicate drywall anchors when you mount your charger setup. We found a four-foot square sheet worked very well. 2) Leave the J-plug handle wrapped in bubble wrap until after your controller is mounted. This will prevent damage from accidental dropping.
Using the Lectron V-Box 48A Home EV Charger This section can be summarized as follows; Turn it on, plug it in. Here is a more detailed overview of the V-Box 48A's operation. Press the V-Box power button located on the side. The panel will illuminate. Take the charging handle off the wall by pressing the releases button on top. Open your electric vehicle's charging door. Insert the handle until it clicks. The vehicle will begin charging.
Perceived Quality of the Lectron V-Box 48A The J-plug handle that came with our Lectron V-Box seemed sturdy and well-constructed. We dropped it on the concrete floor from waist height twice with zero damage (not part of the test, we did it accidentally). It slid into our test Mitsubishi Outlander plug-in hybrid electric vehicle's female charging port effortlessly and clicked in a satisfying way. Not all handles attach so easily. This one, like the handle on my prior Lectron unit, seems perfect.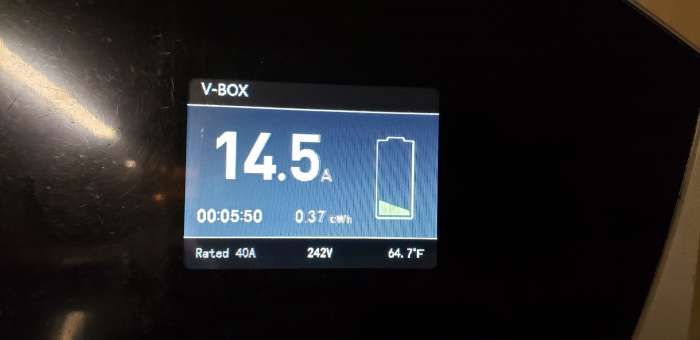 Lectron V-Box 48A Electric Vehicle Charger - Panel Features The Lectron V-Box 48A shows you its status with a large illuminated graphic on the front. There are five different things it can tell you. Here is the code listing: -Disconnected = Solid Blue -Connected = Rolling Blue -Charging = Rolling Green -Charge Complete = Solid Green -Fault = Solid Red There is a large font on the backlit display that shows the amperage being used when. There is a state of charge icon shaped like a battery that shows the juice going in. The following info is also displayed: -Charging time -Charging capacity in kWh -Rated current (Meaning the V-Box's maximum current according to your settings) -Real-time voltage -Temperature
Lectron V-Box 48A Electric Vehicle Charger - Initial Operation and Impressions We have been using the Lectron V-Box 48A for two days in conjunction with the all-new 2023 Mitsubishi Outlander plug-in hybrid electric vehicle. So far, we have had a great experience with the unit. The Outlander PHEV can only charge using a 15 amp input, so it is not an ideal model with which to test the V-Box's high energy rating. Watch for our follow-up to this initial review post. We plan to test the V-Box with some additional battery-electric vehicles very soon. Our initial impressions of the V-Box are all positive. We created a short Tik Tok video showing it in operation, which you can view here. If you have any questions about the Lectron V-Box 48A, please post them in the comments section below, and we will do our best to post a prompt and complete answer.
Testing Disclosures: The test unit in this story was provided by Lectron. We have offered to return it following our testing. No compensation was provided to Torque News for this story, and we are under no obligation to provide anything but a fair and truthful review of this product.
Images by John Goreham.
John Goreham is a long-time New England Motor Press Association member and recovering engineer. John's interest in EVs goes back to 1990 when he designed the thermal control system for an EV battery as part of an academic team. After earning his mechanical engineering degree, John completed a marketing program at Northeastern University and worked with automotive component manufacturers, in the semiconductor industry, and in biotech. In addition to Torque News, John's work has appeared in print in dozens of American news outlets and he provides reviews to many vehicle shopping sites. You can follow John on TikTok @ToknCars, on Twitter, and view his credentials at Linkedin Re-Publication. If you wish to re-use this content, please contact Torque News for terms and conditions.