Although we would hardly expect the $100,000+ SRT Viper to be flying off of the shelves in droves, the Chrysler Group has come under fire based on the slow sales of the new supercar. Starting in April, Viper sales began growing but after peaking in June with 97 units delivered, Viper delivery numbers have dropped with numbers bottoming out at just 45 cars sold in September. Sales rebounded to 69 Viper coupes in October but the numbers are still much lower than many expected and that has the critics of the Mopar supercar questioning whether or not the new SRT Viper missed the mark.
According to Street and Racing Technology brand boss Ralph Gilles, the slow sales aren't due to a lack of consumer interest but instead, the problem is due to mistakes by the dealerships. When Chrysler finishing approving the 443 dealerships around the country who would be privy to selling the new Viper, many of those dealerships were quick to order as many Vipers as they could as quickly as they could in order to prepare for walk-in customers who are ready to plunk down a hundred grand for a 2013 SRT Viper. Based on the level of financial commitment required of these dealerships to be granted permission to sell the new Viper, this makes good sense but the idea of pre-ordering Vipers hasn't worked out for these dealerships.
When the ordering process began for the 2013 SRT Viper, those dealerships ordered cars configured how they believed buyers would want them so the vast majority of the early Viper orders weren't actually placed by buyers with cash in hand but instead, by dealerships who wanted a Viper in their showroom mixed with some actual customer orders. This influx of Vipers configured by the dealerships without a buyer in mind clogged up the production process and with a lack of demand for those cars initially ordered to be dealership eye candy, the company has a huge number of Vipers sitting in dealerships around the country with no sale in sight. These Vipers sitting in dealership showrooms led many to believe that Chrysler overestimated the demand for the new Viper but Gilles says that isn't true.
"I don't think our network understands the segment very well," said Ralph Gilles to Ward's Auto. Gilles concern is that dealerships didn't consider the fact that people paying well over $100k want their supercar exactly how they want it. They don't want to buy a car off of the showroom with options and features that were picked by the dealership's new car manager – they want a car with the exact interior and exterior options that they select. Because of this, prospective Viper buyers would rather wait in line for a car exactly how they want it rather than snatching up the units sitting in dealerships.
Gilles told Ward's that the plant is currently backlogged with orders for the SRT Viper and that production was scaled down earlier this year because of those unwanted dealer ordered units and not because of a lack of demand. Gilles claims that there are currently "several hundred" Vipers awaiting production based on customer orders and as was the case in the early stages of Viper delivery, the quality control process continues to slow deliveries as the company works to make sure that every Viper is perfect.
To those in the dealership world, the fact that Gilles is placing the blame for slow SRT Viper sales on the dealership network likely serves as a tough pill to swallow but the numbers speak for themselves. With so many dealerships ordering one or more new Vipers simply to sit on their showroom floor and draw in people who just want to kick the tires, it shouldn't come as a huge surprise that those units arent selling. Also, those unwanted vehicles played a big part in the slow early delivery process so it is hard to dispute the fact that the mistakes made by the SRT dealerships at least play a big part in the slow rollout of the Viper.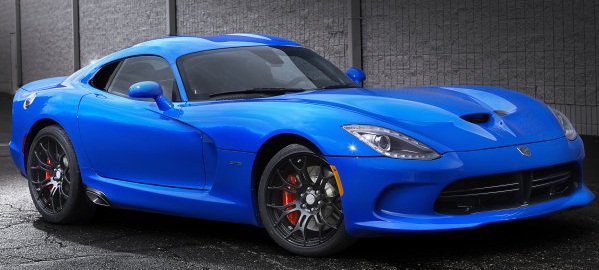 Provided that this theory proves to be correct, we should definitely see sales/deliveries of the 2014 SRT Viper improve as we get into the spring buying season of 2014 with new colors, a snow driving mode and a new limited edition matte black package.
Source: Ward's Auto