Another prototype version of the Rivian EDV has been spotted in the wild, parked up and charging as can be seen in the video below. The video gives us a pretty comprehensive 360 degree view of the EDV, which appears to have some duct tape reinforcements around its rear wheels, before the driver steps out and threatens to call the police because it's a prototype vehicle.
Rivian's contract with Amazon stipulates a total of 100,000 EDVs shipped to the e-commerce giant by the end of 2025, with 10,000 of those being delivered in 2022. Amazon's first EDVs were delivered in the tail end of 2021.
Specs
The Rivian EDV comes in three flavours for now, with the main differences being the wheelbase and amount of room inside. The EDV 500 comes with 500 cubic feet of parcel-carrying capacity and a range of 150 miles. It's the shortest of the three, with a 157-inch wheelbase and has a gross vehicle weight rating of 9350 lbs.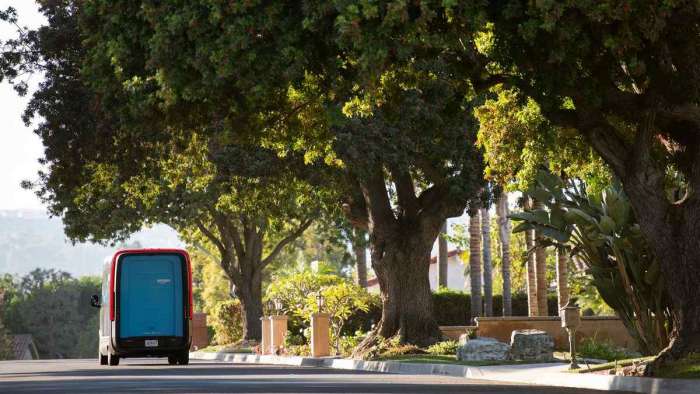 The EDV 700 has the same 150-mile range as the 500, with 660 cubic feet of space inside. Its wheelbase is 187 inches, while it has the same GVWR figure as its smaller sibling. Finally, after the first two iterations have been delivered to Amazon will come the EDV 900 with a slightly reduced range of 120 miles, 840 cubic feet of cargo space, a 205-inch wheelbase, and a 14,000 lb. GVWR.
Future EDVs will be available with all-wheel drive, though the first ones only come as FWD units with two motors on the front axle. If this seems like overkill, it's done to allow simple transfer from the R1T and R1S platform, which feature the same setup. Rivian also promises a suite of ADAS software combined with "industry-leading warranties." All EDVs will be capable of charging speeds up to 150 kW.
Peripherals
Rivian also plans to offer fleet management services, which it calls Fleet OS. This system will track vehicle locations and states of charge to ensure they spend as much time on the road working as possible. Additionally, the company plans to handle initial and resale services for its commercial products, hoping to manage the vehicles throughout their working lives.
Images by Rivian, video by Baba Jibagte on YouTube licensed by CC BY 2.0.
James Walker is an automotive journalist at Torque News focusing on Lucid Motors. If it's got wheels he's interested, and he's looking forward to seeing what kind of cars the EV revolution brings us. Whether it's fast, slow, new, or old, James wants to have a look around it and share it in print and on video, ideally with some twisty roads involved. You can connect with James on Twitter, Instagram, and LinkedIn.