Pre-Production Rivian R1T Finishes Fifth in 2500 Kilometer Rebelle Rally
The Rebelle Rally is an all-women test of driving, navigation, and machinery founded in 2015 by Emily Miller. Taking place in the deserts of Nevada and California, contestants do battle with the elements over the course of eight days. GPS devices and cell phones are strictly forbidden. Racers must rely on maps, compasses, and their own navigation skills to find their way to checkpoints spread out through the inhospitable terrain.
Competitor vehicles have little to no off-road modifications made to them and each year the rally attracts more OEMs who use it as an opportunity to develop and test their latest efforts, as well as using it as a press opportunity. Enter the yellow R1T, Hall, and Donaghe.
Having driven a less refined version of the R1T in 2020's Rebelle Rally the driver and navigator team knew what to expect this time around. Not to say that the team's 2021 effort was without incident and trial, but more on that later. The yellow R1T they campaigned this time around had the benefit of a year's worth of development and the latest features Rivian could throw at it.
Range Serenity
With a 135 kWh battery arranged in its characteristic skateboard configuration Rivian estimates a range of 266-283 miles for the R1T on the 20-inch wheels that the competition truck used. That's under ideal conditions, mind you, on smooth paved roads; not the rocks, gravel tracks, and sand dunes covered during the Rebelle Rally.
So how did the R1T perform in this inhospitable environment, on difficult terrain without a charging station for miles around? Extremely well, to put it simply. Hall estimates that they averaged 192 miles of driving each day, and that their maximum range in the conditions would have been 227 miles. Not a huge drop from Rivian's estimate at all when you consider the inhospitable environment.
If you're wondering how the rally's EVs were able to charge between stages and miles from the nearest outlet I have three short sentences for you. 53-foot trailer. Hydrogen fuel cells. Solar panels. Rebelle Rally partnered with Renewable Innovations for 2021, with the latter company powering the rally's three base camps and providing charging for the full EV competitors with its brilliant semi-truck power stations. More on that to come in an article on Monday.
The Adventure Truck
On top of its impressive off-road range, which the company intends to bolster by installing "Rivian Adventure Network" chargers at key off-road points throughout the country, the R1T comes with a range of features that make it at home on the trails.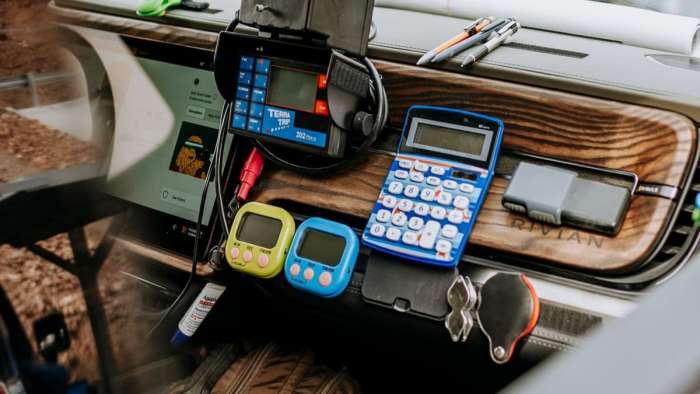 Traction-control settings include Rock, Rally, Drift, and Auto, while the Pirelli Scorpion all-terrain tires that Hall and Donaghe's R1T came equipped with proved durable and grippy, especially when aired down to 20 psi as demanded. With 800 horsepower and 900 ft./lb. of torque instantly available, Hall reported that she could clamber the truck over obstacles with easy precision while the absence of high/low range gearing really simplified travel.
Trials and De-inflations
The R1T's air suspension is able to raise the truck to a maximum 15 inches of ground clearance, but it's here that the Rivian ran into problems. Early on in the running one of the system's actuators developed a leak, then a hard impact on day two left Hall and Donaghe to crawl along in limp mode for the rest of the day with a top speed of 32 mph. Regardless, they finished the day's stage in third place.
The only other difficulty reported by Hall was way in which she had to adjust her driving style due to the R1T's weight. Tipping the scales at 7000 lbs. before crew and equipment, the bulk made for some tricky maneuvering once the rally arrived at the sand dunes of Glamis, California. Cresting sand dunes is difficult enough in any vehicle, but when you've got to carry more speed to make sure you don't get bogged down it becomes an altogether more scary prospect.
Results
Despite the suspension problems it's fair to say that Hall, Donaghe, and the Rivian R1T put in an excellent performance over the eight days of rallying. It's events like these that give the manufacturer opportunity to test its products and Rivian will come away from the race with valuable knowledge and feedback from its pilots. We can only imagine that the R1T will be vying for the overall victory come next year's Rebelle Rally.
James Walker is automotive journalist at Torque News focusing on Rivian and Lucid Motors electric vehicles. James is a car nut and journalist with experience in writing, filming, and presenting automotive shows and car reviews. Born in England before moving to Canada he loves twee little sports cars and thundering American Muscle in equal measure. He is also very excited to see what the EV revolution will bring us in terms of performance/driver's cars and everyday transport. Whether it's fast, slow, new, or old, James wants to poke around it and relay his findings in print and on video, ideally with some twisty roads or a track involved. You can follow James on Twitter at @whippstagramjim and Instagram @whippstagram respectively.