Roadshow's Daniel Golson has been tearing up Californian canyon roads over the course of his test day with the Lucid Air Dream Edition. While the speed, range, and driving dynamics all left positive impressions, he feels that the Lucid's true defining characteristic is its streamlined design inside and out.
"But has Lucid actually delivered on its promises of performance, range, luxury and quality? After spending a day driving the Air Dream Edition, my answer is a resounding yes."
On The Road
As Golson points out, the Lucid doesn't supply its cabin with artificial sounds to imitate or enhance the sound of its e-motors. Only when the accelerator's given some serious pressure does the whine of Lucid's proprietary motors become audible through the Air's sound-deadening. Mid-range acceleration is where the Air really impresses him, as he reports being pushed firmly back in his seat by the force of its acceleration at any speed. This is an area where other EVs fall short, he says, and is something that really sets the Air apart from its competitors.
Related Story: Myth Busted - Electric Vehicles Handle Great and Lightness Is Overblown
Like A 911 GT3
On of the most impressive aspects of Golson's handling review is the similarities he draws between the Lucid Air and the Porsche 911 GT3. Despite being very different cars with very different missions, Lucid's engineers say that they used a GT3 to benchmark the Air's handling against. Sounds preposterous, but Golson says that he drove the exact same canyon route the week before in the Porsche and that "Lucid's engineers are onto something." He praises the Air's fairly traditional setup featuring multilink suspension, coil springs, and adaptive dampers, saying that the DE's ride is unerringly smooth and supple, rivalling that of the Mercedes EQS. That's a big deal, as the EQS is going to be one of the Air's closest rivals in the luxury electric market.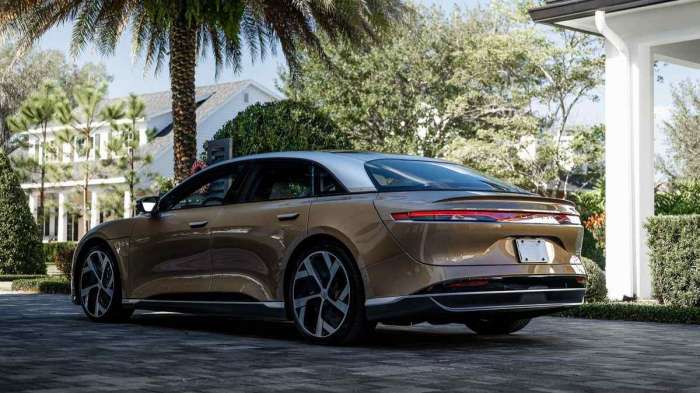 Also lauded is the Air's steering, which is reportedly light and provides plenty of feedback fostering sharp, direct changes of direction. Golson says that the Air feels more like a sports car than a large sedan when pushed in the corners, which is pretty incredible for a car that weighs 5203 lbs. "While not as sharp overall as Porsche's Taycan, it comes damn close." The brakes impressed Golson with the regenerative system meaning he rarely had to use two pedals.
Design and Styling
While the Air's styling may at first seem minimalist, Golson found that the longer he looked at it the more he found clever little details which serve a purpose and make the car look good. He was especially impressed by the slits in the headlight assemblies which channel air over the hood for increased aero efficiency, as well as the two-tone design of the Dream Edition's greenhouse, which he says reminds him of Citroën. Overall he finds it to be a clean, forward-looking design that would be at home in a not-too-distant future.
Further acclaim is given to the Air's interior design and the materials used, such as "real metal and eucalyptus wood trim, nappa leather, Alcantara accents and a textile made from alpaca wool." As befits a $170,000 automobile, Golson says that everything you come into contact with feels "high-end and well-built" with satisfying actions to the buttons and switches. Finally, he mentions the Dream Edition's panoramic glass roof, which he says gives the vehicle the feel of a concept car, in the best possible way.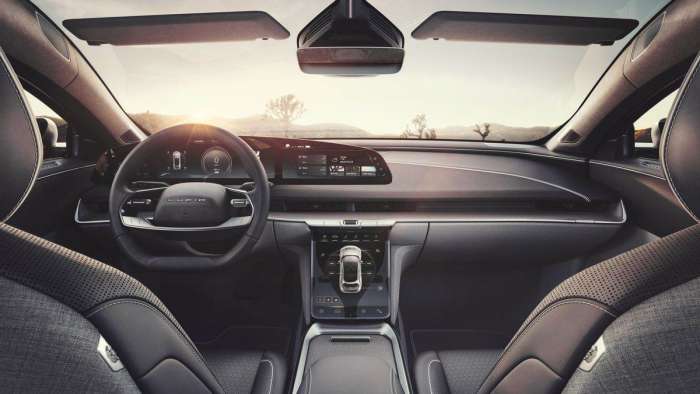 It wasn't all good news for the Air though, with Golson mentioning that some of the featured of Lucid's driver-assist software, DreamDrive Pro, caused some jerky movements and overcautious warnings to appear, though these issues can hopefully be ironed out through over-the-air updates. Golson closes by stating that he hopes that Lucid doesn't water down the Air's luxury feel by withholding features from its cheaper models once they launch, as this, not driving dynamics and performance, is where Lucid is at its best.
Related Story: Lucid Air Aftermarket Parts Are Starting To Appear
Images by Lucid Motors licensed by CC BY 2.0.
James Walker is an automotive journalist at Torque News focusing on Lucid Motors. If it's got wheels he's interested, and he's looking forward to seeing what kind of cars the EV revolution brings us. Whether it's fast, slow, new, or old, James wants to have a look around it and share it in print and on video, ideally with some twisty roads involved. You can connect with James on Twitter, Instagram, and LinkedIn.