The Lucid Air's Control Systems Are Beautiful And Simple To Use
The system as a whole, which the company refers to as Lucid UX (User eXperience), was clearly one of the design team's major areas of focus as they developed the Air. With these kind of features its no surprise that Lucid's stock has been surging recently.
The idea was to produce a system that could match the other devices (smartphones, tablets, etc.) in owners' lives for intuitiveness and ease of use. After all, nobody wants to be searching through endless sub-menus on a touch screen while travelling at highway speeds. The Air has many a trick up its sleeve to simplify its operation, beginning with your approach to the car.
Welcome Back
Smartphones can be recognized as key fobs by the Air, so it can unlock and extend its door handles as you walk towards it. That's nice, but it's nothing to write home about these days. What happens next is.
Once you get into the driver's seat the Air uses facial recognition to adjust itself to your predetermined preferences. Seating position, climate settings, and media are all automatically set just the way you like them. Now you're in front of the wheel and what Lucid calls the Glass Cockpit.
Up On The Big Screen
The Air's 34-inch main screen is curved towards the driver and is actually comprised of three separate screens beneath a single piece of glass. This is one of the areas where Lucid's "familiar but cutting edge" ethos comes into play.
The portion of the screen to the left of the steering wheel deals with essential functions like wipers, lights, defogging, and locking. No sub-menus for these features; they're always readily available. The screen's center, behind the steering wheel, displays all the information the driver would want from their vehicle's instrument cluster: speed, mileage, and in this case remaining charge and range. To the right of the wheel is the area devoted to navigation, communication, and media.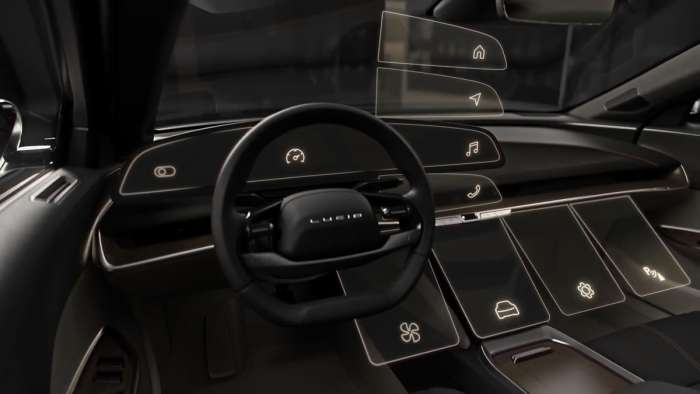 Pilot Panel
Below the Glass Cockpit sits the Pilot Panel; a larger rectangular screen which covers climate control, drive modes, seating options (we hear the massage function is excellent) and other fine-tune settings. Both screens are expansive, pretty, and intuitive to use but the icing on the cake is the way they can interact with each other.
Say, for example, you're running navigation on the right-hand side of the Glass Cockpit. If you need a different view of the map or more in-depth route information you can swipe downwards on the upper screen and open navigation on the Pilot Panel, while the original map stays open up top. We posted an article about this feature yesterday and I implore you to check it out because it's really, really cool. When not in use the Pilot Panel can retract into the dash to reveal a storage compartment behind it.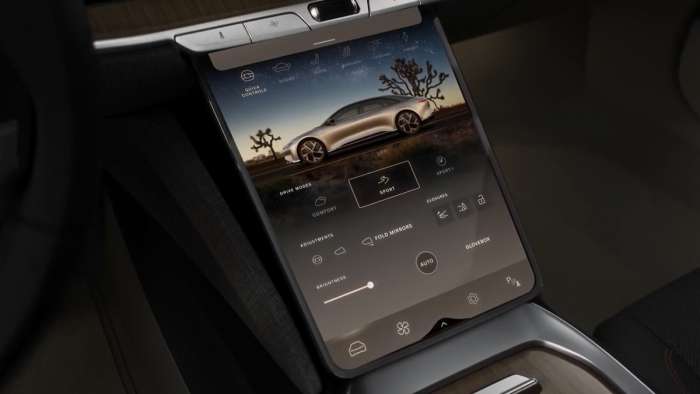 Apple CarPlay and Android Auto are present, naturally, while Amazon Alexa handles the Air's voice command system and allows the driver to do everything mentioned above without pressing so much as a button, which the Air has placed at strategic points.
Buttons!
The Air has physical buttons below its air vents to control the HVAC system without any menu searching, as well as a wheel to control temperatures and other functions. The steering wheel also has tactile buttons and a pair of wheels, again to make operating the Air simple and intuitive.
Finally, there's the available 21-speaker Dolby Atmos-powered sound system that Lucid calls "Surreal Sound." Aside from making your music sound good, the system can be used to give directional alerts for blind spot monitoring and other safety assists.
Taken as a whole, the system has clearly been designed to be used by humans rather than to be overly sci-fi-ish to let its occupants get in and go (further than any other EV).
Images taken from Lucid User Experience by Lucid Motors licensed under CC BY 2.0.
James Walker is an automotive journalist at Torque News focusing on Lucid Motors electric vehicles. If it's got wheels he's interested in it, and he's very excited to see what kind of driver's/performance cars the EV revolution brings us. Whether it's fast, slow, new, or old, James wants to have a look around it and share it in print and on video, ideally with some twisty roads or a track involved. You can follow James on Twitter, Instagram, and LinkedIn.