This Is How The Lucid Air Manages 520 Miles Between Charges
The simple answer is by cutting inefficiencies wherever possible. Lucid, as they'll proudly tell you, design and manufacture all of the Air's key components in-house, by themselves.
This means they can design whatever they like, without having to bend to a supplier's production capabilities and pricing structures. It also means that all of the major components are designed from the ground up to cooperate with each other. This is huge for cutting out inefficiencies that would rob the Air of its record breaking range.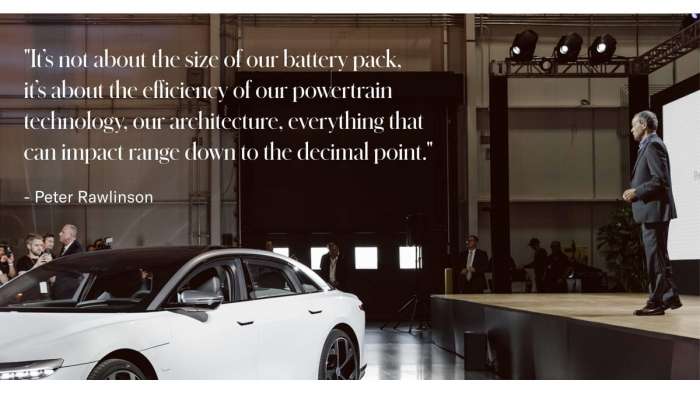 Battery
Before Lucid was Lucid, the company was known as Atieva. It had some pretty promising battery tech, was working on an inverter, and was thinking of moving into building road cars. In came CEO/CTO Peter Rawlinson and things really started to accelerate. Atieva was renamed Lucid and Rawlinson negotiated a deal to supply batteries to Formula E in partnership with McLaren Applied Technologies and Sony.
Some at Lucid thought the deal was a fool's errand with the company in dire financial straits but Rawlinson persevered and Lucid ended up getting some very useful information and know-how for their effort. The new batteries could last for the entire duration of a Formula E race, whereas the previous generation could only manage half that before the drivers had to switch to a second fully-charged car.
Lucid battery production today features packaging, cooling, and efficiency lessons learned from the production of Formula E batteries with some of the best energy and power density in the business.
Construction
In the spirit of efficiency the parts of the Lucid Air that aren't the battery have to be as light as possible. To this end Rawlinson and Co. employed a technique used as far back as the D-Type Jaguar: building the car like an airplane. The Air's monocoque shell is composed of aluminum structures formed by casting and extrusion, making it extremely rigid while also being light.
The battery packaging is formed from lightweight composite material and attaches rigidly to the underside of the shell. More rigidity means a vehicle that's easier to control, both for the driver and the range of stability control software at work in the Air. A higher degree of control means, you guessed it, better efficiency.
Powertrain
The Air comes with a 900 volt electrical system and thanks to this high voltage can make use of lighter cabling. Lucid has been hard at work on miniaturizing its powertrain components, combining motor, inverter, gears, and differential into a single small unit which leaves more room for passengers and luggage while also reducing the amount weight those motors have to push around.
There are a raft of driver-assists to make sure the Air handles as well as possible while being as efficient as possible. The ABS doubles as a torque vectoring system to allocate power side-to-side, while Lucid's vehicle control module handles power distribution front-rear.
End Result
All this clever design and efficiency savings here and there combine to make the Lucid Air truly formidable when it comes to range. It's pushed the species forwards and with the ability to cover 4.6 miles per kWh to the Porsche Taycan's 2.5 it looks poised to keep its throne for some time. Plus there's always the knowledge that if you do run out of juice the Air can take on twenty miles' worth of charge in a minute, or 300 miles' worth in twenty. Impressive stuff, to say the least. Your move, competition.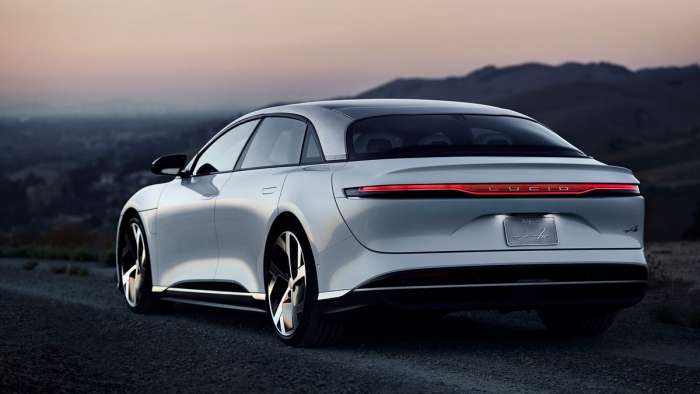 James Walker is automotive journalist at Torque News focusing on Rivian and Lucid Motors electric vehicles. James is a car nut and journalist with experience in writing, filming, and presenting automotive shows and car reviews. Born in England before moving to Canada he loves twee little sports cars and thundering American Muscle in equal measure. He is also very excited to see what the EV revolution will bring us in terms of performance/driver's cars and everyday transport. Whether it's fast, slow, new, or old, James wants to poke around it and relay his findings in print and on video, ideally with some twisty roads or a track involved. You can follow James on Twitter, Instagram, and LinkedIn.