Lucid Air aftermarket parts are staring to appear with Florida's Breathless Racing delivering some of the first Lucid-specific go-faster bits we've seen.
For some people the blistering performance offered by the Lucid Air Dream Edition and its model range siblings is not enough. Enter Breathless Racing and their range of body kit add-ons which reportedly improve downforce and stability with only minimal losses to the Lucid's all-important and record-breaking range figures. On top of that they give the Air a meaner look like only racecar-derived parts can.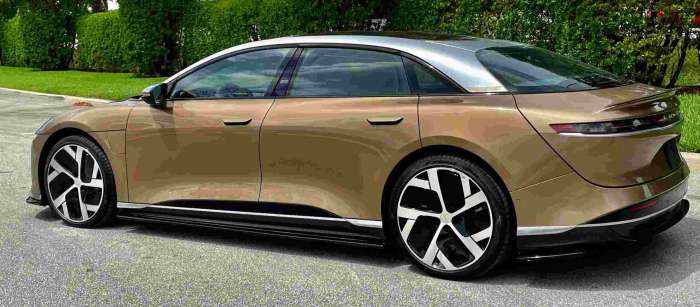 Breathless has been in the racing business for over 30 years and won seven consecutive Trans-Am titles from 2015-2021 with extremely talented driver Ernie Francis Jr. at the wheel of their TA Ford Mustang. In addition to the Lucid Air kit the team offers products for the Tesla Model S Plaid, Camaro, Corvette, Harley V-Rod, Hummer H2 and even the humble Smart car under the name B Pro Wholesale.
Lucid Kit
First on the performance parts list is a set of spacers which increase track width by 10mm at each corner for a larger footprint and increased stability without any drastic changes to the Air's existing setup. A "GT3" front splitter with carbon fiber inserts improves turn-in while high-strength hand-pressed fiberglass side skirts channel air along the Lucid's shapely sides. Out back there's a carbon fiber spoiler and an extension to the Air's underfloor diffuser.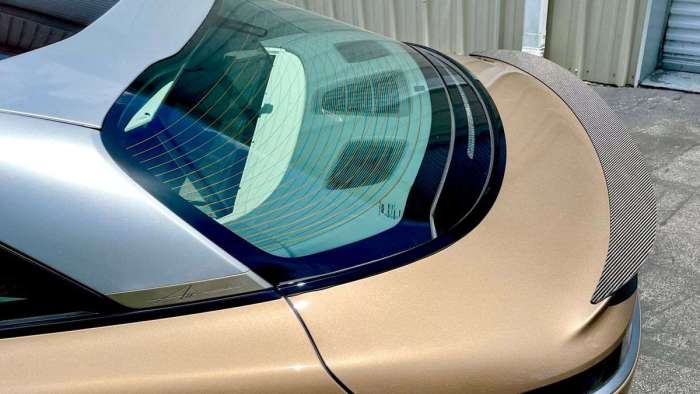 The designs were developed on the team's Corvette GT1 and GT2 racecars before being installed and tested on their Lucid Air and reportedly produce between 200-400 lbs. of downforce depending on speed. When we asked Breathless how all this extra downforce affects the all-important range figures they told us that their Air's range decreased by about 5% (26 miles) with the kit installed. That's not much of a sacrifice at all for the claimed improved performance and the bragging rights that come with having unique extras on your luxury electric sedan.
Installation
Breathless supplies a set of specialized fasteners and tools for installation or if buyers prefer the same results can be achieved with super-sticky 3M double-sided tape that comes with the kit. Also included are detailed installation instructions, or if you're in the Florida area you can take your Air into the Breathless shop and have the pros install the kit themselves.
As a brand new car the Lucid Air doesn't yet have much aftermarket support but it's great to see that companies are starting to eke even more performance out of these already-wild machines. Here's to many more in future.
Related Story: Lucid Air Takes To The Track At Goodwood Festival Of Speed 2022
Images by Breathless Racing used with permission and licensed by CC BY 2.0.
James Walker is an Automotive Journalist at Torque News focusing on Lucid Motors. If it's got wheels he's interested, and he's looking forward to seeing what kind of cars the EV revolution brings us. Whether it's fast, slow, new, or old, James wants to have a look around it and share it in print and on video, ideally with some twisty roads involved. You can connect with James on Twitter, Instagram, and LinkedIn.