Lucid Announces Air Grand Touring Performance With 1000+ Horsepower
Lucid has announced a new version of the Air Grand Touring which slots in just below the company's flagship Dream Edition and becomes the most powerful EV on sale today. With a total of 1050 horsepower coming from a pair of Lucid's in-house electric motors the GT Performance comes awfully close to the Dream Edition's 1111 horsepower and matches its 0-60 mph time, making the dash in an internal organ-rearranging 2.6 seconds. The Grand Touring Performance has an EPA-estimated range of 446 miles, which Lucid is keen to point out allows it to travel further on a charge than any other brand's longest-range vehicle.
For comparison, the regular Lucid Air Grand Touring produces 819 horsepower from its pair of electric motors and gets from 0-60 mph in three seconds flat, with both cars being timed on the 21-inch wheels as opposed to the optional 19s which provide the headline range figures. The Air Grand Touring has an EPA-estimated range of 516 miles, which means it can do 4.6 miles/kWh and makes it the most efficient electric vehicle on sale today.
Dream Edition Demand
The launch of the Grand Touring Performance follows from comments made by Lucid CEO Peter Rawlinson during the company's Q4 2021 earnings call where he stated that the Air Dream Edition had created huge demand for an immensely powerful EV sedan and that Lucid was looking at ways to meet said demand without giving a giant middle finger to the people who put down $169,000 for the limited-edition Lucid back before all the company's positive press. The Grand Touring Performance is the answer to that demand with power nearly matching the DE and a starting price of $179,000; $10,000 more than the early adopters paid for their Dream Editions.
"Lucid Air Grand Touring Performance answers the strong demand we continue to see for higher-performance versions of the Lucid Air," said Peter Rawlinson, CEO and CTO, Lucid Group. "The remarkable speed with which we are able to conceive and bring this model to market is possible only because of Lucid's high degree of vertical integration and in-house production of our proprietary EV powertrain and battery pack technology."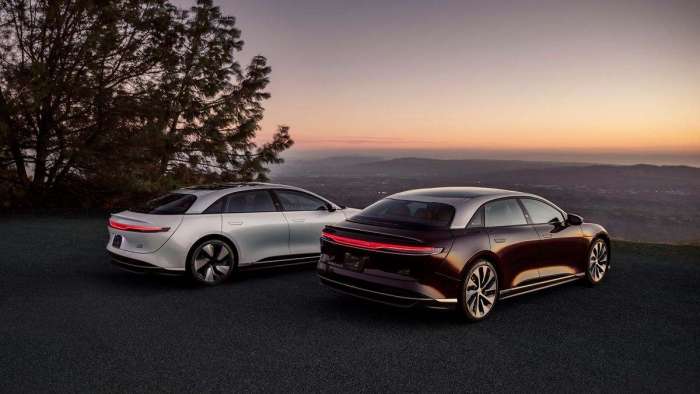 The Air Grand Touring Performance can be had with a set of 21-inch "Aero Sport" wheels unique to the model. Lucid released a video to accompany the announcement showing the new car in action as a GT Performance tears around Willow Springs Raceway, which you can check out below.
Deliveries and Pricing
While deliveries of the Air Grand Touring are already underway, Performance customers will have to wait until June 2022. Pricing starts at $179,000 for US customers while buyers north of the border will have to drop $242,000 CAD and wait until August 2022 to take delivery.
Images and video by Lucid Motors licensed by CC BY 2.0.
James Walker is an Automotive Journalist at Torque News focusing on Lucid Motors. If it's got wheels he's interested and he's looking forward to seeing what kind of cars the EV revolution brings us. Whether it's fast, slow, new, or old, James wants to have a look around it and share it in print and on video, ideally with some twisty roads involved. You can connect with James on Twitter, Instagram, and LinkedIn.