Lucid Air Receives Another Glowing Review, This Time From The UK's Top Gear
Another review, another set of warmest compliments for the Lucid Air Dream Edition. Road testers from TopGear.com have been visiting California to drive the Air on its home turf, and they really liked what they found. According to the report, the Air spells trouble for the big three German limousines; the BMW 7 Series, Audi A8, and especially the Mercedes S-Class. It also takes the fight to other EVs, like the Porsche Taycan Turbo S.
Range
One of the Air's most talked about features is its 520-mile range, and TG gave this plenty of attention in their review, mentioning "vast performance, even vaster range." Calling the Air a "line in the sand" for electric vehicles, the review put forward that this is the real headline number, not the car's 0-60 time. Yes, the Air Dream Edition is slower to 60 mph than a Tesla Model S Plaid, but this is a moot point because of how good the rest of the car is. Also, the Air's sprint from 0-60 is over in just 2.5 seconds. Before the advent of EVs, times like that from internal combustion cars would have been reserved for the top levels of pro drag racing, so it's not exactly sluggish.
Driving
Another area where the Air received a lot of praise was the way it drives, combining the "luxury of a limo with the vigor of a sports saloon." Yes, it's still a heavy vehicle, but the reviewers were happily surprised by how controlled and precise the Air felt to drive, declaring it to have "sharper dynamics and a more homely interior than any Tesla we've driven." Credit for the Air's "fantastic ride" is given to Lucid's team of handling engineers, including chassis people brought over from Aston Martin and Jaguar, as well as former Red Bull Racing aerodynamicist Jean-Charles Monnet.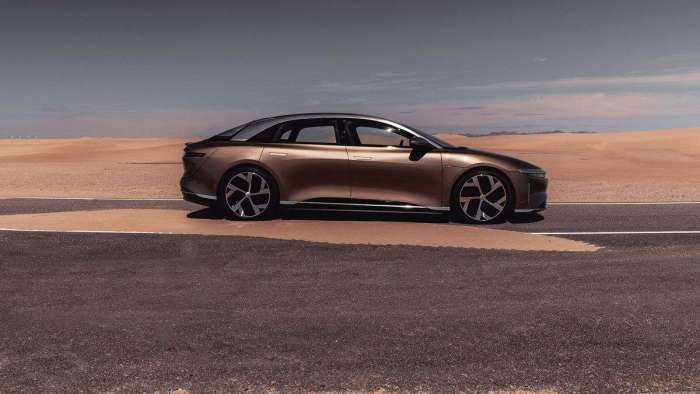 TG called the Air a "rock solid but whisper-quiet limo" with the jump from Smooth to Swift driving modes bringing progressively firmer damping along with sharper braking and steering response. Sprint, say the reviewers, is meant to be turned on once so you can give yourself a pressure headache with acceleration, before you settle into Smooth for everyday driving and Swift to tackle your favourite driving roads. Also praised was the Dream Edition's torque split, which can deliver as much as 30/70 front to back during spirited driving.
Interior
The Dream Edition's interior received its fair share of compliments from the TG staff, being described as "lighter and less formal than its German rivals," with Lucid's decision to include physical buttons for the climate control drawing special delight. The real takeaway, however, was the quietness of the Air's interior. Truly the mark of a proper luxury limousine, "the overriding feeling is one of calm." The reviewers mentioned that EV offerings from legacy manufacturers based on cars designed to use internal combustion engines are often noticeably louder and harsher when powered by near-silent electric motors. Not so in the case of the Air, which was designed from the ground up as a luxury electric vehicle, and is "unfailingly whisper-quiet, even at a keen motorway cruise."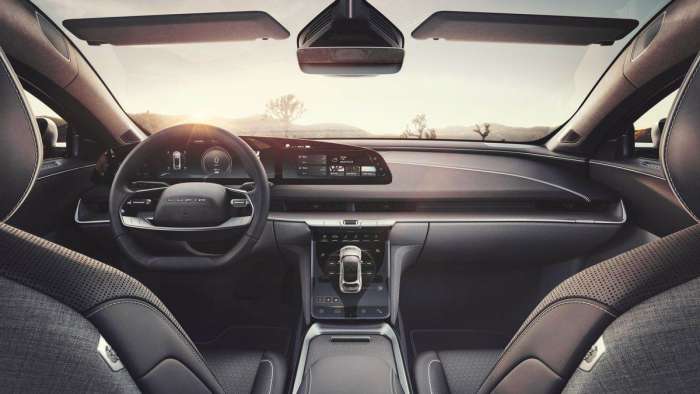 Lucid Air in Europe
Finally, the review speculates on how much the Air will cost when it goes on sale in Europe later in 2022. Interestingly, it mentions that some features of DreamDrive Pro, an optional extra on all Airs but the Dream Edition, may come as standard equipment on European cars, owing to differences in road safety laws on the other side of the Atlantic.
That remains to be seen, but for now it's another glowing review for the Lucid Air Dream Edition, and another accolade for Lucid's growing staff. You can find the full article here.
Images from Lucid Motors licensed by CC BY 2.0.
James Walker is an automotive journalist at Torque News focusing on Lucid Motors. If it's got wheels he's interested, and he's looking forward to seeing what kind of cars the EV revolution brings us. Whether it's fast, slow, new, or old, James wants to have a look around it and share it in print and on video, ideally with some twisty roads involved. You can connect with James on Twitter, Instagram, and LinkedIn.