Lucid appears to be steaming ahead with its global expansion plans and has started contacted people who pre-ordered the very well-reviewed Air asking them to double down on their commitment to purchase. Customers from around Europe have reported receiving such messages, requesting them to confirm their intention to buy and convert to formal reservations.
@LucidMotors / $LCID starts inviting EU/Nordic customers to reserve their Lucid Air, first studio to open in Germany in two months following yesterdays tweet with international expansion Norwegian price still "to be announced". pic.twitter.com/8RfYDiHOhJ— Walgermo (@StianWalgermo) January 27, 2022
Plans for Expansion
This is a good sign that, despite the fit and finish parts issues causing deliveries of the Dream Edition to be delayed, Lucid is moving forward with its plans for increasing its footprint around the world. It's going after two highly desirable EV markets: subsidy-rich, high adoption northern Europe, and the Middle East, where the writing's on the wall for fossil fuels and the move towards more environmentally-friendly energy sources is in progress. It's likely that at least of a few of the 520-car limited run of Air Dream Editions have made their way to the Kingdom, where Lucid plans to open a factory by 2026.
Lucid recently tweeted this map, which shows the locations of upcoming Studios and service centers:
We're expanding internationally. Visit one of 20 Lucid Studio, Sales, and Service locations, and see where we're headed next. Find one near you at https://t.co/MSwu4Va0mn pic.twitter.com/CmVh6V9Zri— Lucid Motors (@LucidMotors) January 26, 2022
No UK?
There are two locations causing curiosity on this map. First, there's another point north of the existing Studios in Vancouver, BC and Seattle, which we can see thanks to its location relative to Vancouver Island. Whether this turns out to be a Canadian Service Center or another Studio further up the coast remains to be seen.
Update: The second Vancouver location did indeed turn out to be a Service Center.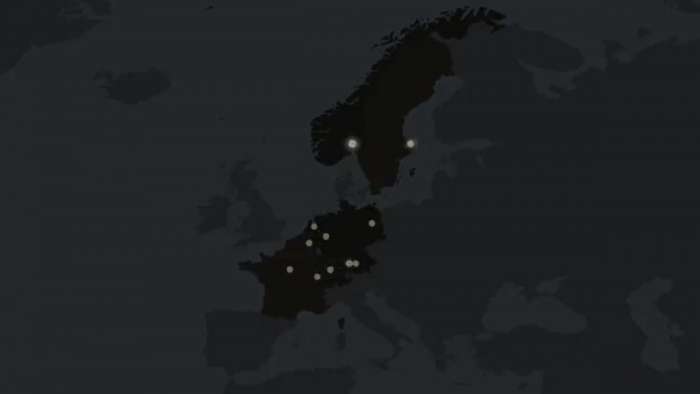 Second, there's the conspicuous lack of Lucid presence in the United Kingdom against the 11 locations slated to open in Northern Europe. Whether this is due to some Brexit-induced difference in regulations between Britain and the EU is unclear, but I'll look into it and report what I can find. Whatever the reason, it seems strange that Lucid would leave such a lucrative market unattended.
Effects on Stock Price
Lucid investors will be hoping the news can go some way to lifting the company's stock price, which has been the victim of the recent slump felt across the wider EV market recently. Indeed, $LCID is tentatively back on the climb today, as are Tesla, Rivian, and NIO.
Images by Lucid Motors licensed by CC BY 2.0.
James Walker is an automotive journalist at Torque News focusing on Lucid Motors. If it's got wheels he's interested, and he's looking forward to seeing what kind of cars the EV revolution brings us. Whether it's fast, slow, new, or old, James wants to have a look around it and share it in print and on video, ideally with some twisty roads involved. You can connect with James on Twitter, Instagram, and LinkedIn. James Walker has no position in any of the stocks mentioned.