The information in this article comes to us from LucidOwners.com, and provides us with information regarding a parts issue that has caused Lucid to withhold delivery of certain examples of the Lucid Air Dream Edition. When forum members mention their "DA" they're referring to Delivery Assistants who work for Lucid and liaise with customers to keep them in the loop regarding when they'll see their new cars parked in their driveways. Lucid is aiming to build 20,000 vehicles in 2022, with 90,000 to follow in 2023.
December 30th
News of the delivery delays broke on December 30th when forum members, who were supposed to take delivery before year's end, received phone calls which told them that they would not, in fact, be taking delivery "this month." Members Miamicanes and SaratogaLefty posted about receiving said calls, and were told by their DAs that the cars were awaiting "fit and finish" parts before they could be shipped out. Other forum members also reported receiving these calls.

Maverick then mentions the cars that can be seen parked outside the factory in videos captured by Bear's Workshop's drone fly-bys which we would have assumed are awaiting shipping. With news of the delivery delays experienced by certain customers, it's possible that these cars are now being held at the factory awaiting new parts before being shipped out. Maverick also wonders whether the parts issue is affecting orders that were placed later in the year, or whether the issue is isolated to Airs that were ordered with a certain build (i.e. Range vs. Performance Dream Editions).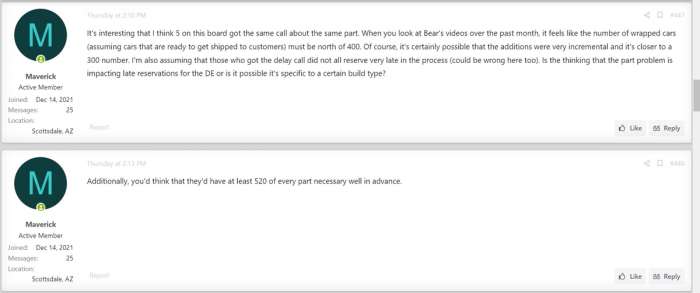 Over-The-Air Update
Lucid released an over-the-air update related to the vehicle's key fob and charge port door on December 18th, and SaratogaLefty wonders if this could be connected to the fit and finish issue. The update, tweeted about by @Tesla2Lucid shows that the charge port door "may attempt to close while the charge cable is still plugged in." Perhaps some sensor in the door assembly is the culprit behind the delivery delays. For a full list of Lucid's OTA updates as of January 6th click here.
@Jon4Lakers incoming #OTA update on the #LucidAir that maybe you've been waiting for pic.twitter.com/e63XBwVuWI— Tesla2Lucid (@Tesla2Lucid2) December 19, 2021
Glass Canopy
HMP10 also contributes information as to the potential cause of the delays, saying that Lucid's production line has been halted in the past to make changes to the production process, and then again to deal with issues relating to the Air's expansive glass canopy roof:

Mountain Man's DA is unsure whether the troublesome part is found inside or outside the Air, but assumes that it's the exterior. As an aside here, it's encouraging to see a customer discuss delays in this tone, where he'd rather and allow Lucid to provide him a near-perfect car than get up in arms about delivery delays and Lucid's less-than-stellar communication on the topic. This is exactly the type of customer a brand new, ambitious car company needs.
Chasing Perfection
Finally, Paladin732 reveals that it is undoubtedly a fit and finish part, and reaffirms Lucid's desire to send out cars that are as near-perfect as possible.
These insights from Lucid's customers are extremely valuable a they're the people actually parting with a significant sum of their hard-earned money in return for the company's first product. It's good to see them have faith in Lucid, and while they're not thrilled at the way communication has been handled, it's encouraging to see them willing to wait for perfection rather than having an unfinished car rushed out to them that will cause future headaches. Whether that's what Lucid ultimately delivers remains to be seen, but the company certainly seems to be doing everything it can to avoid recalls and dissatisfaction down the road.
Cover image by Lucid Motors licensed by CC BY 2.0.
James Walker is an automotive journalist at Torque News focusing on Lucid Motors electric vehicles. If it's got wheels he's interested in it, and he's very excited to see what kind of cars the EV revolution brings us. Whether it's fast, slow, new, or old, James wants to have a look around it and share it in print and on video, ideally with some twisty roads involved. You can connect with James on Twitter, Instagram, and LinkedIn.