As if to redeem itself after the beating it took in DragTimes' last video at the hands of the Tesla Model S Plaid, the Lucid Air makes winning against the Taycan Turbo S look easy. Despite being the third-most powerful EV in production the top-level Taycan just can't match the Lucid's pulling power and top speed through the quarter mile.
Taycan Turbo S vs. Lucid Air: The Stats
We can't blame the Turbo S too much for its less than stellar performance against the Air, as it's an older vehicle with numbers lower than those of the Lucid across nearly every metric. The two vehicles weigh in at around 5300 lbs., but the Porsche has "only" 750 horsepower and 774 lb.-ft of torque to deploy against the Dream Edition P's 1111 horsepower and 1025 lb.-ft. Top speed is 161 mph, while the Air can reach 168, and the Taycan has 83 kWh of useable power while the Air's battery packs 118 kWh. The Taycan's range is 250 miles, while the Air can travel more than 500 between charges.
There are, however, a couple of areas where the Taycan outdoes the Air, starting with its MSRP which is $218,000. The Porsche has launch control, while the Lucid does not, and features a two-speed transmission for its rear axle which is used to increase range and efficiency at higher speeds. The Air has no transmission at all. A more powerful Taycan is reportedly in the works as a model refresh.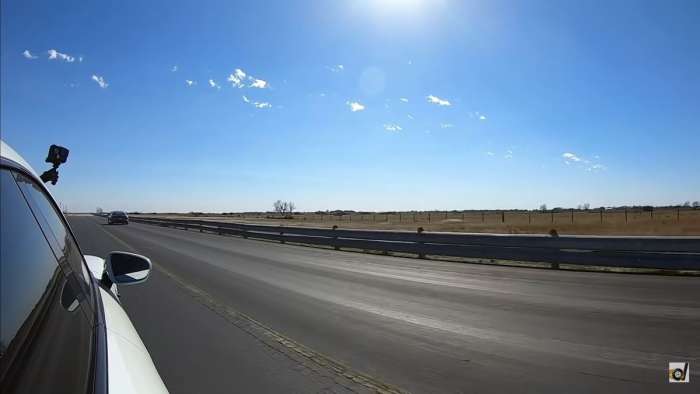 Let's Go Racing
The Lucid and the Taycan took to the quarter mile three times, with the Lucid never looking seriously bothered by its German rival. In the first race The Lucid simply strolls away off the line and finishes miles ahead of the Turbo S, while the slower car gets the jump in the second race. Despite a much better start it's not long before the Air catches up and then sails past the Taycan. In the final race with a rolling start the same result plays out again, with the Lucid finishing comfortably ahead of the Porsche. DragTimes will release a three-wide drag race video between the Lucid Air, Porsche Taycan Turbo S, and Tesla Model S Plaid in the next couple of weeks.
Update: You can see that race and read the analysis here.
Images by DragTimes licensed by CC BY 2.0.
James Walker is an automotive journalist at Torque News focusing on Lucid Motors. If it's got wheels he's interested, and he's looking forward to seeing what kind of cars the EV revolution brings us. Whether it's fast, slow, new, or old, James wants to have a look around it and share it in print and on video, ideally with some twisty roads involved. You can connect with James on Twitter, Instagram, and LinkedIn.