While attending the 2016 Los Angeles Auto Show, I dropped in on Honda's epic Los Angeles 2017 Civic Si reveal. I was there, and without question, the venue and hospitality was over the top. Attendees would soon witness the culmination of Honda's reinvention of a car brand that continues to dominate the compact car segment in North America, they would not be disappointed.
As Hondapro Jason, Roman Mica of the Fast Lane Car, and others consumed measurable amounts of cappuccinos, lattes, and culinary delights, auto writers in attendance closely examined and critiqued Honda's latest and greatest Si coupes, some liked it, some, well they didn't say.In the ye of the storm I sat in the reinvented Civic Si. here's a personal observation or two.
2017 Honda Civic Si will be the most powerful variant offered to date
For me, far more important than the the displacement of the designated 1.5 Liter turbocharged 4 cylinder engine, and exclusivity of the close throw 6 speed manual transmission, is the comfort of the cockpit and the driving position. As with the 2017 Honda Civic coupe, hatchback and sedan, the Si will be without exception the most comfortable, seat worthy and road handling front wheel drive performance compact coupe and sedan in the compact car segment. Read my first impressions here.
As a tall driver I appreciate the fact that I comfortably fit without compromise in this high performance coupe. And although the cockpit is rather spartan by today's connectivity standards, I appreciate the visual balance of the interior, as well as the near "sleeper" sensibility of the reasonably performance uptick exterior. Civic Si is an attainable driver's car.
This is not the Type-R
2017 Civic Si will not be as in-your-face as the Type-R, nor should it be. For those that wish for more, pull the financial trigger on an extreme sports car, Si is not extreme. Personally, I like driving the Civic Hatchback, 180 horsepower may be enough for me.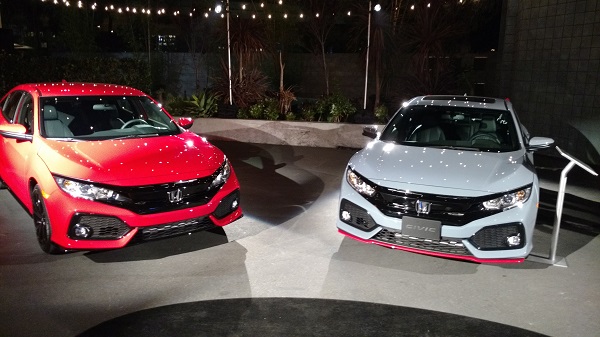 25% more torque and horsepower than the Civic Touring
As in appropriate Si fashion, the all new 10th generation Civic Si comes to market with greater power, fewer tech driven active safety features and creature comforts -- although I do anticipate "Hondawatch ™ " available throughout the Civic lineup on all variants soon enough. Without revealing MSRP, engine specifications, or dealership availability time of arrival, Honda's Sage Marie guaranteed that this Si will be the fastest, most road dynamic in the maker's history. That's good enough for this Honda fan. 2017 Civic Si is not a Type R, nor should it be.
As to liking the body design of the 10th generation Civic Si, that's a personal measurement. Cheers!