2017 Honda Si to feature high output 1.5 Liter turbocharged VTEC
Truthfully, nothing specific as to specifications, pricing or model application was shared with Torque News by our friends at Honda -- other than the factoid that Honda's latest Civic Si will be powered by a boosted 1.5 Liter Turbocharged, 4 cylinder gasoline engine, and shifted by Honda's exceptional made in Japan 6-speed manual transmission. 3 days earlier, I'd driven Honda's first 5-door turbocharged hatchback through the streets of San Francisco, a great week to be sure!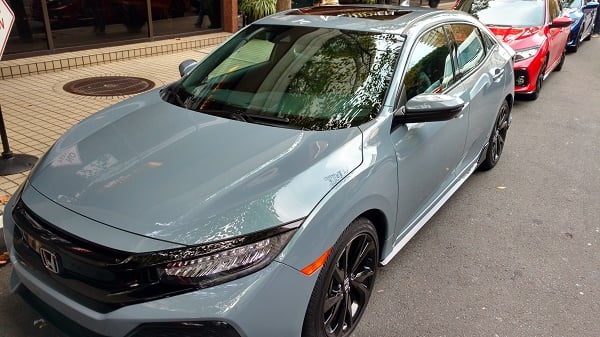 Performance braking, suspension tuning and cool-red-striped interior finish accents
And of course, no Civic Si would be complete without the drilled metal alloy brake, clutch and gas peddle, drilled oversize brake rotors, Brembo-like calipers, and a very cool lower cowl rear centered dual exhaust stack.
Looking to our floor display dressed to impress in a very cool concept, near cherry "rally red" metallic deep-clear coated custom one-off paint job, riding on 19 inch powder coated alloy rims, low profile performance tires, while sporting a dominate tail wing, I was assured by Honda Public Relations superstar and Honda team racer Sage Marie, that when released to North American buyers in early Spring 2017, the 10th generation Civic Si will be the quickest and best handling Si variant in the brands history -- that's exciting news for Civic fans.
Here's what Honda tells us: The 2017 Civic Si Coupe and Si Sedan will be powered by a high-performance, high-torque 1.5-liter, directed-injected and turbocharged DOHC in-line 4-cylinder engine with dual variable cam timing (dual VTC) mated to a short-shifting 6-speed manual transmission. Additional performance upgrades for the Si variants will include a new active damper system, active steering system, limited-slip differential and available high-performance tires.
"With the new Honda Civic Si, we're injecting even more sporty goodness into our 10th-generation Civic lineup," said Jeff Conrad, senior vice president and general manager of Honda. "This will be, hands down, the fastest, best-handling Si we've ever offered to our customers."
But that's all we know, well…

I'll take a leap here with just a tad of qualified speculation. Looking to the present peak output of 180 horsepower claimed by the all new 2017 Honda Civic hatchback, I'll venture that the soon to arrive Civic Si sedan and coupe,(there will be no hatchback offering) will produce no less than 220 horsepower and 180 lb-ft torque. As to MSRP: I'm thinking $32,000 or so.
While attending the L.A. reveal, I took the liberty of sitting in the driver's seat of 2017 Honda Si -- it fit me like a glove, instantly evoking visions of rabbit-starts and 2-lane country road sweeps--I was hooked!