Charles Fleming contributing to the L.A. Times caught my attention. I have a thought, hey Charles, let's stop comparing Honda Ridgeline to Ford F150.
There it was, printed in the Los Angeles Times, and as big as a Hollywood Boulevard billboard: "Honda 2017 Ridgeline Pickup is cool, but is it a truck?" I suppose that's a fair enough question coming from a diehard conventional truck guy.
I'll give this much to the author, Honda Ridgeline is not your conventional cab and bed, mounted to a ladder frame "pickup truck." But, it is an extended cab, short bed, utility-truck-like vehicle, just the same.
Personally, I've owned and driven pickup trucks for the better part of 5 decades, and am highly qualified to comment on what does and does not constitute a pickup truck. Opinion: 2017 Honda Ridgeline is a pickup truck and more.
It all started for me with Chevy
Back in the 70s, my first new car purchase was a Chevrolet C20 Silverado, conventional cab, long bed pickup. Back then, "active safety" was limited to fastening one's seat-belt in hopes of keeping your head off of the mostly metal dash in the event of a collision. ABS brakes, maybe.
At the time I was working construction, and traded in my shag carpeted Ford van for the metallic rust orange Chevrolet -- it nearly beat me to death when commuting down the 405 Freeway to Los Angeles. Without a load in the bed the ride was deafening, and chiropractor calling excruciatingly painful --something 2017 Honda Ridgeline isn't.
Honda effectively reinvented the midsize pickup, let's give them that
Say what you will, argue till the cows come home, grandma rises from the dead, and Kim Kardashian's butt drops 5 or 6 pant sizes, Honda Ridgeline looks like a pickup truck, and does what a pickup does -- with greater cabin quiet, a refined ride, adequate load and towing capacity, while achieving the highest non-diesel fuel economy in the pickup truck kingdom. I meet my first Honda Ridgeline in 2005, or was it 2006?

Back to Chuck's article
Outside of the slightly misleading headline, Charles Fleming wrote an easy to digest account of a trip down into Death Valley, behind the wheel of a 2017 Ridgeline RTL AWD. As we auto journalist types like to say, "Ridgeline performed better than anticipated."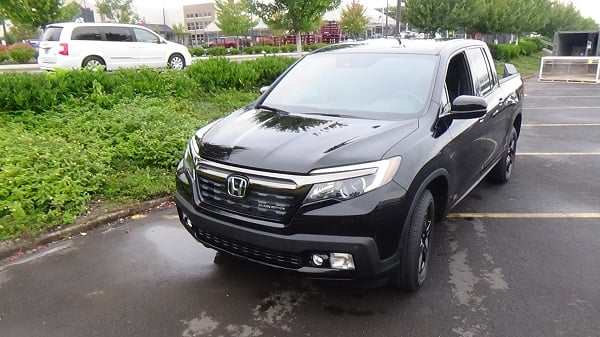 After twisting down the windy roads of spec-driven auto review diatribe, Fleming's fair account of the benefits and disadvantages of Honda's unibody car-truck, hits his pen on the bumper of the best selling vehicle in North America, the Ford F150 pickup truck -- something that Honda Ridgeline doesn't pretend to compete against, emulate, imitate or dominate, in the world of ever changing, consumer driven auto markets. Where is the apple to apple price-point consideration Charles? Here's a late breaking F150 assessment from Patrick Rall.
Looking to the numbers, 23.667 Ridgeline pickups left the showroom in the first 7 months of production. While that not the 30,000+ F150s rolling off the assembly line per month, it is a resounding yes from well researched consumers as to the viability of Honda's only American cowboy influence and styled pickup truck, Honda style.