With the majority of consumers opting for compact crossovers and SUVs when purchasing a new car, Honda, Toyota, and other auto makers present the most evolved, user friendly and safe. compact and midsize sedans to ever come to market. Case in point, Honda's award winning 10th generation 2018 Honda Accord.
The sedan segment in America is far from dead as demonstrated by Honda Accord
Once again Honda Accord leads the segment with several features, including Honda SENSING, in my opinion the best working near autonomous active safety suite on the market today. And yet 2018 Honda Accord offers much more than state of the art active safety features.
Under the hood of what Honda engineering proudly refers to as the most refined feature-rich Accord ever, sits the manufactured in Ohio Earth Dreams engine series. Our subject for this article is the 2018 Honda Accord Sport 1.5L turbo, two up-trims off the bottom of the Accord lineup. Yet the value trim Accord Sport is far from stripped.
At the heart of every 10th generation Accord sits an exceptional turbocharged 4-cylinder
I can't say enough good about Honda's 1.5l and 2.0L turbocharged, direct fuel injected, four cylinder VTEC gasoline engines. After driving the very formidable competition in the mid-car segment, I find Honda's offering to be not only fuel efficient, but responsive, and vibration free.
Every Accord trim offering for 2018 is turbocharged. While there remains more than a bit of skepticism in the car buying public when it comes to small displacement turbocharged engines, they are now the engine of choice with all major auto manufacturers. You won't find a V6 option for 2018 Honda Accord.
2018 Honda Accord features Exceptional low to mid-range torque, sprint speed, and fuel economy
Thanks to quick heat dissipating aluminium heads, integrated exhaust manifold head casting, low friction internal engine components, direct multiple-port fuel injection, and relatively cooler running temperatures, today's turbocharged engines burn cleaner and live longer. Honda, the biggest gasoline engine manufacturer in the world, builds a darn fine engine. With a stated 192 horsepower at 5500 RPM, and 192 lb-ft torque from 1600 to 5,000 RPM, this is the most responsive and powerful Accord presented to date at any trim level. That's cool. There's more.
I first experienced the 1.5L engine in the Honda 2016 Civic lineup, and then CR-V SUV. I also took a turn or two on the track in Civic Type-R. Yes, you can opt for a down-tuned version of Type-R's engine in Accord Touring. I'll get back to that application later in the article.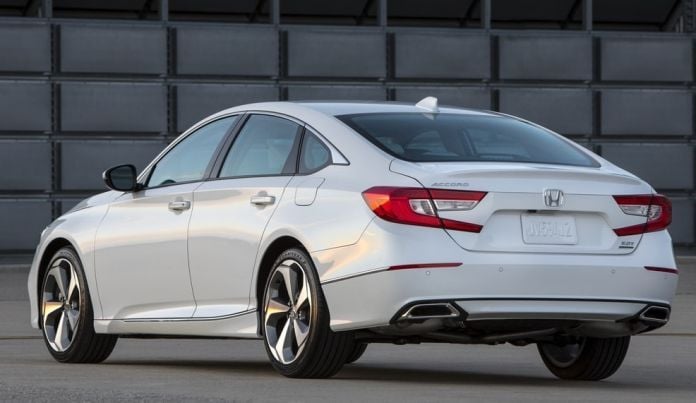 The closer I scrutinized 2018 Honda Accord, the greater value I discovered
This near premium 5-passenger sedan comes to market with a ground-up redesign, and a comprehensive standard feature and options package that rivals sedans sporting uptick premium pricing. The first thing I notice when sitting behind the wheel of Accord touring is how comfortable the power adjusted leather and fabric driver's seat is. Infinitely adjustable, I found Accord's driving position to be pleasingly spacious, its dash and center stack configuration near intuitive.
let's cut to the chase. How does the reinvented 2018 Honda Accord compare to the all new world-platform 2018 Toyota Camry? We've received several request to compare Accord to Camry, so let's get to it! 3 weeks ago, I spent some quality seat time behind the wheel of 2018 Toyota Camry XLE V6, a good car by any measure. However, when weighing the sometimes subtle difference of two segment front runners, the Devil is often lost in the details.
Visually, both Accord and Camry present a pleasing body architecture; close to the pavement, wide-tracked and sweeping of roof to trunk line. Truthfully, Camry may lead the segment in interior design appeal. Yet Honda Accord nails it in functionality, tablet-like command touchscreen size and placement. And yes, from my experience, I find Accord's 2nd row to be just a tad roomier and seat-comfortable. Neither sedan offers copious amounts of headroom in the second row -- tall rider take heed..
Regardless: The majority of daily commuters in the U.S. and beyond, drive solo to work. So for me, what truly measures a good commuter car is seat comfort, ride refinement, maneuverability, and over all drive dynamics. 2018 Honda Accord Via a redesigned suspension, improved frame rigidity, active noise cancellation, and stability-track, is mind-blowing float-like-smooth when transitioning on and off of traffic-worn surface streets and highways. It is absolutely the best car for the money in its segment -- bar none.
Featuring 2 new engines and transmissions, including the only 10-speed automatic in the segment, Honda takes Accord to a segment breaching level of sophisticated ride refinement and ease of operation. 2018 Honda Accord Sport 1.5L Turbo is a perfect daily commuter.
Yesterday, while driving on the streets of Eugene, Oregon in the rain, I was reminded just how good Honda's not so entry-level 1.5L Accord Sport truly is. I'd consider 2018 Honda Accord for my daily driver of choice. It just goes to show that one needn't spend upwards of $40K to purchase an impressive ride. * priced from MSRP $23,570 plus delivery, dealership prep, taxes, etc.. Price as tested: Sport CVT $26,580.. MPG realized in mixed driving: 26.9 MPG.
What we like: Price point, new styling, toque-rich, fuel efficient engines, ride dynamics
What we'd change: More headroom in row two, a little less textured plastic trim on the interior.