2016 Accord EX-L Coupe V6 - 6 MT Honda's unsung performance car
You don't read or hear much about them, and they won't be featured in a Honda car commercial -- or included in an incentive clearance sale anytime soon if ever. None the less, 2016 Accord EX-L V6, MT 6-speed may be Honda's best kept affordable performance secret. Looking to the numbers, it may outperform the legendary Civic Si.
This Accord is Honda's unsung drive performance car
I've driven every car in the Honda and Acura line up, except one. That all changes this week with the delivery of a San Marino Red on black leather interior 2016 Honda Accord EX-L V6 - 6 MT(manual transmission) coupe. This car is bare bone by Honda tech standards returns me to my basic driving roots--manual shifting.
Honda Accord Coupe just happens to be my favorite personal driver in the Honda lineup. Torque News has recorded much seat time in the 2016 Accord Coupe Touring, and Sport -- both offering measurable performance and features as advertised -- capable, comfortable enough and affordable. But for me, they were lacking just a bit of 'punch" when it came to live-on-demand acceleration and torque. I, like most of my readers wanted more! We just found it.
Paddle shifting is great, but for this control freak, bring me a stick shift
As I sit here writing this post I recognize a slight stiffness in my neck and lower back. I just spent 3 days in the seat of a coupe that readily prevents a Civic Si-like power and ride experience in a larger platform of greater interior comfort, styling flash, and grown-up split personality business/sport coupe sensibility.
2016 Accord Coupe catches the eye and then the imagination -- it's an exceptionally good looking car, Honda style, with little to no active safety features, navigation or 30+ MPG fuel economy ratings. At it's essence, this is the driving man or woman's car, sporty, red car flashy and just a bit bare-bones gritty.

278 horsepower @6200 rpm/ 251 lb-ft torque @5300 rpm
Numbers are just numbers. It's how the horsepower and torque is transferred to the driveline that makes the performance difference in Honda's unsung performance coupe. While not as fuel efficient as the CVT, or 6-speed automatic transmission equipped Accord, there's just something about holding a gear via a manual transmission, finessing a shift via a foot activated clutch, and up-shifting out of a fast uphill sweep -- this car is very capable.
And then there's the exhaust tone of Honda's Earth Dreams ™ i-VTEC V6
I can't overstate how well this engine performs under real-world driving conditions. The 3.5 liter, 24 valve, single overhead cam, i-VTEC 6-cylinder gasoline engine produces on-tap torque via Honda's Drive by Wire ™ promoted throttle body. Don't like manual transmissions, check this out.

Yes, we know that this Accord is not the highest horsepower or torque producer in the midsize sport-coupe segment. Yet when you're behind the wheel, throwing this Accord through the gears it comes on like a rocket, I have the sore neck and back to prove it.
This V6 Accord as equipped weighs in at a mere 3397 lb, just 420 lbs more than Civic turbo CVT
Although not turbocharged, this manually shifted coupe drives as though supercharged. There is no lack of torque noted, acceleration and engine response is top of class.
As to fuel economy: While not segment setting, does come in at 18 city/ 28 Hwy -- very acceptable MPG for what I consider to be a performance coupe. Sending torque to the pavement is a close ratio manufactured in Japan 6 speed manual transmission, front wheel drive, limited slip differential.
Nice handling, decent sure-track ride
We find anti sway bars front and rear, 4-wheel disc brakes, 12 inch ventilated in the front, electronic assisted rack and pinion steering, a non compromised (firm but not stiff) ride, a reasonably quiet cabin, dual exhaust, 19 inch alloy rims, Michelin all weather performance tires and more.
As with all front wheel drive vehicles 2016 Honda Accord is just a bit nose heavy while braking hard into a turn or downhill sweep. This Accord will pull a bit to the right when accelerating hard off of a light. I did break traction more than once; actually, that may be part of the charm of this performance Accord.
Nice interior albeit a bit spartan
I truly enjoy the flowing, uncluttered interior of Honda's least mentioned Accord offering. The power adjusted and cooled driver's seat in or EX-L is covered in glove soft black leather. A bit on the firm side for me, yet not overly aggressively bolstered. Gaining access to rear folding bench(access to the trunk) is easy, thanks to a very wide side door and easy-slide one touch front passenger bucket seat.
The back seating area, while comfortable enough, is best suited for the short of stature of the kids. Leg and shoulder room is ample for a coupe. Visibility from the 2nd row to the front of the car is doable. Personally I'd call shotgun!
The fit and finish is on the upside of the Accord lineup with high gloss piano black console flat surfaces meeting nicely textured soft and hard molded plastic surfaces, chrome trim accents, black carpeting with gray kickers, headliner and door panel insets. 2016 Honda Accord Coupe styling is stunning!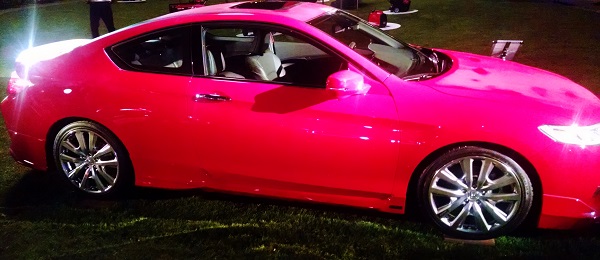 Split monitor center stack with manual climate control
It's a personal thing: either you like Honda's split screen center stack or you don't in our Accord you won't find navigation of Honda Sensing ™. Yes, a bit strange for this day and age. But we do have a lane watch camera to the right and a backup camera with directional lines. The 7 speaker stereo system in 2016 Accord EX-L is way better than average, as is the Bluetooth, hands free personal entertainment and cellphone connectivity.
Smart wheel, voice command, ride stability and more
O.K., so by today's market standards this V6, 6 speed Accord could and should have a bit more Honda Sensing ™ electronics and active safety features. But for me, I can do much of that with my Android based cell phone. I'd rather spend my buying dollar on engine and suspension performance.
With a listed MSRP of $31,025 +, this is the performance sleeper of the Honda Accord Coupe lineup.
In closing
At this day and age I'd make Honda Sensing ™ safety suite standard throughout the lineup. Also, there is little reason to go without navigation these days. Honda features Garmin, it works very well. Other than that, nothing! I love this car for daily driving with a sporting edge.
When cruising in 6th speed on the highway this Honda is as docile as a kitten, as quiet as a dove, and fall asleep comfortable. It's that split personality, dual purpose thing that Honda does so well. At this price point you can't beat the total package that is Honda's last standing manually shifted coupe; it's that good.