The new Ford Maverick pickup truck is one of the most successful new vehicle launches of this decade. Although it was just recently introduced, and during the worst possible time in history, the Maverick's U.S. deliveries in Q1 put it within striking distance of second place in one of the most important vehicle segments in America - smaller than full-size pickups.
Related Story: Fun Fact: The Ford Maverick Is Larger Inside Than The Ranger
With 19,245 units sold in Q1 in the U.S., the Maverick tops many models that have had much more time in which to become established. These include the GMC Canyon, Hyundai Santa Cruz, and Honda Ridgeline. However, what is really amazing is that the Ford Maverick is very close to matching or overtaking the Chevy Colorado, Jeep Gladiator, and Nissan Frontier. Perhaps the biggest surprise is that the Maverick now outsells Ford's own Ranger.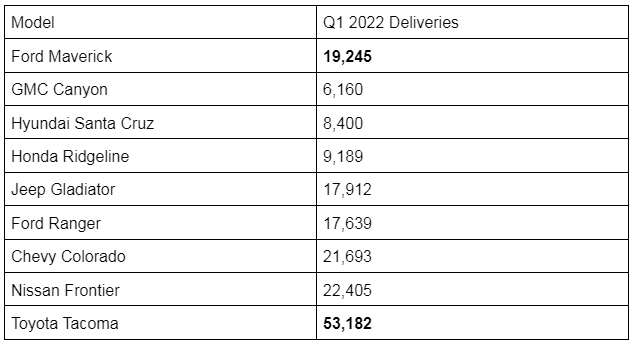 The Maverick is a front or all-wheel drive truck with a cab larger or of similar size to many of the trucks we have listed here as comparison vehicles. Its bed is shorter by a handful of inches to a foot or so than most of them. Its closest peer is the Hyundai Santa Cruz, which the Maverick is presently outselling by two to one.
Unique among its peers, the Maverick is available with a city fuel economy rating of up to 42 MPG! That number is impressive because its base powertrain is a hybrid. Why isn't a hybrid available from every one of its competitors? How could they have missed the importance of fuel economy and low emissions to Americans who want small trucks? The Maverick's second best feature is its low cost. We recently tested a Maverick with a price of $23K. And LOVED it.
Yes, many of the trucks on this list come shackled to expensive and unnecessary equipment the owner rarely uses. High ground clearance, giant tires, locking differentials, crazy suspension technology. All geared toward a mostly imaginary adventure of driving through some off-road no-man's-land. The handicap these trucks are burdened with should not be a reason the Maverick's success is any less impressive.
Only Toyota has a truck that is delivered at a rate well above the Maverick today. The Tacoma has owned first place in this segment for so long, it seems like forever. It may well be. To attack Tacoma's leadership, every brand but two tried to make a truck with more extreme off-road abilities. It's fun to see a truck with a completely different approach walk into the market and take meaningful market share away from those that thought the formula for success was hard-core off-road chops.
Among truck shoppers, many would consider the Hyundai Santa Cruz and the Honda Ridgeline the Maverick's two closest competitors. The Maverick presently outsells the two of them combined.
Feel free to tell us in the comments below why you feel the Maverick should not be compared to the pickups we have listed.
Ford Maverick Image by John Goreham. Maverick sales chart by John Goreham uses data from manufacturers.
John Goreham is a long-time New England Motor Press Association member and recovering engineer. John's interest in EVs goes back to 1990 when he designed the thermal control system for an EV battery as part of an academic team. After earning his mechanical engineering degree, John completed a marketing program at Northeastern University and worked with automotive component manufacturers, in the semiconductor industry, and in biotech. In addition to Torque News, John's work has appeared in print in dozens of American news outlets and he provides reviews to many vehicle shopping sites. You can follow John on TikTok @ToknCars, on Twitter, and view his credentials at Linkedin
Re-Publication. If you wish to re-use this content, please contact Torque News for terms and conditions.