Ford has a winner on its hands in the new 2022 Maverick Hybrid XL FWD pickup truck. This truck had us won over before we even hopped inside. Its "steelie" wheels are the perfect mix of retro, affordable, and practical that so many shoppers are looking for today. Add to the rims normal profile tires that have many advantages over the ridiculous rubber on so many other modern trucks, and the Maverick Hybrid XL FWD is ahead of the game by being old-school.
Related Story: Fun Fact: The Ford Maverick Is Larger Inside Than The Ranger
2022 Ford Maverick Hybrid XL FWD - What Is It? How Big Is It?
The Maverick Hybrid XL FWD is a smaller than midsize five-passenger pickup truck that has a cabin about the size of a Bronco Sport or Ford Escape crossover. With 100 cubic feet of interior space, the Maverick is larger in inside than popular crossovers like the RAV4 (99 cu ft). This space is no trick of the tape. It feels roomy and spacious if your point of reference is a five-passenger crossover.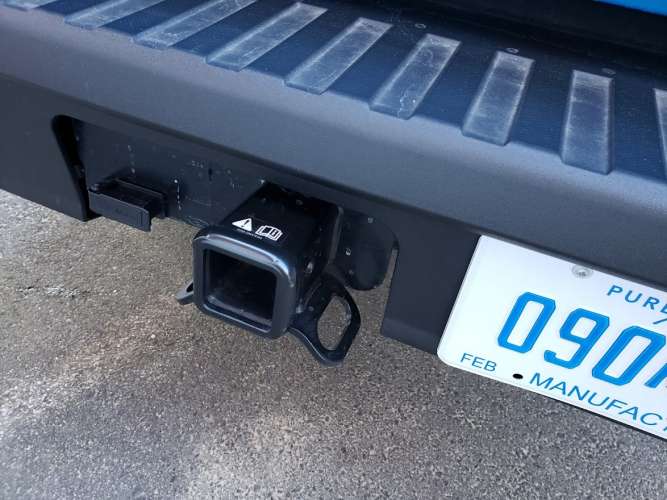 The pickup bed measures 54.4 inches by 42.6 inches. We dropped the tailgate and put a tape on the bed from the end where it meets the passenger cabin to the tip of the tailgate's flat surface we measured 79 inches. This truck would be ideal for hauling things like bikes and kayaks. The lift height to the bed is just 30 inches. Yes, there is a way to haul 4'X8' sheet stock home from a home improvement store.
2022 Ford Maverick Hybrid XL FWD - What Does It Cost? Is It Really For Sale?
Ford says that its Maverick starts under $20K. We used the price configurator to build the most bare-bones XL with no options and found the cost to the consumer to be $21,490 including destination charges, but not including dealer markups or documentation fees.
Add a spray-on bedliner like our tester had and the price increases by $495. Our tester also had a bed extender that had a price of $370. Included in the base price is a standard options package with wired Android Auto and Apple CarPlay. The base Maverick also comes with a full-size spare tire.
More than half the 10,550 Mavericks that Ford has sold this year so far (through February) have been affordable Hybrid trims. That is great news. It means that Ford has not done what many automakers have on popular models and just built the priciest trims.
We don't normally dive too deeply into sales and dealer pricing in reviews, but Ford's configurator popped up a warning about availability due to shortages when we used the build and price tool. After we configured our base Maverick, we used Ford's search tool to see if any were actually for sale near us. We found a well-optioned Maverick XLT for $26,510 at Danvers Ford in Massachusetts. We phoned Danvers Ford's sales line to see if it was still available. The salesperson who took our call told us the one we found online had already sold for well over sticker price. No other Mavericks were in stock. That situation may change as inventory returns to normal levels, and Ford has done more than almost any automaker to combat added dealer markups based on our recent research.
Due to unprecedented demand for both Hybrid and EcoBoost-powered trucks, Ford made the decision to stop accepting new retail orders on the 2022 Ford Maverick in January to focus on filling existing orders. Ford is still sending some unallocated Mavericks to dealers. We communicated with Ford, and the company's spokesperson told Torque News Ford plans to resume ordering for the 2023 Maverick starting this summer.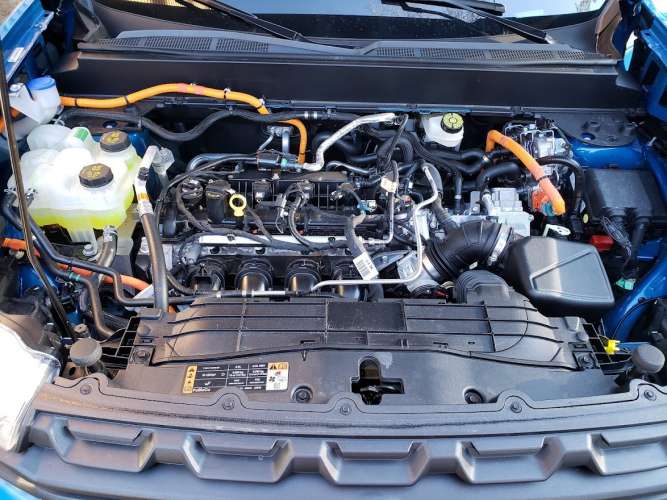 2022 Ford Maverick Hybrid XL FWD - What Powers It?
The front-wheel drive 2022 Ford Maverick Hybrid XL FWD is powered by a 2.5-liter gasoline engine mated to a hybrid-electric drive system. A constantly variable transmission is used, and we loved it. The engine is nearly silent in all modes of operation and absolutely silent when the vehicle isn't moving or when coasting. Compared to some hybrids we have recently tested from Hyundai and Toyota, the Ford Maverick Hybrid was smoother and felt more refined. The transitions from gas engine power to electric motor drive and vice versa were much smoother and less noticeable in the Ford. In fact, we totally tuned them out after the first few minutes of testing. By contrast, a recent hybrid costing double this Maverick's price we tested from a competitor drove us nuts all week with its abrupt engine starts at random times.
2022 Ford Maverick Hybrid XL FWD - What's the Fuel Economy Rating?
The Maverick earns fantastic 37 MPG Combined, 33 Highway, and 42 MPG City EPA estimates. We validated these numbers in our testing. Our highway driving resulted in 33 MPG and our mixed-use suburban driving about 36 MPG. A colleague of ours tested the Maverick on a long highway drive, at higher than typical speeds in Colorado and Wyoming (where that's legal), and found the Maverick exceeded its EPA highway rating. You can watch the video below.
2022 Ford Maverick Hybrid XL FWD - How Does It Drive?
Here is the biggest news - The base Maverick Hybrid blew us away on our test drive. It is refined, it is silky smooth, its ride quality is better than crossovers costing twice its price. The powerplant is ideal for adults who drive normally to and from work, or on errands. Why aren't there more vehicles like this? Well, actually, the recent Ford Explorer we tested also had this same type of vibe.
If you want an off-roady type of truck, Ford has an AWD Maverick. It has a lot in common with the top-trims of the Bronco Sport, which is now our benchmark for five-passenger SUV excellence. We loved that Ford sent us a base XL. It would appeal to anyone who isn't planning to go mudding.
Highway driving was particularly good, but we loved driving the Maverick in the city and suburbs as well. It's a great reminder that big wheels, a massive engine, and fancy suspension bits are mostly expensive window dressing.
2022 Ford Maverick Hybrid XL FWD - Interior, Infotainment, and Features - What's It Missing?
The base audio system is great in the Maverick. We tested it back to back with a "Limited" trim of another brand that had "Premium" audio. The base Ford audio was much better in all regards. Ford has long had the best standard audio and this continues with Maverick. We like Android Auto and Apple CarPlay. Ford offers this on every trim of Maverick, but you need to plug it in.
The Ford Maverick XL's interior is cloth and has a lot of hard plastics. The door pull appears as if a piece was left off. You know what? We loved it. It looked like Ford purposely decided to offer shoppers an affordable truck and the interior will likely be just as durable as any more fancy one would have been. Something just works in this affordable truck's simple design. We would not wish for any changes to the Ford Maverick XL's interior.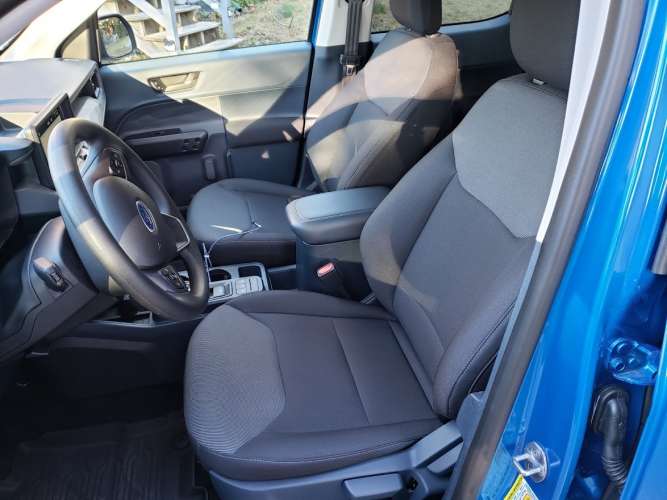 2022 Ford Maverick Hybrid XL FWD - What's It Missing?
We could not find a heated seat or steering wheel "winter package" to add to the XL. There is no package to add
even basic cruise control. If we were shopping, these would be features we would want. Cruise is available on the XLT trim starting at about $24K, and heated seats are part of a package on the Lariat starting north of $30K.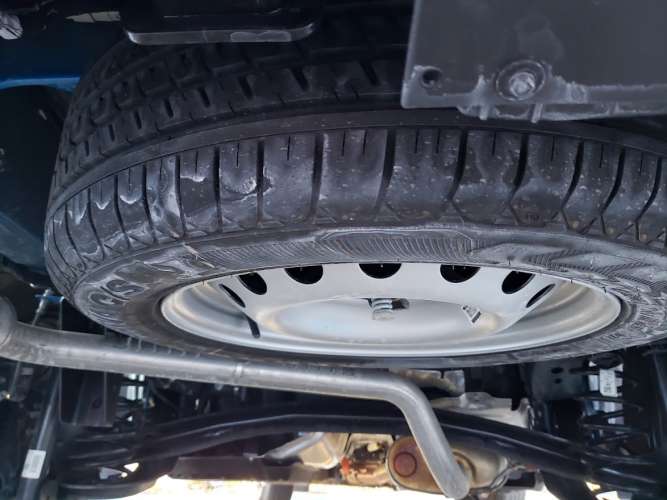 2022 Ford Maverick Hybrid XL FWD - Conclusion
Other publications we respect are calling the Ford Maverick the most important new vehicle of 2022. We agree with that bold statement. Ford has perfectly timed the market. What was needed was an affordable, practical, "green" vehicle with great fuel economy that is enjoyable to drive. The Maverick is all of these things.
We have no doubt we will love the EcoBoost-powered, AWD Maverick complete with every option. However, what we feel is important to know about this new truck is just how great the most affordable trim is. This is one of those vehicles that is so much better than expected it is hard to overstate its importance.
Image of Ford Maverick by John Goreham
John Goreham is a long-time New England Motor Press Association member and recovering engineer. John's interest in EVs goes back to 1990 when he designed the thermal control system for an EV battery as part of an academic team. After earning his mechanical engineering degree, John completed a marketing program at Northeastern University and worked with automotive component manufacturers, in the semiconductor industry, and in biotech. In addition to Torque News, John's work has appeared in print in dozens of American news outlets and he provides reviews to many vehicle shopping sites. You can follow John on TikTok @ToknCars, on Twitter, and view his credentials at Linkedin
Re-Publication. If you wish to re-use this content, please contact Torque News for terms and conditions.