During a recent visit to the Hopkinton Fair in New Hampshire, I happened across a base Ford F-150 Lightning put on display by a local dealer, Grappone Ford. As a member of the media, I had previously seen and driven the new F-150 Lightning in its top trim and came away impressed. However, I was much more impressed by the base truck, and the reason was the window sticker.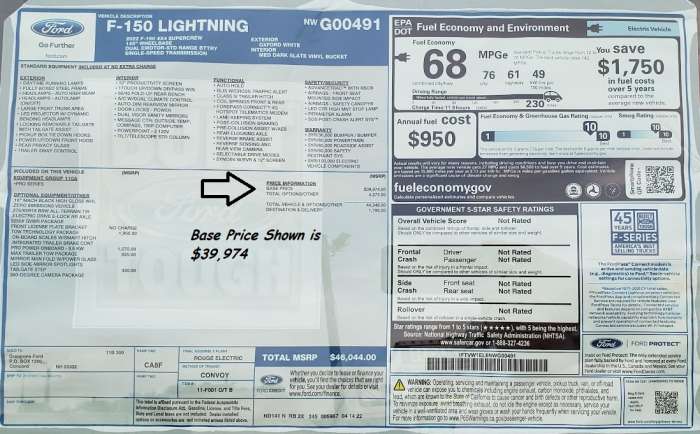 Can I Really Buy an F-150 Lightning For $40K Right Now?
The sticker says that the truck starts at $39K before delivery charges, dealer costs, and other add-ons. Although those costs and add-ons are now extremely important, most of my colleagues and the employees of automakers I speak to feel that the markups will settle down in the coming year or two. Could a Ford F-150, Electric or otherwise, really be bought for about $40K ever again? The skeptic in me says, "no way." And I'm not blaming Ford for this. To find out if I could buy a Ford F-150 Lighting right now for $40K I did a bit of digging.
F-150 Lighting Price History
The F-150 Lighting wasn't even on sale for a year before Ford raised the price. How could Ford not raise the price? Inflation means that an item costing $40K last year now has a price tag of at least $44K this year. No country can print trillions of dollars in imaginary money and expect the currency to hold its value. Inflation alone means that by the time EVs really hit their stride in delivery volume, the sticker prices are going to about double. Along with the price of everything else. The energy to push vehicles is already double the cost it was just a couple of years ago. Have you seen parts and labor prices to maintain a vehicle lately? I report on tires for another outlet and can assure you that the $250 tire is the new $160 tire. It happened in about a year. I know because I maintain the price files.
F-150 Lighting Breaking Down The Math
Looking closely at the Monroney sticker of the truck on display, I can see two things at a glance that relate directly to the price of the F-150 Lightning. First, the one I saw was a 2022 model year Pro trim truck. So, its price has already gone up by about $15%. The base $40K 2022 Pro trims are sold out, and the 2023s now start at $46K. The other aspect of the price reality is that the truck I saw wasn't really a base truck. It had $4,275 in towing stuff added to it, and of course, it is always important to remember to add the delivery fee of $1,795 (last year's delivery fee cost). The truck I was looking at would cost roughly $54K in today's dollars if one were available for sale. That would be before the dealer documentation fee and market adjustment add-on. The excitement wears off pretty quickly when you first see a $39,974 price tag and then realize that to actually wrestle one out of a dealer's hands would be at a minimum $55K, plus possibly as much as $10K, $20, or perhaps even more in dealer markups.
Shopping For a New Ford F-150 Lighting
To find out what the price of a Ford F-150 Lightning would be, I phoned Grappone Ford in Bow, NH. A helpful agent named Sage informed me that Ford won't accept my offer to purchase or order a Lightning today. So, I can't have one at any price. Again, we are not pointing to Ford as special here. Every automaker is unable to build vehicles due to reliance on outsourced parts now in short supply (or no supply). Sage did say that Grappone has opted to hold the one Lightning they do have off of the market - not for sale. The reason made me happy. It is so folks can come and see the vehicle and take it for test drives.
What's The Dealer Markup For a Ford F-150 Lighting?
Sage also told me that the only vehicles that Grappone is presently marking up above MSRP are the "F-150 Raptor and Bronco Raptor." All non-specialty products do not have market price adjustments from Grappone. Credit this Ford dealer for keeping things real at a time when many dealers from some competitive brands are marking up commonplace vehicles by $20K or more.
Grappone also deserves credit for taking the lightning out to show the public at a fair. The value of dealerships is often overlooked in today's climate. There were many families, men, women, and children checking out the Lightning at the fair, and Grappone's team was inviting folks to sit inside and touch and feel the truck. My wife was immediately won over and said something to the effect of, "why don't we get one right now if they are $40K?" This local sales promotion is how a dealer should act on behalf of its brand, and it left me with a good feeling about both the dealer and Ford. The in-person promotion clearly works. My wife has never even considered a truck in her life.
F-150 Lightning Deliveries Thus Far
The all-new 2023 Ford F-150 Lightning battery-electric pickup truck had just started deliveries before being pulled off the market. As of the end of August, Ford reports that the company has delivered just under 7,000 units. The Lighting made up just about 4% of the overall F-Seried deliveries in August. This could increase over time, as Ford ramps up capacity. Ford says that its annual production goal for the new electric F-150 will be about 150,000 units at some point, perhaps in 2024. So, for the next year or possibly more, the F-150 Lightning will be a low-volume model for Ford by comparison to mainstream vehicles. For context, consider that Ford sells about 60,000 liquid-fueled F-Series trucks per month, even during these times of constricted inventory. Low volume and high demand often equates to high price tags.
Sorry, You Can't Have One At Any Price
In the end, I learned that the chances of buying a Ford F-150 Lighting selling near its advertised starting price of $39,974 are zero. In fact, I can't buy one at any price from the dealer nearest to me, or nearest to the fair where I saw the truck. In addition, my best estimate is that a base truck with a trailer package bought sometime in the coming year or two will have a price in the mid-$50Ks unless the prices rise again to keep pace with inflation.
Is $55K a fair price for a base model battery-electric F-150 Lightning? What do you think? Tell us in the comments below.
Image of Ford F-150 Lightning by John Goreham. Image of Ford F-150 Lightning Monroney sticker by John Goreham. Image of Ford F-150 Lightning Pricing courtesy of Ford.com.
John Goreham is a long-time New England Motor Press Association member and recovering engineer. John's interest in EVs goes back to 1990 when he designed the thermal control system for an EV battery as part of an academic team. After earning his mechanical engineering degree, John completed a marketing program at Northeastern University and worked with automotive component manufacturers, in the semiconductor industry, and in biotech. In addition to Torque News, John's work has appeared in print in dozens of American news outlets and he provides reviews to many vehicle shopping sites. You can follow John on TikTok @ToknCars, on Twitter, and view his credentials at Linkedin
Re-Publication. If you wish to re-use this content, please contact Torque News for terms and conditions.