A little under three years ago, the first 2017 Chevy Bolt EVs were delivered to three customers in California. Among the vehicles replaced by the new owners were a Chevy Volt, a Chevy Spark EV, and a BMW i3.
At the time, it marked an important milestone in EV history: the first affordable electric car with a range of more than 200 miles.
Jump forward three years and a lot has changed in the EV marketplace, but the Chevy Bolt EV still has a major role to play in our transition away from the internal combustion engine.
Its next job? To ignite the used EV market.
2017 Chevy Bolt EV Leases Start to Expire
Not everyone likes to lease, but there are some additional reasons for doing so when it comes to electric vehicles. The most obvious of these reasons is the technology and how quickly it changes.
BEV platforms are advancing at a phenomenal rate that will soon see 300 miles of range and charge rates above 100kW as the standard to meet. When the Bolt EV launched, 200 miles and 50kW were regarded as ahead of the curve. Over the lifetime of a three-year lease, the car has shifted from segment leader to the Bolt EV feeling outdated in some respects. That will likely prompt a sizeable segment of current lessees to consider newer models with the latest battery and driver tech when leases start to expire next year.
Another factor, especially in terms of prompting Chevy Bolt EV leases, is the Tesla Model 3.
Although the Model 3 was unveiled in July 2017, it didn't reach significant production volume until halfway through 2018. That left a lot of customers interested in long-range electric vehicles with very few options offering a range upwards of 200 miles.
Back then, you either gave the Bolt EV a chance or stumped up for a Tesla Model S or X, the price of which would buy you two Bolts in most cases. Plenty of us chose the former and have come to love the Bolt EV, with the caveat that leasing means we have an eye on new models coming up in 2020.
Since then, we've seen Tesla come through "production hell" and emerge as the undisputed leader in all-electric sales. Such has the Model 3's domination been in the BEV segment, we pondered over the summer whether or not Tesla can be stopped from developing an EV monopoly.
Even so, the price of a comparable new Model 3 starts in the region of $39,000 and quickly goes up as you add the options that attract people to Tesla in the first place. That's unless you know where to look for Tesla discounts like my colleague John Goreham, that is. For everyone else, the Model 3 remains a significantly more expensive option than other EVs, even in the limited and inflated used Tesla market.
That brings us back to the market for used non-Tesla electric vehicles, which is about to get a shot in the arm from current Bolt EV drivers.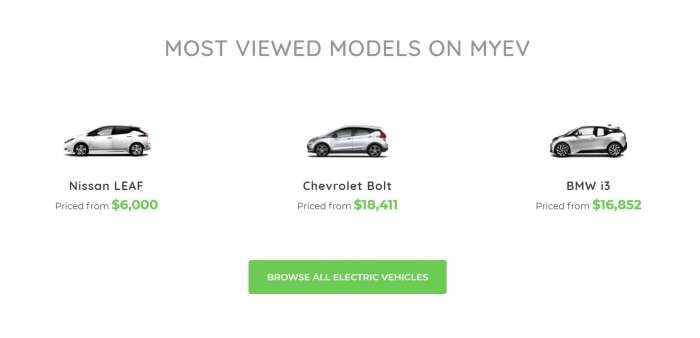 What This Means for the Used EV Market
To date, the used EV market has evolved into a mix of cars that were too expensive in the first place, like the BMW i3, and dated-but-cheap low range models that will only really work as an "around town" car or vehicles for a short commute. If early Bolt EV models start to come back in decent numbers, that could quickly change.
For the purposes of this article, we'll look at the market in the United States, but the available models in comparable territories like Europe over the last decade are similar.
At the time of writing, there are 61 used Chevrolet Bolt EVs for sale on myev.com, a marketplace for used electric vehicles in the U.S. The least expensive option, 2017 LT model with 55,552 miles on the clock, starts at $18,411. Two more 2017 Bolts with similar mileage squeeze in under the $20K mark, before the used prices quickly accelerate into the $25-30K region.

Considering the discounts available on brand new 2019 Chevy Bolts in EV-friendly markets like California and New England, the used options quickly lose their allure.
All of this should change next year, due to the increasing supply of used Bolt EVs entering the market and the distinction between the improved 2020 Bolt EV and its previous model years.
With greater range and improved hardware confirmed for the 2020 model year, not to mention the possibility of a full refresh rumored for 2021, it will be easier for Chevy dealers to hold firm on pricing for anyone buying new.
By contrast, previous model years will be less attractive, even though the range bump remains negligible for everyday use. That means that 2017-2019 Chevy Bolt EVs will be placed and priced in a lower bracket, despite the fact that they deliver much the same value proposition as the newer model. Savvy buyers may well be able to use this knowledge to their advantage to secure a deal on an older Bolt EV.
To Buy New or Wait for Used?
What this all boils down to for anyone considering an affordable long-range EV purchase in the next twelve months is a quandary that faces every car buyer: new or used?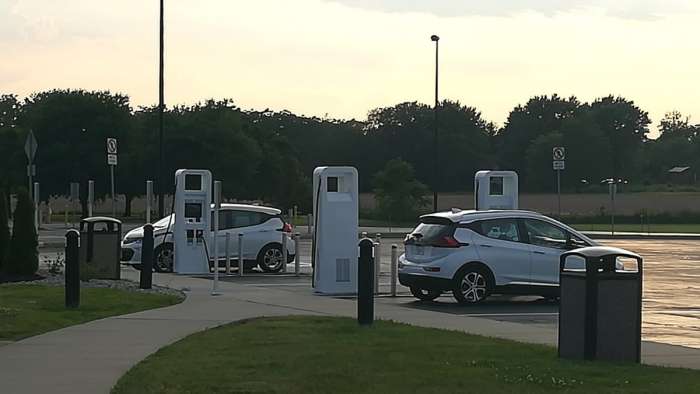 As mentioned above, prices on new 2019 Chevy Bolt EV are currently very compelling. As the quarter draws to a close, we've hit the sweet spot of dealers trying to shift the last of their 2019 inventory and a federal tax credit still available at the $3,750 level.
The tax credit will be cut in half on October 1st, 2019, meaning the deals that you see now are probably as good as it will get on the current version of the Bolt EV. Dealers might throw in additional discounts during the final quarter of the year to clear any remaining stock, but it will only serve to offset the lower tax credit of $1,875. With local and state incentives still in play for some markets, September pricing brings the entry price of a new Bolt EV into the $20-25K region. An excellent deal for a proven and fun-to-drive long-range electric vehicle.
If the consideration is new or used at this current moment in time, buying (or leasing) new wins every time. On the other hand, let's speculate on what the marketplace will look like in the first half of next year.
By spring 2020, we should start to see the impact of 2017 Chevy Bolt EVs coming off-lease and onto the used market. Prices won't initially be much different to what we see today, but enough cars coming back in significant numbers would force prices down.
When we reach the $15-18K price point, an older Bolt EV with relatively low mileage - between 30,000 to 45,000 miles on the clock, depending on the lease terms – and no noticeable battery degradation would represent outstanding value. Long-range EVs entering this price bracket, where previously only short-range options and degraded Nissan Leaf models sat, will usher in a new phase of EV market growth.
The importance of a viable and reliable used electric car, at an up-front price that most consumers can afford, cannot be overstated.
The bottom line is for anyone who wants to drive electric but for whom budget is the primary concern, there will be many more options and a more mature used marketplace as we progress into 2020.
If the current Chevy Bolt EV works for you and you can use the full tax credit, by all means, snap one up before the end of September. For everyone else, keep a close eye on used prices and be ready to snag one the many great deals we expect to see next year, before others jump on the used EV bandwagon.
Steve Birkett is an electric vehicle enthusiast and advocate with Plug & Play EV, based in Greater Boston. His observations come from the driver's seat of a 2017 Chevy Bolt EV but he maintains a hawklike watch on all things EV. He has a particular interest in new models from established automakers making the jump to electric drivetrains and the development of charging networks that will power us towards the future of transportation. He can be reached at @PlugandplayEV on Twitter, Instagram and Youtube covering electric car news. Steve's main interests are Chevrolet Bolt, Tesla Model S and Model 3, Nissan Leaf as well as the other electric vehicles.