There is little doubt that the pandemic left the car industry in poor shape as the coronavirus kept people out of showrooms. It also kept the industry pinned down with closed factories for a good part of last year.
Car Industry Starts Rebuild
In the last half of 2020, the car industry started its slow revival led by new models like the Ford Bronco and the F-150 pickup. Indeed, sales were slower as you would expect as society continued to face and battle the continuing COVID-19 pandemic. Still, the industry was slowly starting to rebuild momentum even as the coronavirus raged on outside.
Enter 2021, where brands like the Ford Bronco and the F-150 line of pickups picked up speed. It felt as if the industry had turned a conscious corner into calmer sales waters and the picture brightened to the point that Ford January retail sales outpaced the industry.
Senior Writer John Gorham takes a look at the Mustang Mach-E in comparison to the Tesla.
According to just-released sales figures, Ford outpaced the overall retail industry by four percentage points, led by substantial truck and SUV sales.
Andrew Frick, vice president for Ford Sales U.S. and Canada, emphasized that January was a month of momentum for Ford. He said that "January embodies the continued momentum we see for 2021, thanks to a new lineup of must-have products, including F-150, Bronco Sport, Mustang Mach-E, and later this year – Bronco. We're seeing customers and dealers excited about the new content and features we're offering, and we look forward to delivering for them."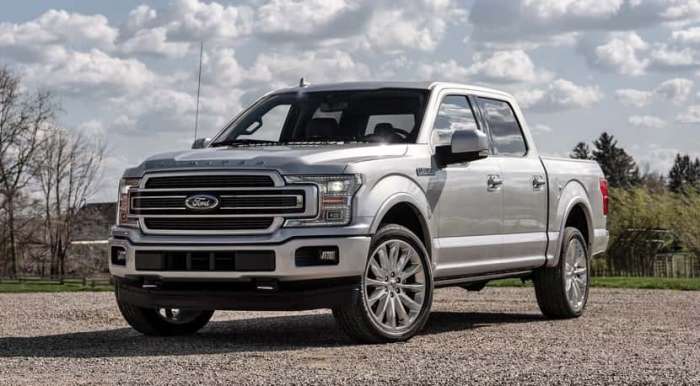 Ford F-Series Still Market Leader
The F-Series continued its industry dominance for the 44th year as it led other truck manufacturers. It outsold all competitors in January. Meantime, Ford brand SUVs posted their best-ever January start. Lincoln SUVs had their best start in 20 years.
January sales represented a very healthy mix for the month, focusing on the carmaker's retail results. Gains in trucks and SUVs more than offset year-over-year car losses.
Ford brand SUVs posted new record retail sales in January due to the launch of the all-new Bronco Sport and continued strong performance of America's best-selling SUV. Bronco Sport sales totaled 8,050 in January as the manufacturer continued to ramp up while turning on dealer lots in just 11 days.
Explorer posted its best retail sales start in 17 years while January total truck sales, including pickups and vans, posted their best January retail sales start since 2008. Based on total sales, Ford began the year as America's number one truck seller.
Just two months into its launch, the restyled F-150 has been selling at a record pace. On sale for just 13 days last month, the F-150 posted a retail sales increase of 6.4 percent. Super Duty – F-250/350 – sales were up 17 percent for the month.
Ford Ranger Sales Off To Great Start
Ford Ranger sales increased 4.8 percent in January, making it the Ranger's best retail sales start since 2005.
My colleague John Gorham takes close look at the Bronco Sport in this piece. His findings are interesting.
The new Mustang Mach-E is now shipping as Ford tries to build inventory on dealer lots. However, the Mach-E is not remaining in dealer inventory for very long. Indeed, Mach-Es are moving out after just four days on dealer lots, which is an incredible pace.
Overall, Ford electrified vehicle sales jumped 18.5 percent in January as momentum grew for F-150, Escape, and Explorer hybrids.
Lincoln SUVs had their best start in 20 years. The newly released Corsair scored a record start for Lincoln in the small premium SUV segment.
January Sales Thumbnail Sketches
Here are some thumbnail sketches of Ford sales performance:
Ford Transit -- Ford Transit and Ford commercial vans begin the year strong, with stronger retail sales. Sales of America's best-selling van, the Ford Transit, saw sales to retail customers expand 38.2 percent. In total, Transit van outsold its nearest competitor by 45.6 percent. Ford expects its all-new electrified Transit vans to debut late this year.

My colleague Jimmy Dinsmore takes a close look at the lastest F-150 Model, the Raptor.

Ford F-150 -- As F-150 retail sales track with the rebuilding of Ford's inventory. The manufacturer continued to see strong days to turn on dealer lots of 13 days, with a rich mix of high trim series models totaling 31 percent. January F-150 retail sales had the biggest impact in America's largest full-size pickup market, Texas, with retail sales of 16.1 percent.
Ford SUVs --Ford Bronco Sport sales continue to climb. Combined with the Bronco, launching later this year, these two SUVs offer Ford's strong incremental sales opportunity. Customers tell Ford that they love Bronco Sport's best-in-class cargo room and standard 4X4 with GOAT mode. Some of the manufacturer's largest markets for Bronco Sport are coastal and represent L.A., New York, and Florida.

Ford Performance Numbers

Ford Performance --Mustang retail sales increased 9.7 percent at the start of the year. This helped to expand Mustang's retail share of the sports car segment to over 33 percent. People opting for Mustangs equipped with the Mustang premium package were up 31.3 percent over last year, as we prepare for the introduction of Mach 1 this spring.
Lincoln SUVs -- The Northeast helped propel Corsair to its best-ever January start. Ford sees most Corsair sales coming from the Northeast, which foreign luxury SUV brands have long dominated. Lincoln Navigator also is off to a strong start, with retail sales up 12.1 percent. This comes with a strong concentration of high-end Black Label comprising 19 percent of sales.

Marc Stern has been an auto writer since 1971. It was a position that filled two boyhood dreams: One that I would write, and two that I write about cars. When I took over as my newspaper's auto editor, I began a 32-year career as an automotive columnist. There isn't much on four wheels that I haven't driven or reviewed. My work has appeared in Popular Mechanics, Mechanix Illustrated, AutoWeek, SuperStock, Trailer Life, Old Cars Weekly, Special Interest Autos, etc. Today, I am the Ford F150 reporter for Torque News. I write how-to and help columns for online sites such as Fixya.com and others. You can follow me on Twitter or Facebook. Most of Marc's stories are part of Torque News Ford coverage. Check back again and search for Torque News Ford F-150 news for more F-150 truck news coverage.