Ford Recalls Super Duty Trucks To Fix Front-Hub Detachment Problem
Lately, Ford has had a string of recalls on its models. That the automaker has recalled so many vehicles – as many as 200,000 Transit Connect vans, for instance – shows that it is committed to the safety of its vehicle owners. Other vehicles that the automaker has recalled include numbers of its Super Duty line of heavy-duty pickups. Its popular F-150 pickup line has also had at least two recalls recently.
Ford recently announced another recall of Super Duty trucks to repair various issues with its Edge SUV and F-350s and F-450s.
Meantime, the automaker also recalled its popular F-150 repair driveshafts and steering gear.
In some super SUV-related news, as detailed by my colleague Jimmy Dinsmore, Bronco Shipments Are Set To Begin As Owner Patience Pays Off.
Ford Identies The Super Duty Models
Ford has announced a new recall of a number of its Super Duty models, equipped with dual rear axles (dualies). The Super Duty models F-350, F-450, F-550, and F-600 are primarily commercial trucks. In their commercial role, Super Duty trucks have multiple commercial uses. They serve as the basis for multipurpose hauling vehicles – dump trucks. Or they are closed cargo carriers. You will find that a vehicle like the F-350 used as a traditional pickup.
The vehicles involved in this recall have dual rear wheels, and they also have front-wheel hub extenders. The hub extenders were not properly tightened by the supplier.
According to Ford, the condition may result in the front tire and wheel assembly detaching from the front axle, increasing the risk of a crash. Further, a detachment may create a road hazard. Ford is not aware of any crashes or injuries caused by this problem.
Ford says this action affects 17,616 vehicles in the U.S. and its federal territories, 1,779 vehicles in Canada, and 231 vehicles in Mexico.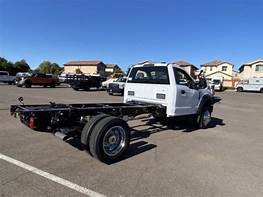 Ford Has Begun Contacting Truck Owners
Ford has begun contacting owners. The instructions tell owners not to drive their vehicles until they can determine whether the front-wheel hub extender nuts have been tightened to spec. Owners have the option of having the service performed at their sites, or the trucks will be towed to a dealership for service.
According to the National Highway Traffic Safety Administration (NHTSA), dealers will inspect and tighten the front-wheel hub extender nuts free of charge.
For further information, owners can contact Ford Customer Service at 866-436-7332 and ask about recall 21S26. Alternatively, owners can contact the NHTSA through its National Vehicle Safety Hotline at 888-327-4236. Or, they can contact the agency through its website www.nhtsa.gov. The NHTSA identifier is 21V390.
Marc Stern has been an automotive writer since 1971 when an otherwise normal news editor said, "You're our new car editor," and dumped about 27 pounds of auto stuff on my desk. I was in heaven as I have been a gearhead from my early days. As a teen, I spent the usual number of misspent hours hanging out at gas stations Shell and Texaco (a big thing in my youth) and working on cars. From there on, it was a straight line to my first column for the paper, "You Auto Know," an enterprise that I handled faithfully for 32 years. Not too many people know that I also handled computer documentation for a good part of my living while writing YAN. My best writing, though, was always in cars. My work has appeared in venues including Popular Mechanics, Mechanix Illustrated, AutoWeek, SuperStock, Trailer Life, Old Cars Weekly, Special Interest Autos, and others. You can follow me on: Twitter or Facebook.