2016 Honda Civic Global Rallycross Car Takes Podium on Debut in Phoenix [Video]
With Chevy, Ford, Subaru and Volkswagen nipping at your rear bumper, the over-the-top racing world of Red Bull Global Rallycross, is one of, if not the most competitive forms of high speed combination dirt and asphalt track racing in the world. I first reported on the Rallycross Civic here.
A very modified 2016 Honda Civic just took podium, first time out
Granted, it helps to have Olsbergs MSC and Rallycross champion Sebastian Eriksson, and Joni Wiman behind the wheel of the much modified 2.0 Liter turbocharged VTEC powered 2016 Honda Civic Coupe -- a combination of car and driver that will be tough to beat in 2016. You may read Honda's account of the race here.
Last weekend's Phoenix competition, ran on a .929 mile, 12 turn " Wild Horse Pass" dirt track with a field of 10 competitors. Anything can happen in Brave Bull GRC and often does.
Bottom line, well done
It generally takes a handful of races to dial in a new driving team and car. Olsbergs MSC and Honda took 3rd place on their first outing , last weekend in Phoenix, Arizona. The future looks bright for these cats!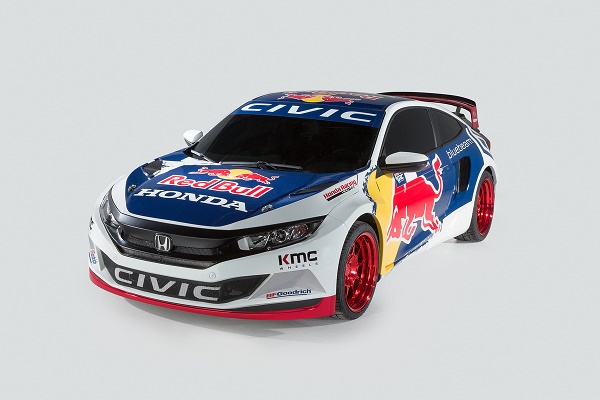 Street version 2016 Honda Civic Coupe Touring runs 1.5 Liter Turbo

No, you won't find this engine in the stock version. It's closer to the European specified Civic Type-R. (Guestimate: 600 horse power/ 400+ lb-ft torque) However, we do anticipate something like it coming to North America in 2017 -- in the form of the long awaited U.S. specification Honda Type-R hatchback.
None the less, HPD (Honda Performance Development) is presently on an unprecedented winning streak as Honda power takes the pole at the 100th running of the Indianapolis 500.
Check out the build