James Hinchcliffe takes Indy 500 Pole with 6 Honda drivers in top 10
Following nearly 2 years of Chevy power domination in IndyCar, Honda Power Development appears to have the problematic Aero Kit dialed in! Sunday was a bellwether day for Honda as James Hinchcliffe followed up Saturday's qualifying performance with a pace breaking 4-lap average speed of 230.768.
The first time in 5 years that Honda takes the poll position
As reported Saturday, the Hinchcliffe revival is nothing short of a miracle as a man that was generally thought done with IndyCar, following a horrendous near-death wall crash -- while practicing for last year's Indianapolis 500, takes the poll. 2016 Civic Turbo is fast, but...
Of-course, IndyCar is a team sport, and 2016 is unfolding into the year of not only Canadian favorite James Hinchcliffe, but Honda and Schmidt Peterson Motorsports.
With 3 drivers in the top 10, Team Schmidt Peterson is on a roll, as well as Honda powered Andretti Autosport with Ryan, Townsend and Carlos Munoz sitting in the front 10 at 3, 4 and 5 respectively.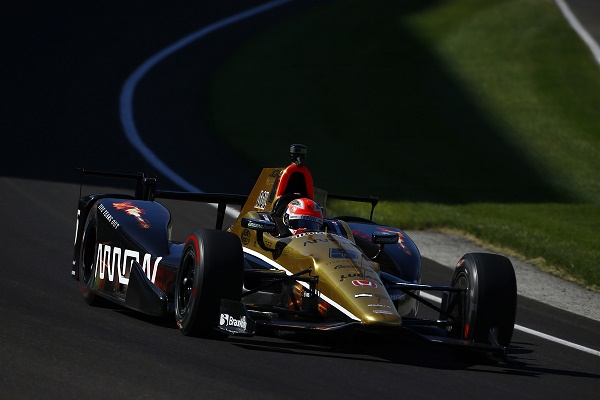 Don't cry for Chevrolet
With less than 6/10 of one second separating first seat James Hinchcliffe and 2nd position Josef Newgarden of Ed Carpenter Racing, it's anybody's race. That's IndyCar, and the 100th Anniversary running of the Indianapolis 500.
Here's your starting 10

Indianapolis 500 Starting Field:
Ps.
Driver
Team
Manufacturer
Speed MPH
Notes
1.
James Hinchcliffe
Schmidt Peterson Motorsports
Honda
230.760
Fast Nine Pole Shootout
2.
Josef Newgarden
Ed Carpenter Racing
Chevrolet
230.700
Fast Nine Pole Shootout
3.
Ryan Hunter-Reay-W
Andretti Autosport
Honda
230.648
Fast Nine Pole Shootout
4.
Townsend Bell
Andretti Autosport
Honda
230.481
Fast Nine Pole Shootout
5.
Carlos Munoz
Andretti Autosport
Honda
230.287
Fast Nine Pole Shootout
6.
Will Power
Team Penske
Chevrolet
229.669
Fast Nine Pole Shootout
7.
Mikhail Aleshin
Schmidt Peterson Motorsports
Honda
229.562
Fast Nine Pole Shootout
8.
Simon Pagenaud
Team Penske
Chevrolet
229.139
Fast Nine Pole Shootout
9.
Helio Castroneves-W
Team Penske
Chevrolet
229.115
Fast Nine Pole Shootout
10.
Oriol Servia
Schmidt Peterson Motorsports
Honda
229.060