Browsing Honda Civic Forums, we discover that the 2016, 10th generation Civic effectively bridges the gender, generation gap. What is it about the totally redesigned uptick Civic that buyers find to be so appealing?
2016 Civic, not your grandparent's Honda or is it?
While on a recent internet cruise through various Honda owners forums, I stumbled across a question posted by "NewHondaDude" on CivicX.Com. He or she was curious about the average age of buyers for Honda's "North American Car of the Year." According to the thread NewHondaDude is 38, and new to the Honda brand.
Reading the thread, the youngest respondent was 23, the oldest 60, with both men and women, singles and married couples, many from multiple Honda car or crossover families, buying 2016 Civic in all trim variants; that was page one.
In the world of car design…
While I find myself sitting on the higher tier of the Civic buyer demographic, and arguably, could and do drive many car, crossover, SUV and truck offerings, I find Honda's latest compact car offering to be appealing.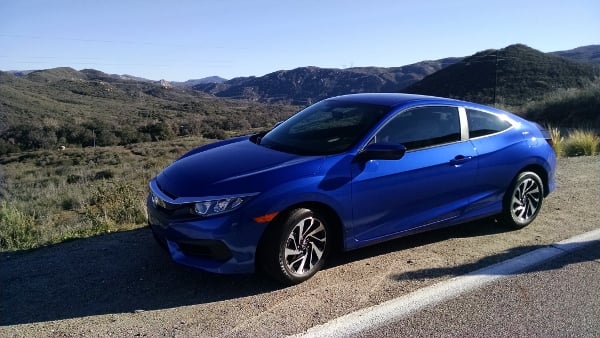 Setting all brand allegiance aside, I'll state with certainty, that a well designed body line, combined with an attractive MSRP and a dash of measurable performance, does effectively blur the lines between old and young, men and women, conservative, progressive, tree-hugger and tire-tread-burning auto sports enthusiasts -- such is the case with 2016 Civic Sedan and Coupe.
From the not so bare bones Civic LX to the fully accessory loaded turbocharged Civic Touring, Honda engineering and design presents a not so "over the top" visual, with just enough "bling" and sports-like driving dynamics to catch the eye. I've spent some seat time in 2016 Civic Sedan and Coupe, and like driving both.
The "economy car" appliance look. prevalent in the entry-level compact class of the past, has been upgraded to a generation bridging "looks like $30,000," visual appeal.

Once sitting behind the wheel of 2016 Civic, and experiencing the new found comfort, convenience, and driving fun that is Civic, one's age exits the equation -- as the realization that "compact" and "affordable" does not equate to "wish I had" "could have." or a long term sacrifice lurking behind your new car purchase. In my most humble opinion, Honda hits a "home run" with 2016 Civic, a car that effectively bridges the generation gap