Looking for a used Rivan R1T pickup with almost no miles in perfect condition? If you have $89,000, you can drive it home tomorrow if you live in Sherborn, Massachusetts. A gentleman from New England who has owned a list of amazing vehicles is selling on this Rivian because his wife is electromagnetic field sensitive (EMF sensitive).
Out of respect for the privacy of the seller and his spouse, we are not going to name them, nor will we hint at how you can find them online. However, the seller did specifically grant me permission to state that the vehicle is on display in the center of Sherborn, Mass. (On Rt 16). The vehicle is also listed for sale and can be purchased via CarGurus.com.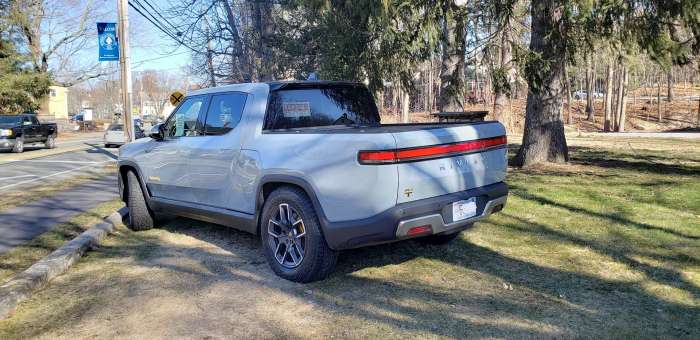 Let us be clear that this story in no way makes light of the EMF sensitivity the seller's wife struggles with. The owner has also sold on a modern Mercedes vehicle that was very special. The pair have turned to older models that lack the telematics systems found in all new vehicles today.
We won't claim to have understood the full scope of the EMF sensitivity topic when we discussed it, and the seller also didn't claim to be an expert. Paraphrasing what he told us, "My wife is able to tolerate a certain level of background EMF. She has a device that can measure the ambient EMF, and the Rivian is off the chart - orders of magnitude higher than other modern vehicles. So it has to go."
The original list price for the barely-used Rivian R1T was $102,000. The seller is now asking $89,000. It has been on sale for three months, and activity, aside from one low-ball offer, has been slow. The original delivery price of the vehicle was slightly less than the $89,000 being asked.
We spotted the truck in person while passing through the town in which it is on display. To this author's eyes, it appears to be in better than new condition. The tires are not even dirty. Since Rivian does not support the New England Motor Press Association, it was my first time seeing a Rivian up close. The first impression is strong. The truck seems ideally sized, and you can literally feel the quality.
If you want to purchase the vehicle, head on over to CarGurus. The seller asks "serious inquiries only," and we hope our readers will respect that.
John Goreham is an experienced New England Motor Press Association member and expert vehicle tester. John completed an engineering program with a focus on electric vehicles, followed by two decades of work in high-tech, biopharma, and the automotive supply chain before becoming a news contributor. In addition to his ten years of work at Torque News, John has published thousands of articles and reviews at American news outlets. He is known for offering unfiltered opinions on vehicle topics. You can follow John on Twitter, and TikTok @ToknCars, and view his credentials at Linkedin
Rivian R1T electric vehicle pickup truck images by John Goreham. Plate and phone obscured by the seller's request.