Fuel prices have risen to a very high level in America. For many Americans, opting for a green vehicle to lower their carbon footprint and also lower their commuting costs is an easy choice. Two of the best five-passenger, four-door sedans available today in which to commute are the Tesla Model 3 battery-electric vehicle and the Hyundai Elantra Hybrid Blue. The two are within inches of one another dimensionally and have similar interior and cargo volumes. Both earn high safety scores from IIHS, and both are recommended green choices from Consumer reports. They are as close of a pairing as two commuter vehicles can be.
Tesla Model 3 RWD vs. Hyundai Elantra Hybrid Blue - Trims & Initial Purchase Price
Since we are comparing these two similar sedans as commuter cars, we will opt to select both base models as they are defined by each manufacturer. We will use the default base trim each brand shows in its "build and prie configurator" with no added features and none deleted to arrive at our purchase cost. Because Hyundai uses a dealership model and Tesla sells directly, we will add $3,000 in added dealer costs and markups to the Hyundai Elantra Blue.
The Hyundai Elantra Blue's purchase price breaks down this way:
MSRP + Destination and Delivery + $3K = $28,495.
The Tesla Model 3 purchase price breaks down this way:
MSRP + Destination Fee + Ordering Fee = $49,940.
5-Year Residual Value of Tesla Model 3 vs. Hyundai Elantra Blue
Determining an exact residual value of these vehicles five years from now is impossible. However, we can make our best estimates and bear in mind that used vehicles have been selling at all-time highs. This will help the Tesla in our comparison. We will use a 70% residual valuation for the well-worn Tesla and a 65% residual valuation for the well-worn Hyundai. Here are our best approximations of these vehicles with five years and approximately 75,000 miles on the odometers. We are using 15,000 miles per year of miles driven because the EPA says that is the average in America for all vehicles. We would not expect a commuter car to have lower-than-average miles.
Tesla Residual Value = $34,958
Hyundai Elantra Blue Residual Value = $18,522
5-Year Depreciation Costs of Tesla Model 3 vs. Hyundai Elantra Hybrid Blue
To determine the five-year depreciation cost of the vehicles, we will simply subtract their new purchase price from the depreciated value. We come up with a cost for the Tesla of about $15,000 and a cost for the Elantra of about $10,000. See the chart for the exact numbers.
Maintenance Costs
Electrified vehicles, in general have lower-than-average maintenance costs. Regenerative braking means that both models should not need any brake work other than a fluid change every 30,000 miles or so. Similarly, neither car has any "tune-up" required or any major fluid changes or drivetrain work required during the 75,000- mile period of consideration. The Hyundai Elantra will not incur any maintenance costs for the first three years of its ownership since the company includes that in its purchase price, which is now the standard practice in the industry.
Elantra Maintenance Costs
We will assign oil change and filter change costs to the Elantra of $75 for each 10,000-mile period it is not under its included maintenance period and call that $350. We will assign a cost to change the brake fluid once outside of the included period of $200. Thus, the Elantra's non-tire maintenance cost will be set at $550.
The Elantra will likely need tire rotations (some outside the included period) and one set of new tires during its first 75,000 miles. We will assign a cost for one set of tires at $825 for the Elantra and will assign a rotation cost of $400 for the Elantra. Thus the total tire-related cost for the Elantra will be $1,225
Tesla Model 3 Maintenence Cost
Tesla's Model 3 will incur a lower non-tire maintenance cost. We will assign a cost of $400 for two brake fluid changes. We will also add $50 for cabin air filter changes. The total non-tire cost will be $450.
Tesla vehicles require more frequent tire replacement and a tire rotation every 6,250 miles (or more frequently). Many owners report on social media that they need to change the tires as soon as 20,000 miles. We will use 35,000 miles as our point of replacement, so the Tesla will need two sets. Tesla also uses more expensive tires than most typical sedans its size. We will assign a cost of $925 for each of the two required tire replacements. We will assign a $30 tire rotation fee to each of the Tesla's 12 required tire rotations. So the total for this service will be $360.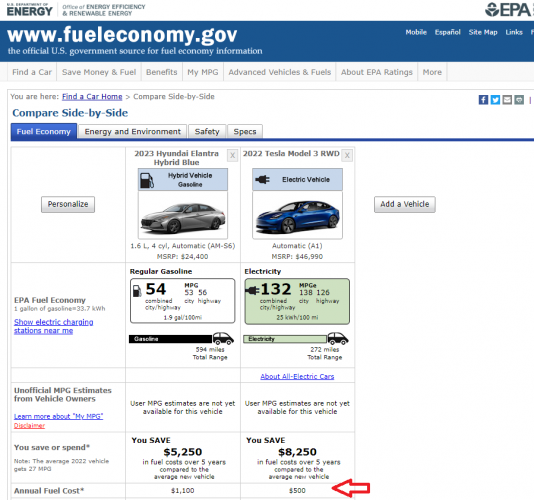 Energy Costs Tesla Model 3 RWD vs. Hyundai Elantra Hybrid Blue
We will use the EPA's annual energy cost from its website www.fuelconomy.gov. Gas prices are at a high point today. Electricity remains low cost, but big jumps in electricity costs have begun to appear here and there.
Insurance Costs
Insurance costs vary widely based on one's address, age, credit score, marital status, driving record and other factors. It is impossible to compare the insurance costs of these two vehicles for a story such as this. We have seen research stating that Tesla has an unusually-high insurance cost in comparison to other vehicles. The new car cost is also much higher for Tesla, which would indicate a higher insurance premium. If you are using this cost of ownership guide as a tool, you may wish to get a price quotation for a Telsa Model 3 and an Elantra and add the cost to your COO.
Finance Costs
If you plan to pay for your new commuter car using a loan, you will need to add in your finance costs to your cost of ownership model. Again, the Tesla will be higher if you put the same money down and have the same interest rate. Be sure to add the cost of financing to your total COO.
Conclusion - The Tesla Model 3's Cost Of Ownership Is Higher, But Is It Meaningfully Higher?
We were surprised at how close the two vehicles were in total cost of ownership. The Tesla has a 50% higher cost for depreciation over five years and has a higher cost for overall maintenance, including tires, than does the Elantra. However, the energy cost of the Tesla is lower according to the EPA using today's energy cost averages. Based on our calculations, the base Tesla Model 3 RWD will cost its owner about $3,000 more to own over five years than will a Hyundai Elantra Hybrid Blue.
One reason the Elantra Hybrid Blue is so close in cost to the Tesla Model 3 is the dealer markup of $3,000 we assigned. If you are shopping and can find a vehicle without such a dealer markup, your cost model will differ.
So to drive a Tesla Model 3 RWD base trim, an owner will have a cost per month of about $336, not including insurance and finance cost differences. To drive a Hyundai Elantra Hybrid Blue, the monthly cost would be $288. That is a difference of about $50 per month. Only the reader can judge if a $50 per month difference in cost for these two great cars is meaningful. Add in an added insurance cost of perhaps $25 per month, and the difference between the Tesla and the Hyundai could be about $75 per month. Add in your added finance costs for the more expensive Tesla, and the tables continue to tilt toward the Elantra Hybrid. Tell us in the comments below if you think a commuter would opt for the higher-cost Tesla and why.
Image of Model 3 courtesy of Tesla, Inc. Media Support. Image of Elantra Hybrid courtesy of Hyundai. The models shown may not be the exact trims used in the story. Image of energy costs courtesy of www.fueleconomy.gov.
John Goreham is a long-time New England Motor Press Association member and recovering engineer. John's interest in EVs goes back to 1990 when he designed the thermal control system for an EV battery as part of an academic team. After earning his mechanical engineering degree, John completed a marketing program at Northeastern University and worked with automotive component manufacturers, in the semiconductor industry, and in biotech. In addition to Torque News, John's work has appeared in print in dozens of American news outlets and he provides reviews to many vehicle shopping sites. You can follow John on TikTok @ToknCars, on Twitter, and view his credentials at Linkedin
Re-Publication. If you wish to re-use this content, please contact Torque News for terms and conditions.