Chevy's Bolt was selling at massive discounts about one year ago. Dealers in New England were discounting Bolts by as much as $20K, and one could buy a new Bolt for just $17,500 after state incentives were included. A long absence from the market due to a battery fire recall that may have been the costliest in history on a unit basis made the Bolt's return questionable. However, new data says that the Bolt will have a great comeback.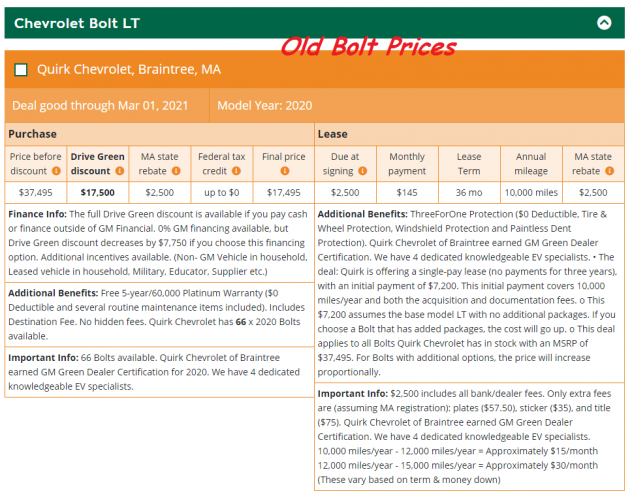 GM has been hoarding its available battery supply to use in the replacement of every Bolt and Bolt EUV ever made. Up until now. This past week, GM began allocating inventory of its battery used in the vehicle for new vehicle sales. The timing is perfect for a huge success of this important product line for an automaker that may well have sold fewer EVs than it is accepted back as returns last quarter. By our best estimate, GM's EV sales have been negative for months.
Related Story: Chevrolet Plans To Resell Bolt EVs It Bought Back After Fire Recall
Knowing that the publication iSeeCars.com had just posted up a story about the high value of green vehicles in the used market, we reached out to our contact and asked if the group could share some of its up-to-date data on the current value of used Bolts. iSeeCars stepped up.
It turns out that used Bolts (one to five years old) are presently selling at a price of $25,317 on average. Note that is the average. Newer ones are selling at a higher price. Higher than the new ones were just last year. And the Bolt's resale values have been rising. A lot. Used Bolt prices have leaped by over 37% during the past year.
The general high demand for crossovers and all things green in the automotive marketplace also means that one of our favorite small crossovers, the Bolt EUV, is poised for a warm reception by a market starved of such vehicles.
GM is making a lot of bold statements about its Bolt and Bolt EUV making a strong comeback during the remaining three quarters of 2022. An affordable battery-electric crossover is precisely what America needs right now. We will break with our usual neutral stance on products and say that we all wish GM much success!
Image of Chevy Bolt EUV by John Goreham. Chevy Bolt Price Chart from March 2021 courtesy of DriveGreen. Our thanks to iSeeCars for helping with facts supporting this story.
John Goreham is a long-time New England Motor Press Association member and recovering engineer. John's interest in EVs goes back to 1990 when he designed the thermal control system for an EV battery as part of an academic team. After earning his mechanical engineering degree, John completed a marketing program at Northeastern University and worked with automotive component manufacturers, in the semiconductor industry, and in biotech. In addition to Torque News, John's work has appeared in print in dozens of American news outlets and he provides reviews to many vehicle shopping sites. You can follow John on TikTok @ToknCars, on Twitter, and view his credentials at Linkedin
Re-Publication. If you wish to re-use this content, please contact Torque News for terms and conditions.