If you bike, kayak, or haul bulky items frequently, the choice of a crossover becomes more difficult. A truck is really handier, but in the past, your choices were limited to body-on-frame work trucks adapted to be a bit more livable in their most expensive trims. Trucks are expensive, thirsty, hard to park in a garage or parking space, and many driver's prefer a more car-like ride. If only there were small trucks that mimicked the best abilities of compact crossovers, but with a truck bed. Well, now there are. Three, in fact.
Related Story: Fun Fact: The Ford Maverick Is Larger Inside Than The Ranger
Hyundai's new Santa Cruz joins the outstanding Ford Ranger and Honda Ridgeline in the "truck for folks who don't want an old-fashioned truck market." It would be easy to see myself in such a market. Our family fleet of a Forester, Highlander, and CX-5 serving our four drivers have a lot of overlap, and hauling kayaks on the roof of our Forester is usually more trouble than it's worth. A truck like the Santa Cruz would be an ideal replacement for one of these vehicles. As we will explain.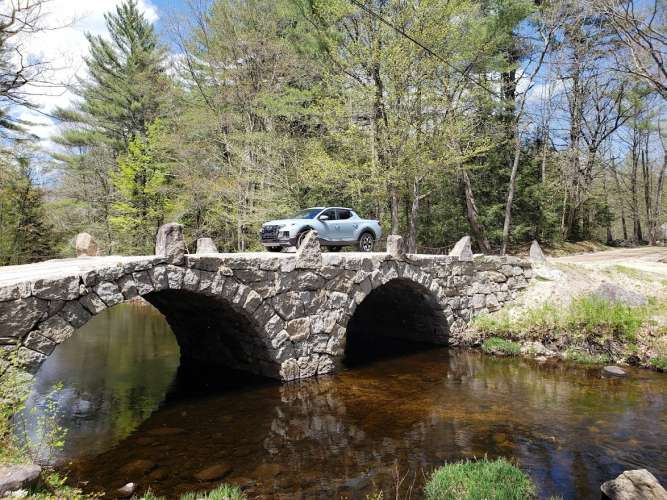 2022 Hyundai Santa Cruz Limited AWD - What Is It?
The Santa Cruz is a pickup truck with a cabin about the size of a compact crossover. Its cargo area is modern and handy, but not as big as a contractor's truck. It seats five, and it drives just like a good crossover.
2022 Hyundai Santa Cruz Limited AWD - Cost and Value
The Limited AWD trim Santa Cruz line has four trims and starts at about $26K (theoretically). We tested the very top trim which had a price of $41,815 including freight charges, but not including dealer add-ons or additional dealer mark price adjustments.
Hyundai has America's best warranty (tied with Kia and Genesis) extending out ten years, compared to Toyota, Subaru, and Mazda's six years. Hyundai also includes three years of maintenance in the price. This is the best value package offered by any manufacturer.
2022 Hyundai Santa Cruz Limited AWD - What Powers It? What's the Mileage?
The top-trim comes standard with Hyundai's HTRAC AWD system. Power comes from a gutsy and willing turbocharged 2.5-liter gas-only engine. Peak horsepower is 281, but it is the 311 pound-feet of low-end torque that will steal your heart. The power is put through a geared automatic transmission that we felt was excellent in all ways.
Although the Santa Cruz is rated at 22 MPG Combined, we never saw any value lower than 25 MPG and managed a displayed 26.3 MPG at the end of our week with it. Given its power and dimensions, we felt it offered great fuel economy. All Santa Cruz models operate happily on regular unleaded fuel.
2022 Hyundai Santa Cruz Limited AWD - The Drive
The Santa Cruz we tested was fun and sporty. Its engine is always ready to provide more than ample power. Floor it when turning onto a busy road, and it claws for traction while surging forward like a sports sedan. Passing in all situations is quick and easy, and on-ramps are a blast. Power is quickly delivered and smooth in every situation.
The Santa Cruz doesn't "handle like a truck," in the conventional sense. Instead, it feels firmly planted, fun in corners, and you will swear you are in a top-trim Hyundai Tucson or Kona crossover when you are behind the wheel.
Highway travel is outstanding. Our media test fleet Santa Cruz with about 9,000 miles on the odometer, was smooth as silk, drove straight down the road, and the lane centering and adaptive cruise control are among the best in the industry. The interior is quiet, and you feel like you are in an upscale crossover.
The only imperfect aspect of the Santa Cruz we tested was a softer-than-ideal brake pedal.
2022 Hyundai Santa Cruz Limited AWD - Interior, Infotainment, Notable Features
Inside, the Santa Cruz is nicely laid out and looks modern and upscale. There is a modern digital driver information display that gives you everything you need to see. The infotainment screen is average in size and has no physical buttons. However, there is a row of buttons to control the heated and cooled seats and heated steering wheel near the entrance to the center console.
There is an AWD lock button which we prefer to various silly drive modes (Sand, Mud, Snow, Ice, Locusts, Meteors) found in too many vehicles. This is not a hardcore off-road vehicle, so the AWD lock is ideal for unusually deep snow starts or some muddy boat launch paths. There are paddle shifters, but you won't need them much because the powertrain is so responsive. The Santa Cruz does have Downhill Brake Control (DBC). You won't find that useful feature in a Ridgeline.
The Santa Cruz we tested had a spare tire up under its cargo bed. The small moonroof included on the Limited trim was perfect for the vehicle.
2022 Hyundai Santa Cruz Limited AWD - Cargo Bed
The cargo bed of the Santa Cruz is ideal for its mission. If you are planning to haul lumber everyday, buy an F-150. If not, this bed will haul a lot of things you can't put into a crossover. The bed can hold up to 1,600 pounds and you can tow up to 5,000 pounds of trailer weight if you get the optional trailer package.
Our tester had the Limited's accordion-folding tonneau cover, which was perfect for a weekend getaway. It keeps your cargo out of sight and safely locked up. The cargo floor has a compartment underneath for your gear as well. If you are envisioning an old-school truck cargo bed, clear your mind. Things have changed, and we have the Honda Ridgeline to thank.
2022 Hyundai Santa Cruz Limited AWD - What's Missing?
A factory trail package with tires more suited for off-pavement use would be nice. The grand touring tires on our tester were great on-road, but many shoppers want a trail tire like the Falken Wildpeak A/t Trail for better mud, snow, and gravel performance.
A couple of grumbles. The lack of a physical volume knob was a hassle. Yes, I usually control audio with the steering wheel controls, but a volume button can act faster to adjust the volume of an incoming call or the volume of navigation instructions. Passengers we carried struggled to use the volume controls. Android Auto uses only 75% of the width of the screen.
Unlike the Ford Maverick, the Hyundai Santa Cruz is not offered with a green powertrain. It feels like the Santa Cruz is an ideal candidate for the 32 MPG AWD turbocharged hybrid powertrain Hyundai uses in its Santa Fe. Or the 80 MPGe plug-in hybrid found in the Tucson line. The cost for fuel over 15 years between the Santa Cruz Limited and the Tucson PHEV is a whopping $26,250.
2022 Hyundai Santa Cruz Limited AWD - Conclusions
It is hard to overstate just how good the new Hyundai Santa Cruz is. Its level of refinement, sporty nature, and performance are all ideal for so many shoppers that we suspect Hyundai will sell all they can build for decades to come.
Yes, full-size and mid-size trucks have their place. Nobody with any automotive industry experience suggests otherwise. Yes, a minority percentage of the truck market wants to buy a ridiculously-high level of off-road capability (and even fewer will ever use it). However, midsize body-on-frame trucks make less sense to this tester than do these crossover-based trucks. Crossover-based trucks like the Ridgeline, Maverick and the Santa Cruz are more enjoyable to drive, and provide capability that many crossover buyers want but can't get in a vehicle like a Tucson, Forester, RAV4, or CX-5.
We would recommend the 2022 Hyundai Santa Cruz Limited AWD to any shopper who wants the power and handling of a premium crossover along with a super-user-friendly cargo bed. Hyundai really has a hit on its hands with the Santa Cruz.
Santa Cruz cargo and interior images by Hyundai. Hyundai Santa Cruz exterior images by John Goreham.
John Goreham is a long-time New England Motor Press Association member and recovering engineer. John's interest in EVs goes back to 1990, when he designed the thermal control system for an EV battery as part of an academic team. After earning his mechanical engineering degree, John completed a marketing program at Northeastern University and worked with automotive component manufacturers, in the semiconductor industry, and in biotech. In addition to Torque News, John's work has appeared in print in dozens of American news outlets and he provides reviews to many vehicle shopping sites. You can follow John on TikTok @ToknCars, on Twitter, and view his credentials at Linkedin
Re-Publication. If you wish to re-use this content, please contact Torque News for terms and conditions.