Crossover SUVs have been widely ignored by much of the tire industry. Until now. Falken recognized that many crossover owners like to travel on unpaved roads, logging trails, and summer-maintained-only rural roads all year round. Until recently, the choices were an all-season tires optimized for price, noise and fuel economy, an all-terrain tire optimized for hardcore off-roading, or a winter tire with a soft sticky compound great for ice and snow, but not much else. Falken recognized this need and opportunity and created a new tire specifically for those who want a better solution.
See Our 1,000 Mile Test UPDATE Here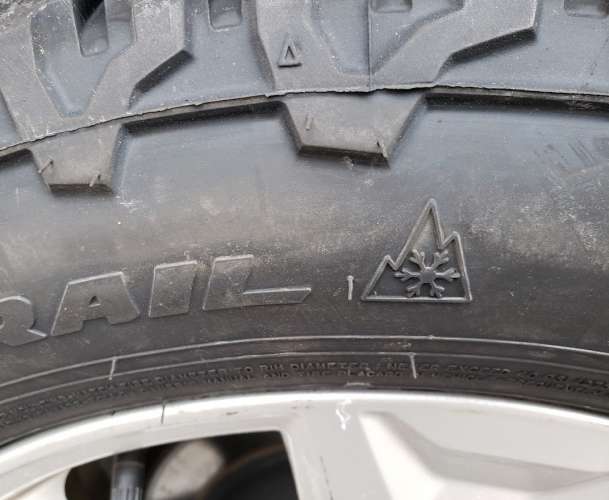 Falken WildPeak A/T Trail - What Kind of Tire Is It?
The WildPeak A/T Trail is technically an all-season / all-terrain tire. However, it actually pulls in the best attributes of three types of tires. This tire is ideal for crossover SUV owners those who don't want to swap rubber twice per year to get decent snow traction, and who may want a tire more robust than an all-season touring tire when the pavement ends. The WildPeak A/T Trail earns the three-peak-mountain-snowflake symbol denoting severe snow duty capability. The tire features a rugged sidewall to resist tears. It also has a deep-lug tread complete with sipes for winter. Best of all it has a tread pattern that won't drive you nuts on the highway.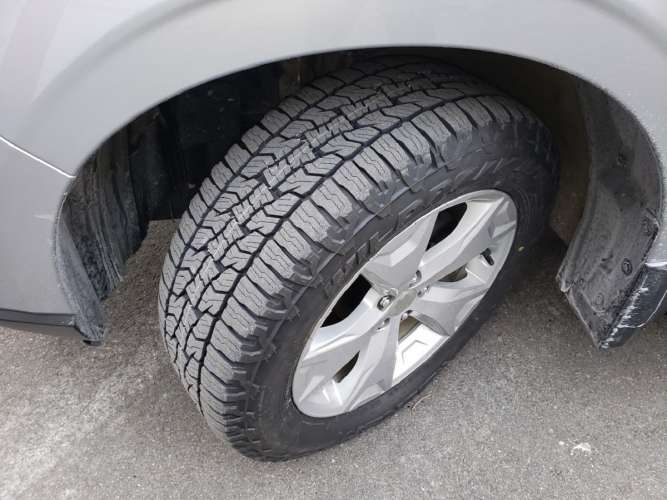 What Brands Choose Falken As OEM Tires?
We first become aware of the WildPeak series when testing the new Ford Bronco Sport. The Bronco Sport uses a more aggressive version of the A/T Trail called the A/T 3W. More and more manufacturers are looking for a better tire on their crossover models' adventure trims. We decided to put these Falken A/T Trail tires to the test on a popular top-selling crossover SUV model with full-time all-wheel drive to see how the tires compared with the 3-season tires OEM tires, and also draw some comparisons and contrasts with winter tires.
Related Story: Falken WildPeak A/T 3W Tire Winter Testing
Falken WildPeak A/T Trail MPG Results
Our test begins with our having carefully recorded the mileage of our crossover in two parts of the year, summer/fall and winter/spring. Our test vehicle had a 29.7 MPG rating in summer/fall with its OEM all-season Yokohama Geolander Tires and 26.7 MPG in winter on winter snow Blizzaks. These numbers are a combination of about 80% highway and about 20% rural driving including dirt roads and trails.
After about 300 miles of driving in late winter weather on the new Falken WildPeak A/T Trail tires, our mileage was 26.4 MPG. So, we saw a very slight decline after switching to the Falken's of about 0.3 MPG. Honestly, this is within the rounding error range. We should also note that our car's trip computer displays the mileage since it was last started once you end a trip. On one highway trip, we observed 29.2 MPG. The EPA Combined MPG estimate for our test vehicle is 27 MPG. If this tire has reduced our mileage, it is minimal thus far.
The WildPeak A/T Tires weigh 29.3 pounds each. That is about 5 pounds more than the Yokohama Geolander G91F tires the vehicle was equipped with from the factory. We suspect that this added tire weight may impact our fuel economy a bit, and it is a trade we are more than willing to make given the advantages in performance the tire offers.
Falken WildPeak A/T Trail Initial Impressions - Noise
Our subjective opinion of the Falken WildPeak A/T tires is that they add no more noise to the cabin than the OEM all-season tires. They are much quieter than the five-year-old half-worn Blizzaks we took off. The winter tires hummed from day one, and we grew to be annoyed by the sound. The crossover we are using has a large glass area, so wind noise masks any meaningful tire noise when the all-seasons or the Falken tires are on it. If winter tire noise is bothersome to you, for certain you will be happier with the WildPeak A/T Trail tires.
Falken WildPeak A/T Trail Initial Impressions - Handling
On-road, the WildPeak A/T Trail tires feel more responsive than the Blizzaks and are similar in most ways to the OEM 3-season tires. The steering response is tighter for certain. On the highway, the car felt very stable and tracked straight down the road with no tramlining over road crests. The alignment now being spot on, the car felt like it could drive straight on its own for miles.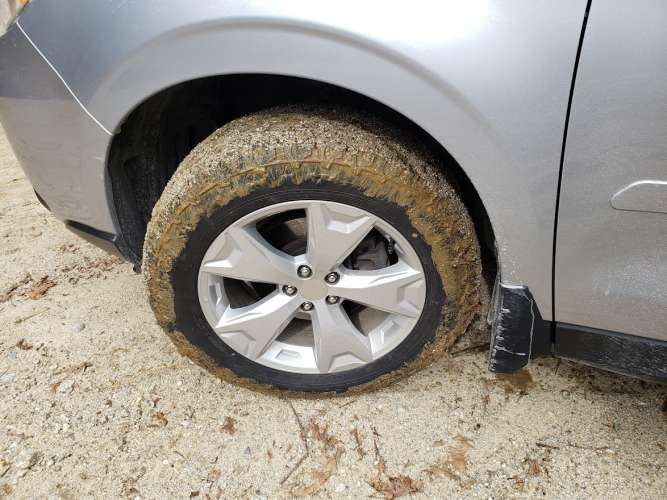 Falken WildPeak A/T Trail Initial Impressions - Dirt Roads, Loose Gravel
During our test period so far we have had the chance to traverse many miles of dirt roads in New Hampshire. The Falken WildPeak A/T Trail tires simply feel happy on this common type of rural New England road. If you need to stop in a muddy area, you need not fear the tires won't give you the needed grip to escape.
We also climbed some hills that had been well washed out from winter snowmelt and rain. The compacted dirt surface was gone and replaced by deep ruts with loose stone and gravel. Here, we were really glad to have the deep treads and sidewall protection afforded by the WildPeak A/T Trail tires. We could have managed on the OEM tires, but the extra grip and confidence are exactly what we were looking for in this upgrade tire.
Falken WildPeak A/T Trail Prices and Warranty
Tire Rack lists the Falken WildPeak A/T Trail in our size for $185. That is about $20 less than the OEM tires cost at that same retailer. The Bridgestone Blizzak DM-V2 tire in this size retails for $154 today. We would say that overall the Falken tires are priced mid-range. If these tires can fill the dual roles that our 3-season and winter tires collaborated to handle we will be thrilled. The cost and hassle of swapping tires twice each year are significant. The WILDPEAK A/T TRAIL features a 65,000-mile treadwear warranty.
What Does Tire Rack Say About Falken WildPeak A/T Tires?
Tire Rack is a respected resource for tire reviews and data. Overall, the Falken WildPeak A/T Trail scores very well in its testing. You can jump to the summary here. In every category the tire scores 9.0 or better out of 10, with the exception of Comfort, in which it was awarded a score of 8.6. Owners rate the WildPeak A/T Trail tires a very high 4.5/5. The breakdown of the reviews included 33 5-star, 73 4-star, and just five reviews with scores lower than 4 stars.
Conclusion - Initial Impressions of the Falken WildPeak A/T Tires
After 300 miles and over all of the terrain we plan to use these tires for including dirt roads and trails, we are thrilled. We look forward to on and off-road wet weather testing and winter testing. Check back in the months to come to hear how the Falken WildPeak A/T Tires perform in those conditions on our crossover SUV.
About The Test: Our tires are the same as the OEM size, 225/60/17. The vehicle begins its testing with 35,896 miles. To ensure a proper result, we had the car aligned and the tires balanced using a Hunter Roadforce machine by the best shop in our area, Jim Boudreau's Automotive Service Center in Tewksbury Mass. We paid $310 for mounting and balancing and Mr. Boudreau was kind enough to recycle our 8 old tires at no extra cost. Falken provided the tires at no charge to us for testing, which is the industry norm.
Images of WildPeak A/T Trail tires by John Goreham.
John Goreham is a long-time New England Motor Press Association member and recovering engineer. John's interest in EVs goes back to 1990 when he designed the thermal control system for an EV battery as part of an academic team. After earning his mechanical engineering degree, John completed a marketing program at Northeastern University and worked with automotive component manufacturers, in the semiconductor industry, and in biotech. In addition to Torque News, John's work has appeared in print in dozens of American news outlets and he provides reviews to many vehicle shopping sites. You can follow John on TikTok @ToknCars, on Twitter, and view his credentials at Linkedin
Re-Publication. If you wish to re-use this content, please contact Torque News for terms and conditions.