Our long-term test of Falken Wildpeak A/T Trail tires is proceeding well. Since our initial story, we have added about 1,000 miles to the tires and have no problems to report. On the contrary, we like the tires more and more as time passes.
Read Our Introductory Review Story Here
Falken Wildpeak A/T Trail - Mileage Update
When we last reported our mileage results, the vehicle had a 26.4 MPG rating. Since that time, the mileage has steadily increased. Our mileage average is now 27.3 MPG, and many of our trips on the highway have topped 29 MPG. Our test vehicle's fuel efficiency is now slightly above its EPA-Estimated Combined estimate of 27 MPG. In our experience, the Falken Wildpeak A/T Trail tires have not had any negative impact on our fuel economy.
Falken Wildpeak A/T Trail - Noise Update
There have been no increases in the noise level since the tires were new. Subjectively, the noise level of our crossover with the Wildpeak tires is the same as it was with the OEM all-season rubber and lower than the noise level with our Bridgestone Blizzak winter tires. This is a great example of why a tire like the Wildpeak A/T Trail with its 3PMS severe snow duty rating may be a better choice for many owners. The noise of winter rubber gets to be bothersome. These tires don't add any noise to our ears.
Falken Wildpeak A/T Trail - The Drive
I'm fortunate to have a cabin in the woods. It is down a private dirt road that turns to a section that is not maintained in winter. Snowmelt and spring rains wash out the road in many sections making deep ruts. It also creates areas where the sand on the top of the roadway is washed away, being replaced by stones and debris. The Wildpeak A/T Trail tires reduce vibration and pounding through the chassis by comparison to the stock All-season tires over rough surfaces.
There are multiple hills on our test route, and one is very steep. The Wildpeak A/T Tires shine in these conditions. By comparison to all-season touring tires, they are night and day better. How bad are the conditions? So bad that we often leave a very fancy media tester crossover behind when headed to the area. The added grip, traction, and peace of mind that the Falken's sidewalls are rugged and unlikely to suffer damage in this remote area are too good to pass up.
On twisty mountain roads, the Falken Wildpeak A/T Trail tires handle very well. They are not as precise as a high-performance touring tire on this type of road, but very close. So close that there is no real trade-off. Steering is sharp and the ride quality is equal.
On the highway, the difference between the stock all-season tires and the Falken Trail tires is slight. They offer noticeably better steering precision on the highway than winter tires.
Falken Wildpeak A/T Trail - Heavy Rain
In heavy rain, the deep tread grooves offer a feeling of security. Wet pavement grip is very good, and hydroplaning is not an issue at appropriate speeds.
Falken Wildpeak A/T Trail - Suddenly Wildpeak A/T Tires Are All the Rage
We first discovered the Falken Wildpeak tire series when we tested a Ford Bronco Sport in winter. Since we began testing, both Mazda and Toyota have announced new off-road trims of the CX-50 Meridian and RAV4 Hybrid Woodlands crossovers. All three major brands have opted for the Falken Wildpeak series to augment their most rugged trims. Subaru uses a different model tire on its Wilderness trims of the Forester and Outback. However, the tires are the same type - Snow-rated trail tires. We predict that every automaker that builds an off-road crossover will seriously consider Falken as their OEM supplier and that all will have trail-rated snow-duty tires instead of conventional all-season tires. The advantages of this type of tire are just too good to ignore.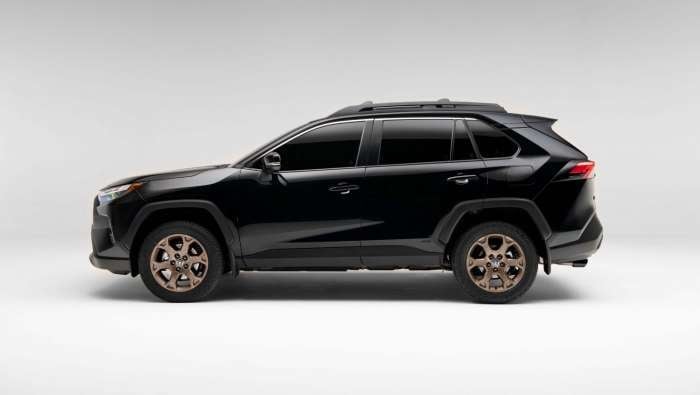 Falken Wildpeak A/T Trail - The Look
If you read my reviews, you will find I seldom mention the looks of a vehicle. I figure readers have eyes, and they can judge how a vehicle looks as well as I can. However, the Falken Wildepeak A/T Trail tires look so good on our test vehicle we feel it is worthy of mention. They look more rugged. That fits this particular test vehicle's overall theme, and we think it augments the other design cues. Check out the look of the RAV4 Hybrid Woodland edition shown in our image above. Won't you agree that the Wildpeak tires match the Woodland's design?
Falken Wildpeak A/T Trail - 1,000-mile Summary
Thus far, we see only upsides to swapping from all-season tires to snow-duty trail-rated rubber on a crossover that sees off-pavement duty. The Falken Wildpeak A/T Trail tires have met our high expectations and have the bonus of being less expensive than the OEM tires would have been to replace. The snow rating means that for many drivers, one tire model will work in all four seasons.
Check back for a winter weather update later this year.
Top of page image by John Goreham. Image of RAV4 Hybrid Woodland with Falken Wildpeak tires courtesy of Toyota.
Test Note: Falken provided the tires for our long-term test. We have them Hunter Road Force balanced and mounted at our own expense.
John Goreham is a long-time New England Motor Press Association member and recovering engineer. John's interest in EVs goes back to 1990, when he designed the thermal control system for an EV battery as part of an academic team. After earning his mechanical engineering degree, John completed a marketing program at Northeastern University and worked with automotive component manufacturers, in the semiconductor industry, and in biotech. In addition to Torque News, John's work has appeared in print in dozens of American news outlets and he provides reviews to many vehicle shopping sites. You can follow John on TikTok @ToknCars, on Twitter, and view his credentials at Linkedin
Re-Publication. If you wish to re-use this content, please contact Torque News for terms and conditions.