Toyota is taking the RAV4 Hybrid to a new level of off-pavement capability with the new 2023 Woodland Edition. The company says that the new Woodland trim adds everything needed for an outdoor excursion. Notably, the RAV4 Hybrid Woodland Edition is the first hybrid off-road special edition SUV for the brand. We break down what makes this new trim more capable off-pavement compared to the standard trims now available.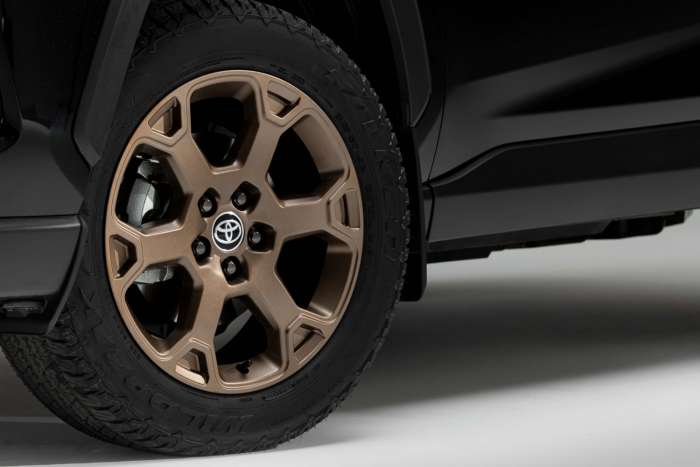 Tires Matter Most
As the owner of three crossovers, none of which roll on stock tires, I can attest to the importance of tires when one wishes to use a vehicle off-pavement, or in adverse weather. Sure, "all-season" tires as they are improperly named, are a decent compromise for many drivers. However, once the pavement ends, most all-season tires quickly reveal their weaknesses in mud, sand, and over rocky trails. Furthermore, all-season tires are not optimized for winter weather travel. They simply do not have the sipes, compound, and tread design to be good in snow. Toyota knows this and has wisely made a tire change the start of its Woodland Edition trim features.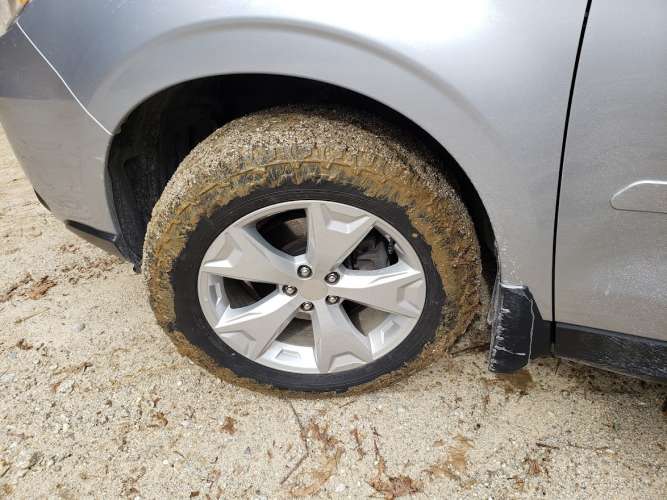 Toyota confirmed to Torque News that the new Woodland trim will wear Falken's Wildpeak A/T series tires. The Wildpeak A/T series is designed for trail and off-road use. Coincidental to this story, Torque News is presently testing Falken Wildpeak A/T Trail tires on a crossover the same size as the RAV4 Hybrid. We have already validated some important facts about this tire.
Here is a punch list:
-In our testing, they did not reduce fuel economy compared to stock all-season tires.
-The Falken Wildpeak tires are clearly superior on trails and on unimproved dirt roads.
-The Falken Wildpeak tires offer a much more rugged sidewall for greater damage resistance from stones and rocks.
-We have detected no added noise compared to stock tires.
-Wildpeak A/t series tires have the 3-Peak Mountain Snowflake rating denoting severe snow duty.
Wildpeak tires tend to be a bit heavier than stock all-season tires chosen by OEMs who want to maximize fuel economy. It would not surprise us if some owners see a minor reduction in fuel efficiency compared to the low-rolling-resistance tires other RAV4 Hybrid trims are supplied with. However, with a 40 MPG Combined EPA estimated fuel efficiency if any vehicle ever had an MPG to spare it is the RAV4 Hybrid.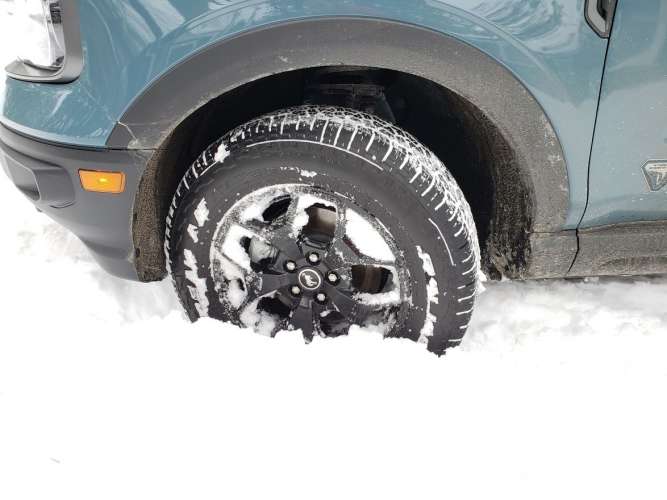 Other brands that have chosen Falken Wildpeak A/T series tires for the most rugged off-road versions of their vehicles include the Ford Bronco Sport and the Mazda CX-50 Meridian. Subaru chose a similar tire design from another manufacturer for its Wilderness trims of the Forester and Outback. We think RAV4 Hybrid Woodland Edition owners will find the Falken Wildpeak tires the most important of the trim's features.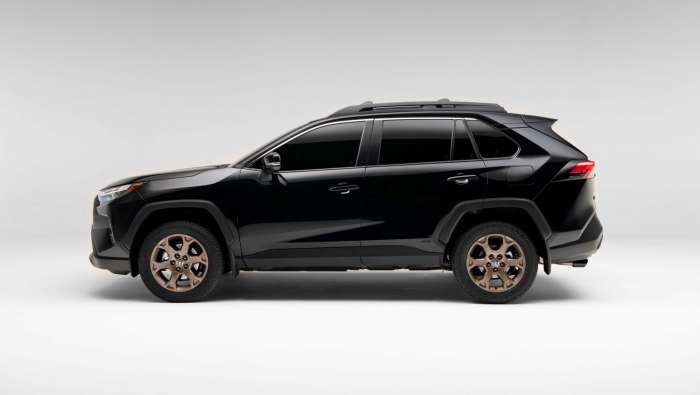 Suspension Changes
The second area that Toyota addressed in the Woodland Edition is the suspension. This special trim will have a TRD-tuned suspension engineered to enhance body control and small-bump vibration isolation. Coil springs tuned for an off-road focus and bump stops to maximize compression-direction wheel travel along with twin-tube shocks featuring internal rebound springs for optimal roll control and unique valving will improve handling and ride comfort over large bumps and dips.
Modern Electric All-Wheel Drive
We have tested Toyota's electronic all-wheel-drive system in deep snow, icy conditions, and on many dirt roads and trails. Toyota's system eliminated the driveshaft running front to back and uses electric motors to drive the rear wheels. It is one of the best all-wheel-drive systems available today on any crossover. Toyota recently introduced changes to the AWD system used in the RAV4 Hybrid. Now, the rear axle motor operates proactively anytime rear torque would be beneficial to keep the vehicle on the driver's intended line, or when conditions get slippery. Like all RAV4 Hybrids, the Woodland Edition only comes with AWD.
Of all the new crossovers with off-road trims from Subaru, Mazda, and Ford, zero come with a green powertrain. Only Toyota offers such a package. We look forward to testing the new RAV4 Hybrid Woodland trim and reporting on it soon.
Wildpeak A/T chart courtesy of Falken. Images of RAV4 Hybrid Woodland Courtesy of Toyota. Images of Falken Wildpeak Tire by John Goreham.
John Goreham is a long-time New England Motor Press Association member and recovering engineer. John's interest in EVs goes back to 1990, when he designed the thermal control system for an EV battery as part of an academic team. After earning his mechanical engineering degree, John completed a marketing program at Northeastern University and worked with automotive component manufacturers, in the semiconductor industry, and in biotech. In addition to Torque News, John's work has appeared in print in dozens of American news outlets and he provides reviews to many vehicle shopping sites. You can follow John on TikTok @ToknCars, on Twitter, and view his credentials at Linkedin
Re-Publication. If you wish to re-use this content, please contact Torque News for terms and conditions.