Honda is tired of being "just" an on-road SUV company. The great new Passport TrailSport we tested earlier this summer won our hearts when we took it off-pavement and onto some New England trails. Now comes news that the larger, three-row Pilot will also get the TrailSport trim.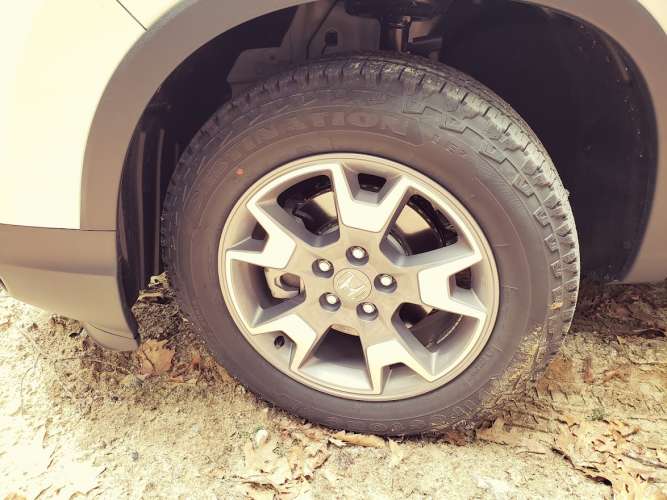 TrailSport Trim - What Makes It Special? Mostly Tires
Honda's Passport Trailsport has a few things that we feel make the already great SUV even better. We expect that the Pilot will have the same basic kit. It all starts with tires. The Passport we tested was wearing 18" Firestone Destination LE2 trail tires with a meaty sidewall. These were ideal for our dirt road and trail adventures in New Hampshire. They were also great on the broken-up pavement of Metro Boston and the highway in between. We suspect Honda will consolidate its tire purchases and equip the Pilot with the same rubber, but if not, we hope the Falken WildPeak A/T Trail gets the nod. We like to see the three-peak mountain snowflake symbol on the side.
Other Added Features For Pilot TrailSport
We also expect the all-wheel drive system of the Pilot TrailSport to be coupled with drive modes for mud and snow. We are mostly interested in snow. Who wants to go mud-whomping in a three-row SUV anyway?
One feature we would really love to see would be Hill Descent Control. This is a feature we use on our winter adventures, and with the new CR-V getting it, why not the "most rugged and capable Honda SUV" in its lineup, as Honda is calling the Pilot TrailSport?
A pair of front and rear recovery hooks would be nice, but we doubt they will be there. A rear trailer hitch is likely the only practical recovery point to expect. We do think the compact spare will be included. Many brands like Subaru, Jeep and Ford are now making their spares full-size for their off-road trims. However, Honda is taking things one step at a time.
Expect to see the new Honda TrailSport in more detail in September and possibly for deliveries to begin before the end of 2022.
Image of Honda Pilot TrailSport by Honda
John Goreham is a long-time New England Motor Press Association member and recovering engineer. John's interest in EVs goes back to 1990 when he designed the thermal control system for an EV battery as part of an academic team. After earning his mechanical engineering degree, John completed a marketing program at Northeastern University and worked with automotive component manufacturers, in the semiconductor industry, and in biotech. In addition to Torque News, John's work has appeared in print in dozens of American news outlets and he provides reviews to many vehicle shopping sites. You can follow John on TikTok @ToknCars, on Twitter, and view his credentials at Linkedin
Re-Publication. If you wish to re-use this content, please contact Torque News for terms and conditions.