Honda has fiercely brand-loyal owners. If you need any proof of that, consider that 7 of 10 vehicles traded in for Honda's Passport SUV are Hondas. Many Honda owners and fans don't just like the like this five-passenger crossover with trail-ready equipment; they love it. Including your author.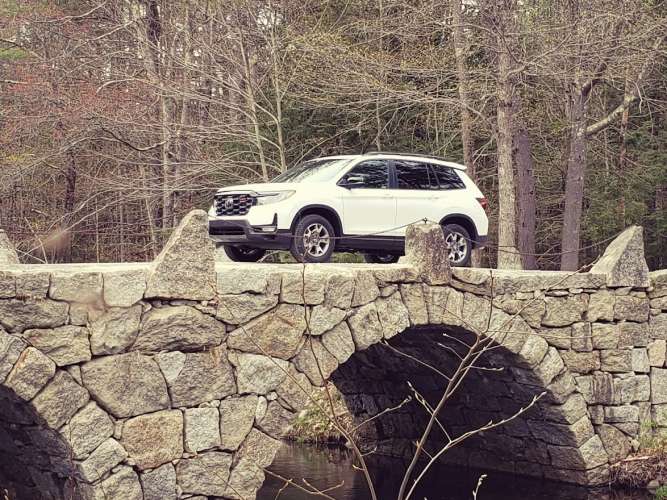 2022 Honda Passport AWD Trailsport - What Is It?
The Honda Passport AWD Trailsport is a mid-size five-passenger SUV with more room and space than any of the smaller CR-V-sized vehicles so popular in today's market. It is bigger but still fits easily into your garage or a parking space. The extra space is well-distributed. The Passport feels larger in all regards inside. How big is it? We carried an eight-foot piece of lumber inside during our testing.
2022 Honda Passport AWD Trailsport - What Powers It? How Is the Fuel Economy?
The Passport uses Honda's legendary and beloved 3.5-liter V6 Engine. It is silky smooth, nearly silent, and has the torque and power you really want in a vehicle of this size. Best of all, the fuel economy is better than advertised. We saw 25 MPG in mixed driving. It uses regular unleaded fuel. Sure, there are some more fuel economical vehicles you can buy approximately this size, but none are electric at this price range, and none have a more refined and satisfying engine.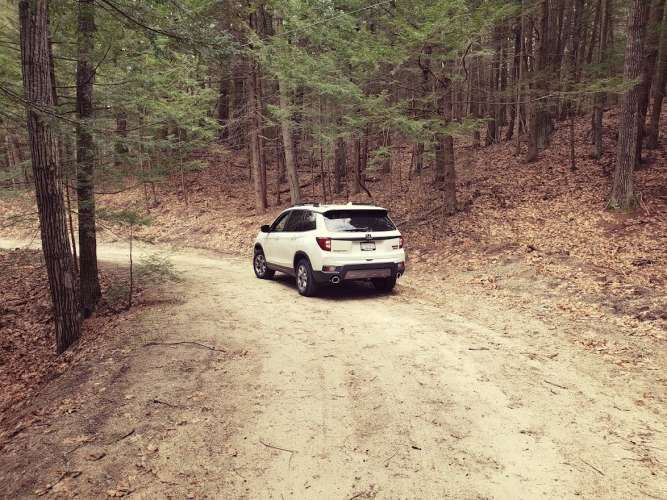 2022 Honda Passport AWD Trailsport - What Does It Cost?
Our test vehicle had a price including destination charges of $44,090. The only option was Platinum White Paint, which added $395 to the price tag.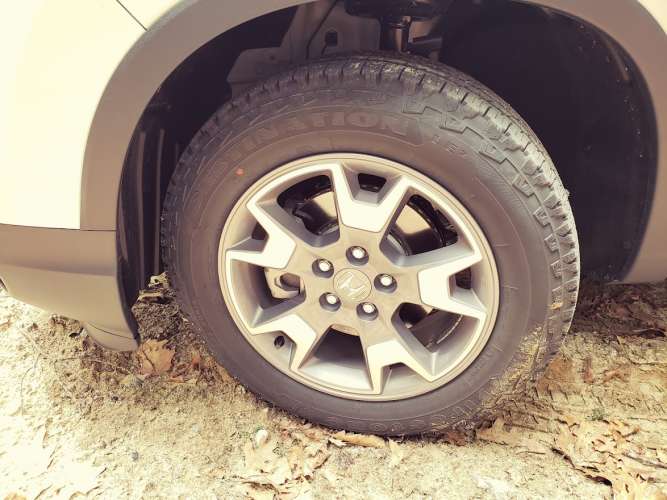 2022 Honda Passport AWD Trailsport - What Makes It Special?
New to the Passport lineup is the Trailsport trim. In addition to some nifty styling elements, the Trailsport succeeds in one way we are seeing more and more from manufacturers. Honda has equipped the Trailsport with sensible tires for its mission. In Honda's case, the Firestone Destination LE2. As important as the model of tire is the size. Instead of the ridiculous 20-inch low profile tires most "SUVs" come equipped with these days, the Trailsport has 18-inch tires with a meaty sidewall.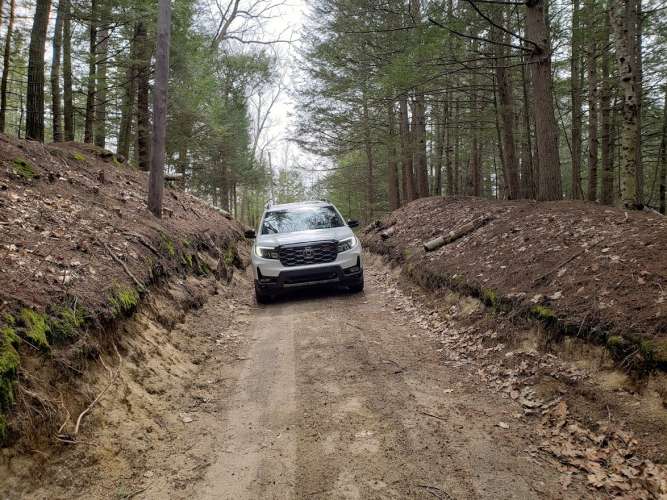 2022 Honda Passport AWD Trailsport - The Drive
We drove the Passport AWD Trailsport on trails and found that it felt right at home. The sidewalls of the tires smooth out the imperfections and help prevent damage to the tires over stones and ruts.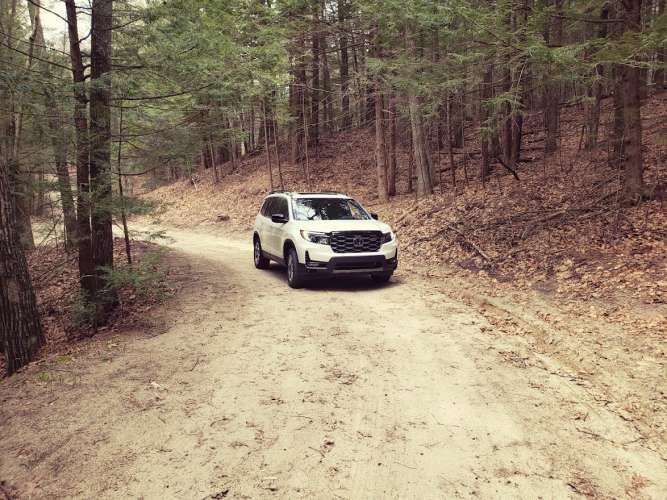 Traction on loose sand and gravel was outstanding. We did some fun hill climbs over rutted, washed-out sand/gravel/dirt trails and the Passport AWD Trailsport never missed a beat. There are multiple drive modes. Interestingly, Sand mode adjusts the throttle mapping so you get more power and torque not less. Fun!
Over washboard areas and some large potholes in dirt roads, the Passport AWD Trailsport was much smoother than a similar crossover from another brand we had tested the week before. That one had the dumb low profile "grand touring" tires.
The Firestone tires don't just work great on the trail. On the highway, the Passport AWD Trailsport was subjectively one of the quietest and smoothest vehicles we have tested. It tracks straight ahead, and the lane keep assist is the best in the business.
Honda's Passport AWD Trailsport proves that the silly low-profile grand touring tires almost all SUVs come with are doing zero for you aside from costing you more to replace.
2022 Honda Passport AWD Trailsport - Interior, Infotainment, Featured Content
We found the interior of the Passport to be perfect in all possible ways. Great seats, the usually impeccable Honda ergonomics, good outward visibility, and a lot of space. The Infotainment system would rate a B+. The Android Auto and Apple Car Play require a cord, but the turns from Google Maps are displayed in the center drive information display. That driver information display could be better proportioned. Who needs a quarter of that space dedicated to engine temperature? Just put a small icon there with a blue/red/off function and expand the display's content.
Audio quality was outstanding! Honda and Acura now lead the industry with the best Audio quality of all brands we have tested over the past few years. Yes, there are some equals, but none at Honda/Acura's price point.
Featured content includes a massive cargo area under which is more storage and a spare tire. It may seem like a small thing, but the all-weather floor mats were helpful in our testing.
2022 Honda Passport AWD Trailsport - What's Missing?
In the context of the Trailsport being a more rugged trim of an already great Passport, there were a few things we would like to see. Recovery hooks top the list. If you are going on trails, they may be quite handy, and how much can they possibly cost? If you really do go off-road and get stuck, how will you pull the Passport AWD Trailsport from the front safely and quickly with another vehicle (Wrangler Bronco Tacoma Defender)?
As much as we like the Firestone tires, they do not carry the three-peak-mountain-snowflake symbol signifying severe snow duty rating. Tire Rack says the Firestones only earn a 7/10 rating in snow. Why not use the Falken WildPeak A/T Trail, which does have a severe snow rating, and which scores higher in every category? Or Yokohama's Geolander that also does? There are better model choices of tires for the Trailsport, but we are still very happy with the size. And grateful that Honda is offering a trim that does not have low profile grand touring rubber.
The only other things we would have liked to see included, possibly at a higher cost would be:
-Heated Steering Wheel
-Head-Up Display
-Wireless Android Auto and Apple CarPlay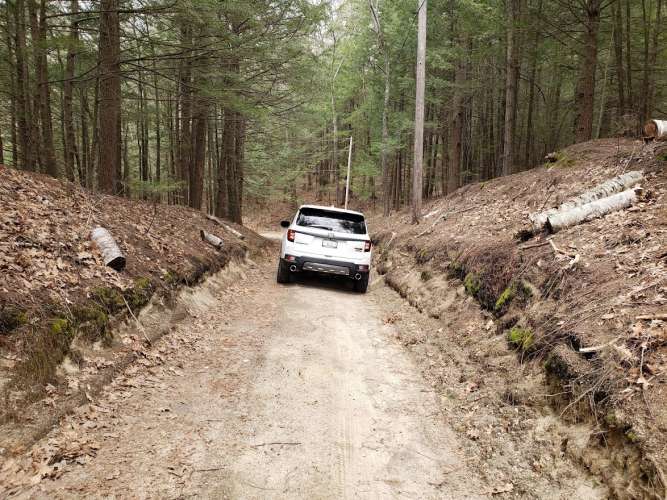 2022 Honda Passport AWD Trailsport - Conclusion
Just $44K?! This vehicle may well be the best bang for the buck in the entire mid-size five-passenger SUV segment. It is also one of the most satisfying to drive in any situation. We were very glad that we had the opportunity to try the Trailsport on actual trails. Honda is not pretending you are going to take this Passport to Moab and rock-hop. Nor is it intended to go mud-whomping and be pulled out with a winch. The Passport AWD Trailsport is aimed at Honda shoppers who have cabins off the paved roads, those who kayak and mountain bike, who ski, and who may do some overlanding while on vacation on trails that vehicles like a Subaru Forester or Ford Bronco Sport might be comfortable on. Based on our testing, the Passport AWD Trailsport delivers on its trim name and is now tied with the Ridgeline as our favorite Honda vehicle overall.
Exterior images of Honda Passport AWD Trailsport by John Goreham. Interior images by Honda.
John Goreham is a long-time New England Motor Press Association member and recovering engineer. John's interest in EVs goes back to 1990, when he designed the thermal control system for an EV battery as part of an academic team. After earning his mechanical engineering degree, John completed a marketing program at Northeastern University and worked with automotive component manufacturers, in the semiconductor industry, and in biotech. In addition to Torque News, John's work has appeared in print in dozens of American news outlets and he provides reviews to many vehicle shopping sites. You can follow John on TikTok @ToknCars, on Twitter, and view his credentials at Linkedin
Re-Publication. If you wish to re-use this content, please contact Torque News for terms and conditions.