Ford has announced that ordering of the Maverick pickup has resumed. In addition, Ford dropped the news that the Tremor trim will now be an option for 2023. This trim adds off-road capability that will surpass that of any comparable truck on the market today.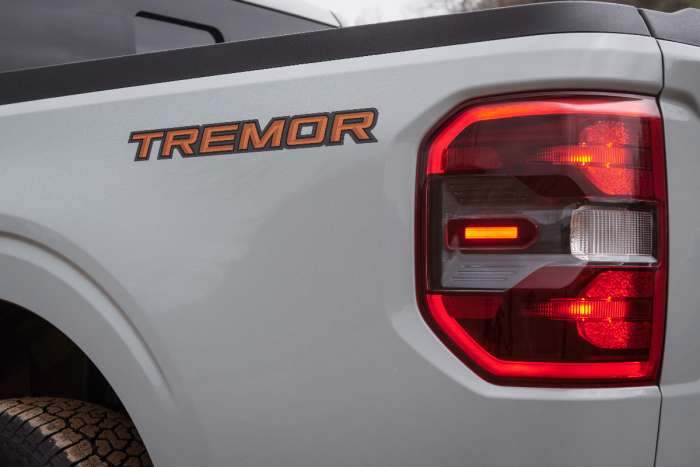 "Ranger, F-150 and Super Duty customers have embraced the unique off-road capability, technology and appearance updates found across our Tremor family of trucks," said Todd Eckert, Ford truck product marketing and brand manager. "Maverick Tremor delivers on this same promise with new functions and features designed for off-roading – all while keeping the truck's signature size, affordability, and Built Ford Tough durability and capability."
Included in the new Tremor Maverick trim is Trail Control. While all of the Tremor's upgrades will be welcomed by those who plan to take their Maverick off-pavement, the addition of Trail Control will be the biggest single enabler of the Tremor Maverick to go further on adventures.
Trail Control works a bit like cruise control for off-road driving. Drivers simply select a set speed, then the truck manages throttle and braking to allow them to focus on steering through challenging conditions like mud or dirt. Torque News has tested Ford's Trail Control on a Bronco Sport and found that it works as advertised.
We tested the Bronco Sport in winter conditions. In our test, Trail Control worked well on steep, slippery downhill trails. We asked Trevor Scott, Maverick Marketing Manager if Trail Control can fill a similar role to hill descent control in such a scenario. Mr. Scott told us, "Tremor Trail Control feature can be used in slow speeds on a snowy trail. The difference between Trail Control and Hill Decent Control is largely that Hill Decent Control largely benefits those that are towing going down a steep grade and only controls the brakes. Trail Control also takes care of the acceleration so that you can maintain your set speed and just concentrate on the steering."
As you can see, Trail Control is a more comprehensive system that many drivers will find of value when off-road in wintery conditions. Coupled with the one-inch lift the Maverick Tremor comes with, the new Maverick Tremor should be one of the best trucks one can buy for wintery off-road driving. The 2023 Ford Maverick Tremor Off-Road Package costs $2,995 MSRP and will be available for order in September. Just in time for winter.
Image of Ford Maverick by Ford.
John Goreham is a long-time New England Motor Press Association member and recovering engineer. John's interest in EVs goes back to 1990 when he designed the thermal control system for an EV battery as part of an academic team. After earning his mechanical engineering degree, John completed a marketing program at Northeastern University and worked with automotive component manufacturers, in the semiconductor industry, and in biotech. In addition to Torque News, John's work has appeared in print in dozens of American news outlets and he provides reviews to many vehicle shopping sites. You can follow John on TikTok @ToknCars, on Twitter, and view his credentials at Linkedin
Re-Publication. If you wish to re-use this content, please contact Torque News for terms and conditions.